2022 Sentry Tournament of Champions Round 4 Betting & Showdown Picks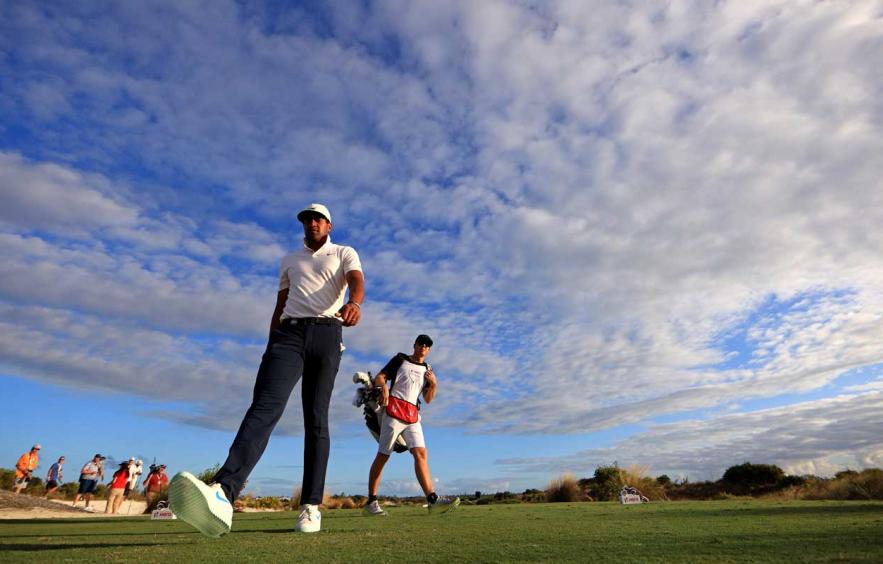 Photo by Mike Ehrmann/Getty Images
In a ridiculously low-scoring start to the new year on the PGA Tour, Cameron Smith and Jon Rahm seemingly matched each other shot-for-shot to pull away from the field in Saturday's third round of the Sentry Tournament of Champions. Smith shot his third consecutive round of 65 or better while Rahm tied his career-low score with a 12-under 61. He matched the course record that was also tied hours earlier by Justin Thomas. With even less wind than Friday and perfect course conditions, Saturday's scoring topped Friday's tournament record-low scoring average of 67.7. From a betting perspective, it's really a two-man show with Rahm being the clear favorite over Smith at -170. Over his last 10 "Sunday" rounds, Smith has lost an average of 0.48 strokes to the field, and in three of those events, he was in contention during the final round only to falter down the stretch. Rahm is the world's top-ranked player, and as well as he played on Saturday, it would be a shock for him not to raise the trophy come Sunday afternoon. As for head-to-head round matchups, we have gone 5-1 over the first couple of days and look to add to it with three more selections on Sunday.
Round 4 Betting Selections
*Betting lines accurate at the time of publication.
Tony Finau (-105) Over Brooks Koepka

While both players are out of contention, this number for Tony Finau presents great value from both a data-based and motivation-driven perspective. He had his best ball-striking round of the tournament on Saturday and still has room for his putting to rebound closer to his Bermuda baseline. He finished his third round with a 4-under score on the back 9 and typically displays his best effort on Sundays even when he does not have a chance to win. Koepka, on the other hand, has been miserable with his irons and off the tee, losing 3.6 strokes to the field thus far. He was having a decent round on Saturday until a careless triple-bogey on the 17th hole took any wind out of his sails. With zero chance of sniffing the top of the leaderboard, I highly doubt Brooks Koepka will be fully motivated and engaged in his round on Sunday.
Risk: 1 Unit on PointsBet.
Harris English (-128) Over Phil Mickelson

With much success, we picked on Phil Mickelson in yesterday's betting selections. Much of the same holds true in this matchup versus Harris English. After a slow start in round one, Harris English has gone 10-under in his last 35 holes with only one bogey. Last year's winner at this event, his ball-striking has progressively improved each round. If he had putted at his average Bermuda baseline he would be four shots better at 12-under right now. He has also become a very consistent Sunday performer, gaining strokes in 75% of his last 24 rounds on Sunday. Mickelson has been deep in the negative in each of the Strokes Gained categories except around the green play. He had his worst ball-striking day on Saturday, losing over 2.7 shots to the field. In contrast to English, he has struggled down the stretch of tournaments by losing strokes in 55% of his last 24 rounds on Sunday. With the Plantation Course at Kapalua being such a beatdown to walk, the effects of four days of climbing up and down the elevation changes will only be magnified all the more in the 51-year-old Mickelson's body.
Honorable Mention: Abraham Ancer (-128) Over Branden Grace — Risk: 1.28 Units on PointsBet.
Honorable Mention: PARLAY (+130) Daniel Berger -200 over Matt Jones & Viktor Hovland -189 over K.H. Lee — Risk: 1 Unit on BetMGM TIES VOID
DraftKings DFS Showdown Selections
Round four of Showdown is somewhat unique compared to the other three rounds. Not only do we have three full rounds of data to analyze, but the scoring system adds in finishing points that will affect our strategy in evaluating golfers for our lineup. Below is the amount of points that get added to each finishing position:
1st – 13 points
2nd – 10 points
3rd – 9 points
4th – 8.5 points
5th – 8 points
6th – 7.5 points
7th – 7 points
8th – 6.5 points
9th – 6 points
10th – 5.5 points
11th-15th – 5 points
16th-20th – 4 points
21st-25th – 3 points
26th-30th – 2 points
31st-40th – 1 point
41st-50th – .5 points
First off, with only 38 golfers playing, everyone is guaranteed at least one point, which cheapens the overall value of finishing position points from the very start. Obviously, with 13 added points, there is some incentive to rostering the winning player. Once you drop out of the top three places, though, the finishing points flatten out relatively quickly, and once you drop down to 10th place, those finishing points are worth the same amount as one birdie. Thus, typically the best strategy is to roster "boom-or-bust" type of players with scoring upside. With much of the pack rostering the same group of top players and values based on finishing position, ownership percentages become infinitely more important in "Sunday" Showdown lineups. I usually like to target players who are outside of the top grouping of leaders because they will be more aggressive from the start in order to have a chance to win the tournament. Some examples of this for tomorrow's final round include Daniel Berger, Tony Finau and Harris English. Each has upside and also a reputation for giving their best effort no matter how far down the leaderboard they might be. And yes, motivation is also a key factor on Sundays. Rostering a golfer in last place and who has a reputation for playing uninspired under those circumstances is someone you want to stay far away from.


Core Plays
Jon Rahm, $10,700
Daniel Berger, $9.200
Harris English $6,800
Top-Tier Plays
Justin Thomas, $10,100
Collin Morikawa, $10,400
Mid-Tier Plays
Tony Finau, $8,000
Talor Gooch $7,800
Marc Leishman, $7,600
Value Plays
Cam Davis, $6,800
Seamus Power $7,400
Max Homa $6,500
For the most up-to-date picks, or if you have any questions or comments, check out my Twitter and subscribe to our Discord. This sheet from Dan Rivera tracks all my betting picks (and those from the rest of the betting staff) on the year. Just click on the tab with my name on it for the results.
---
This article is intended for entertainment purposes and adult users only. Call 1-800-GAMBLER if you have a gambling problem.