How Much Upside Does Matt Ryan Have In 2020?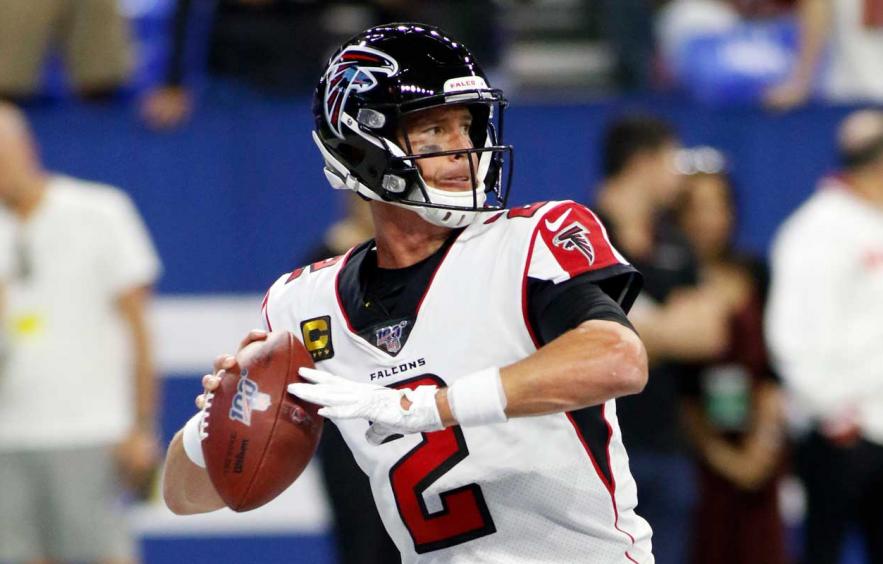 Justin Casterline/Getty Images
Using a mid-round pick on a quarterback in one-QB formats is the kind of pill that gets stuck sideways in your throat and requires a bite of bread to dislodge it.
What I'm saying is taking a guy like Matt Ryan in the seventh round is a tough pill to swallow. And yes, my B-12 pill gets stuck more often than I'd like to admit.
Create or join a 2020 Yahoo Fantasy Football League for free today
Ryan's 2020 upside is as clear as it's ever been: two of his receivers are being drafted among the first 15 wideouts off the board, he has an excellent pass catching running back in first-year Falcon Todd Gurley, and new tight end Hayden Hurst is a hyper-athletic, efficient, and likely to see more than a little soft coverage as opposing defenses focus on Julio Jones and Calvin Ridley.
But does that make Ryan a better fantasy draft selection than other QBs going around his ADP of 7.12, including Tom Brady, Drew Brees and Aaron Rodgers? Does Ryan have the kind of statisical upside that would justify a mid-round pick?
It's not all that common for a quarterback to have two wide receivers with top-15 ADPs, though it's not the first time we've seen Ryan in this spot. It was way back in 2012, when the zoomers were in diapers and not yet viciously owning me with memes I don't understand, that Jones and Roddy White were being drafted as the WR2 and the WR7, respectively. White racked up 92 grabs—including a ludicrous 15 touchdowns—while totaling 1,351 yards, exactly one more yard than Jone, who had 79 receptions.
Jones and White combined for 44.4% of the team's targets in 2012. And it paid off bigly for Ryan: he posted the second highest yardage total of his career (4,719), his third highest touchdown total (32), his highest completion percentage (68.8%), while he threw the third most passes of his illustrious career in Atlanta (615). It all added up to a QB6 campaign in fantasy football, which would make Ryan a slight value in 2020 compared to his QB7 ADP.
Of course, the idea that two highly drafted receivers makes a quarterback an appealing fantasy option falls apart when you realize Ryan's best fantasy season—2016, when he finished as the QB2—`happened when Julio was the only Falcons wideout taken in 12-team leagues.
Nevertheless.
Matt Ryan

's Unlucky 2019

Touchdown regression is a primary reason one might draft Ryan over Brees and Brady this season. Ryan in 2019 posted the fourth lowest touchdown rate of his 12 years in Atlanta—a meager 4.2% of his tosses were scores. That's a half percent lower than his career rate, and nearly 3% lower than his career-high rate of 7.1%. The last time we saw a major drop off in Ryan's touchdown rate was in 2015, when he threw a touchdown on a shockingly low 3.4% of his passes. That, of course, was followed up by Ryan's massive 2016 season, in which he threw 38 touchdowns.

No one should draft Ryan this summer assuming he'll threaten the 40-touchdown mark, but it's reassuring to know we've seen his touchdown rate normalize (to say the least) after a season full of attempts and yards but few scores.

We shouldn't overlook Ryan's paucity of opportunity in high leverage situations last year. Check out how much his inside-the-10 chances dipped in 2019.
Matt Ryan

Inside 10-Yard Line, 2016–2019

| Year | Pass Att. Inside 10 | Pass Att Inside 10 (Rank) | TDs Inisde 10 |
| --- | --- | --- | --- |
| 2016 | 51 | 2 | 19 |
| 2017 | 35 | 5 | 12 |
| 2018 | 41 | 6 | 15 |
| 2019 | 29 | 16 | 14 |
Time and again, Ryan has finished among the league leaders in red zone attempts and passes inside the 10. Not so in 2019 (forget that he was wildly efficient on his 29 throws inside the 10). Getting back to his pre-2019 attempts inside the 10 could be a boon for his fantasy value.
Since we can't depend on an efficiency spike for Ryan, can we depend on the Falcons' pass volume to remain insanely high? After all, only two teams—the 2012 Lions and the 2018 Steelers—have have thrown more passes than the 2019 Falcons. Mostly that was due to Atlanta facing horrific game script through most of the first month and a half of the season, forced to take to the air again and again before their pass volume leveled out as game script normalized over the season's final six weeks.
Matt Ryan

Splits, 2019

| Weeks | Pass Att/Game | Pass Yds/Game | FP/Game |
| --- | --- | --- | --- |
| 1–6 | 43.0 | 335.7 | 26.8 |
| 7–17 | 39.6 | 272.8 | 17.9 |
I didn't include touchdowns here because they're far more volatile than yardage and attempts; it shouldn't go without mentioning that Ryan was throwing 2.5 touchdowns per contest during the season's first six weeks, and a mere 1.2 from Week 7–17. The volume-driven yardage should be our focus though. Ryan was piling up yards as the Falcons desperately chased points.
Atlanta's 2020 Outlook
Can Atlanta's offense maintain this sort of pass volume? Well, probably not, as we saw when the 2013 Lions threw 106 fewer passes than they did in 2012. The 2019 Steelers also saw a huge passing drop off, though that was due to total quarterback incompetence after Ben Roethlisberger's season ending injury.
If you believe Gurley can regain his form and help the Falcons become a far more balanced team in 2020, you necessarily have to believe Ryan will have to be (very) efficient to be a fantasy valuable. And if you see Gurley as a useful part of the team's passing attack but not a shot in the arm for its ground attack, there's every reason to think Ryan and the Falcons can come close to matching their league-leading pass attempts from 2019.
If Gurley is not in fact a game-changing runner for Atlanta in 2020, we can expect something similar to how the team operated with neutral or positive game script in 2019: they passed on 57.8% of their plays while tied, and 53.7% of the time while leading—high rates, to be sure.
That's a telling clue, I think, in determining if Ryan will have volume on his side in 2020. Ryan over Brees or Brady is hardly a tough sell.