3 Player Draft Special Props to Bet: Player Draft Position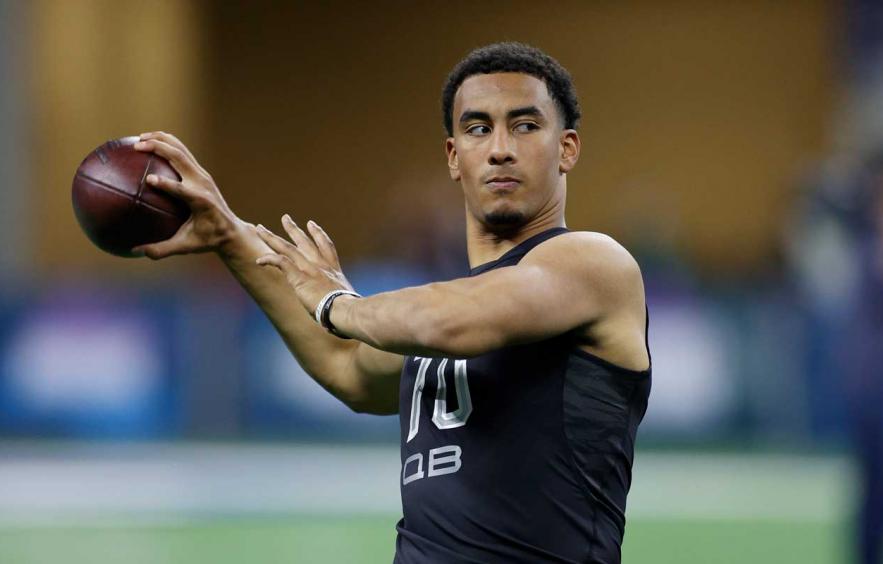 Joe Robbins/Getty Images
DraftKings Sportsbook is offering more player props on the 2020 NFL draft than anywhere else, with more options to bet than in years past. The most straightforward bets are prospects over/under draft position bets. You want to grab these as soon as you can as lines move and drop off the board completely. Here are three I am targeting on April 23rd.
Jordan Love

Over 19.5 (-125)

This number has climbed, originally opening at 17.5 and has since jumped to 19.5. Being a quarterback, Love has multiple betting options that shed light on where he may go. A look at the table below shows that unless a team trades up or the Jaguars take him ninth overall (more likely at 20), all teams picking top 19 are +1200 or greater to land Love, while the most likely teams all select after pick 19. Set to be the fourth QB off the board, in the last five drafts only once have four quarterbacks been drafted in the first round and the ADP of the fourth quarterback off the board is 48.6. His team odds and historical draft context suggest this is a bad number and that's before you get to his profile which is simply not one of a first-round quarterback. Over 19.5 is one of the best bets on the board as long as it stays under -150
CeeDee Lamb

Under 13.5 (+123)

Per NFL mock draft database, CeeDee Lamb is the most commonly mocked wide receiver off the board first (+175) and while that is good value, he appears to be a near-lock to go in the top 13 picks. Whether Lamb ends up as the WR1, WR2 or WR3 may not matter much as three of the most wide-receiver-needy teams select 11th, 12th, and 13th in the Jets, Raiders and 49ers, respectively. The Broncos, also desperate for receiver help, sitting at 15 are a prime trade-up candidate to come get a receiver, as well. Lamb was incredibly productive at Oklahoma going for a 62-1,327-14 line last season, averaging a ridiculous 21.4 yards per reception. He just turned 21 and is a top receiver in this class. You have to pay a premium, but Lamb is highly unlikely to make it past the 49ers at pick 13 and laying 1.5 units to win 1 unit makes sense here.
---
Want in on the action? Get a sign-up bonus up to $1,000 with DraftKings!
---
C.J. Henderson Under 16.5 (-110)
Henderson is currently -400 to be the second cornerback off the board and is most frequently mocked 16th overall to the Atlanta Falcons per NFL mock draft database. Playing such a premium position, Henderson should comfortably go in the first half of the first round. The Cowboys are also a trade-up candidate desperate to jump the Falcons to get a corner to replace the departed Byron Jones. Other potential landing spots include the Jaguars at nine and the Panthers at seven, who are desperate to trade back and may look at Henderson if they fall back to the early teens after losing James Bradberry. At 6'1" 204 lbs running a 4.39 40-yard dash, Henderson has the rare size and speed combinations teams covet and should be off the board before pick 17.
Pick Summary
| Prop | Pick | Odds | Suggested Units | Limit (Bet Down To) | |
| --- | --- | --- | --- | --- | --- |
| Jordan Love Draft Position | Over 19.5 | -125 | 1.25 | -150 | Bet Now |
| CeeDee Lamb Draft Position | Under 13.5 | -150 | 1.50 | -165 | Bet Now |
| C.J. Henderson Draft Position | Under 16.5 | -110 | 1.10 | -130 | Bet Now |
Note: All advice in this article is based on odds available on the date of publishing.