Running Back Isn't Back in Fantasy Football Individual players make up overall ADP, but trends on the macro level generally dictate draft flow and strategy. Drafting philosophies such as RB-Heavy, Late-Round QB, and Zero RB have all been birthed because of league-wide shifts in positional usage rates and/or rule changes. Usually, these trends are reflected in fantasy scoring.
One look at end-of-season fantasy scoring data for 2016 might lead you to the conclusion that the dominant fantasy running back is back.
After all, running backs represented the top three non-QB PPR scorers for the first time since 2013. Six running backs made it into the top 10 for the first time since 2010.
That's not likely to happen again.
As Joe Holka has pointed out, "last year was an outlier that will almost certainly regress."
Here's why...
Positional Usage Trends Aren't Changing
Overall running back usage has been trending downward for well over a decade. The league continued to move in that direction in 2016: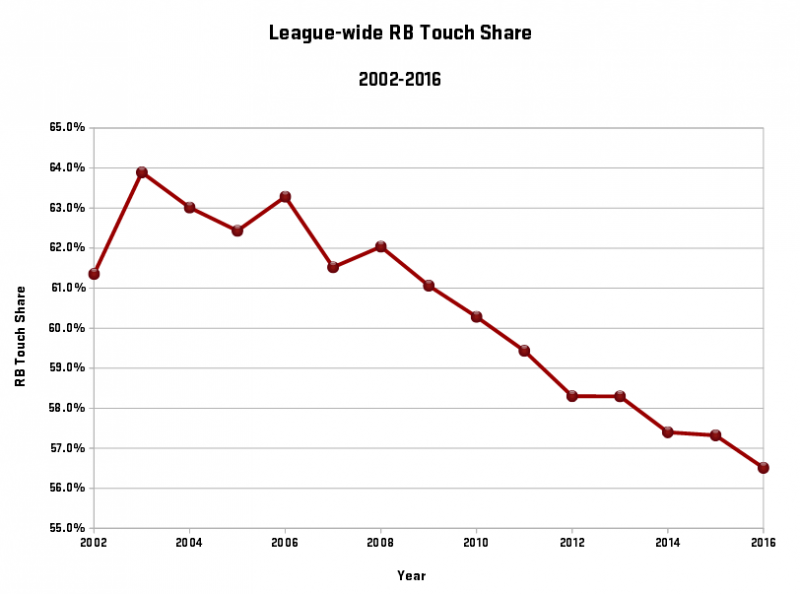 2016 marked the lowest league-wide touch share for running backs going all the way back to 2002. This trend was reflected on the individual level, as well—no running back accounted for even half of his team's touches for the second straight season, and that feat has been accomplished just twice in the last five seasons. In the five years before that, seven running backs hit the 50 percent touch share mark, and 12 would have matched or surpassed David Johnson's league-leading 47.8 percent touch share from 2016.
If running back volume is continuing to fall, then why did we see so much scoring from the position in 2016? Well...
Running Back Touchdown Scoring Was Out of Control
Running back usage is down. So what gives? Touchdown rates.
To quote Holka again:
"The amount of rushing touchdowns scored in 2016 (443) was absurd. Only four times in NFL history has there been more rushing touchdowns than last season, and two of those came before 1980."
In 2016, 17 running backs scored on at least 4 percent of their touches, the most since 2008, when 15 backs did so. For reference, the league-wide average touchdown-scoring rate for running backs hovers around 3.3 percent.
As we know, most touchdowns happen inside the red zone; running back touchdowns mostly come from inside the 10-yard line. The increase in touchdowns on the ground last year caused red zone touchdown rates through the air to be knocked off of their trend line: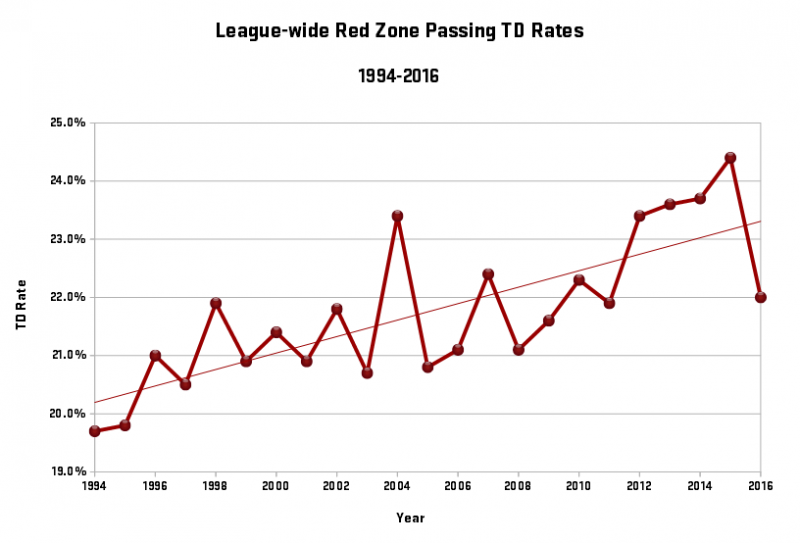 This dip in passing touchdowns led to more opportunities for running backs closer to the goal line. The 1,116 combined running back touches inside the 10 last season were the most since 2009. And not only did running backs get more touches in scoring position, they crossed the goal line from within striking distance at a rate that we haven't seen in recent history (or maybe ever, but I only have data dating back to 2002).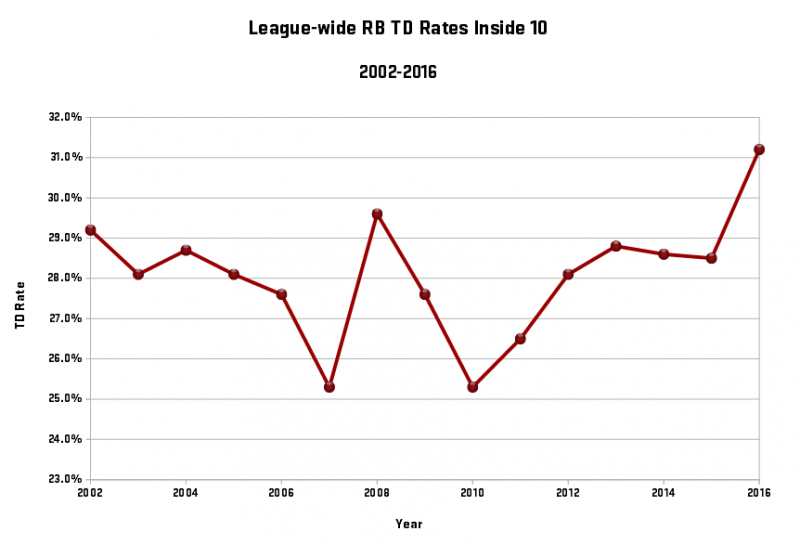 In short, it was seemingly nothing more than bad luck through the air that led to running backs getting more opportunities near the goal line, and those backs capitalized on their chances more than we could have ever expected.
There hasn't been any clear rule change or schematic change that explains last year's change in scoring rates—historical trends essentially suggest that 2016 was an anomaly.
As I've discussed on the player level ad nauseam this offseason, expect regression at the macro level when it comes to 2017 scoring.
How to Use this Information in Your 2017 Fantasy Drafts
As of this writing, seven running backs have a first-round ADP, which is the most we've seen in the first round since 2013, according to FantasyFootballCalculator.com. This is likely indicative of a slight overcorrection by the public in response to last year's outlying results, and could have a trickle-down effect—especially in more casual leagues—with owners chasing running back points from 2016. Hard data shows that receivers tend to dominate the top of the scoring ranks in PPR leagues, and are typically more reliable bets throughout the draft.
So if you're a fantasy owner that typically leans wide receiver-heavy in the early rounds, or you just happen to miss on a running back that you like, don't let 2016 alarm you.
Running back isn't back.
4for4's Draft Hero tool optimizes every pick in your fantasy draft in real-time! To gain access, subscribe to 4for4 now!
---
Related Articles