The Lineup Generator, available exclusively to 4for4 DFS Subscribers, takes your 4for4 Value Reports to the next level.
Selecting Players: From your Value Reports, simply click through each positional tab, selecting players at each position to be considered in your player pool. We recommend scanning down the value report to find a mix of top values and highly projected players at decent value.
Locking Players: If you would like to force certain players into all lineups, tick the Lock box rather than the select box.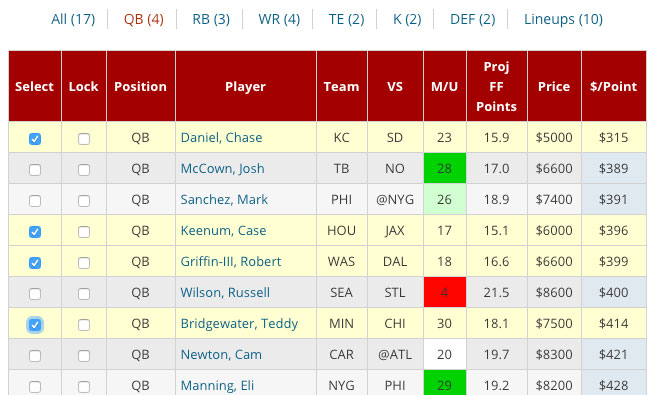 Lineups: Once you have selected enough players at each position with salaries that can combine to form valid lineups, you will see the number in the Lineups tab begin to increment. DFS Subscribers can click the Lineups tab to view up to the top 50 projected scoring lineups from their selected player pool.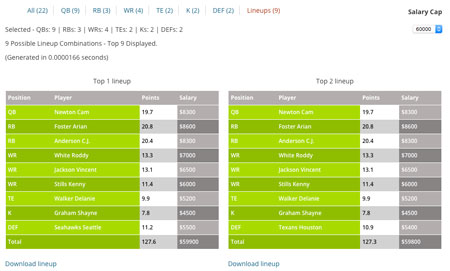 From the Lineups tab, you can change salary cap (where applicable), select to download lineup cards, save lineups* or download a CSV of all lineup combinations*.
If you see Lineups (0), this means you do not have an adequate player pool to generate valid lineups. Consider selecting some lower priced players and ensure all roster requirements are satisfied.
Stacks: If you would like to create stacked lineups, simply lock in a quarterback and another player from the same team, then proceed to select the rest of your player pool as normal.
* Features in development, coming soon.