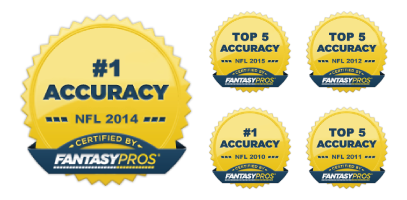 If there's one thing that we've learned in our decades of experience playing fantasy football, it's that consistently accurate preseason and in-season rankings are the foundation for success. 
We're proud to have two of the fantasy football's most accurate experts on staff, working hard every day to provide our subscribers with the most accurate rankings and projections available.
According to FantasyPros, over the past five seasons no one has been more consistently accurate than John: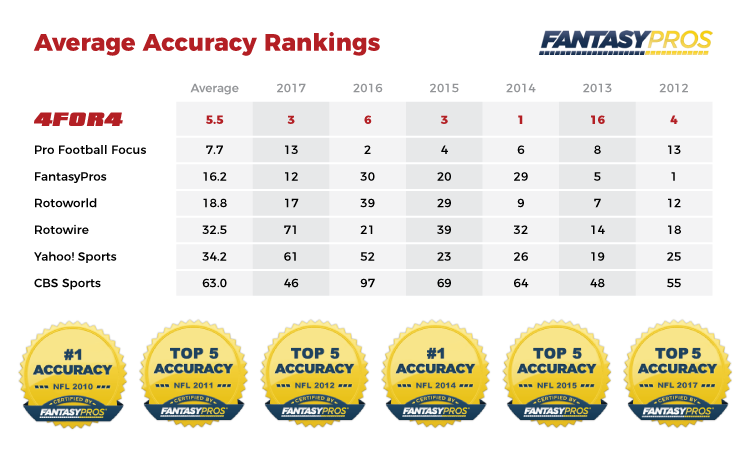 Per FantasyPros
, "This year's first place finish makes Paulsen the only expert to win our in-season competition more than once. And, perhaps most impressively, it also gives him the #1 accuracy rating in all multi-year views over the last 5 seasons. 
In other words, whether you look back at the last 2, 3, 4, or 5 years, the end result is the same: John Paulsen is the most accurate fantasy football expert."
Executive Editor Josh Moore finished in the FantasyPros Top 5 in both 2010 and 2011, an impressive feat, while finishing second to only John in the 2011 FF Librarian/FSTA preseason rankings study. In 2012, Josh turned the 4for4 rankings over to John so that he could develop other areas of the site, though the two continuously discuss the rankings throughout the season.
We have nothing to hide. Our methods work, and we're not afraid to show everyone how we're doing each week. Our forecasting process places emphasis on offensive tendencies, strength of schedule and player talent via predictive modeling. This process allows us to effectively deliver fantasy football results that are measurable, objective and consistently replicated, and our success in the various accuracy studies only confirms that we're good at what we do.
By becoming a subscriber, you'll be able to draft and manage your team with the confidence that you'll have the most consistently accurate rankings at your disposal.