Daily Fantasy Football Site Review: DraftStreet

DraftStreet is a poker-inspired daily fantasy sports site that has risen to become a leader in the industry. Outside of FanDuel, there's no place where you can get more action than on DraftStreet; the site is a top 7,000 destination in the United States. They've grown primary through intelligent marketing and excellent customer service. DraftStreet offers leagues of all sizes and buy-ins for the NFL, MLB, NBA, NHL, PGA, college football, and college basketball. Below, we review five key areas that impact your daily fantasy game experience and give you the bottom line on DraftStreet.
Get started playing at DraftStreet today.
Incentives
The primary incentive offered by DraftStreet is their Street Credits rewards program. Every time you enter a league, you receive "street credits." These credits can be redeemed to participate in leagues for free. If you use the rewards program to buy into leagues for free, it can result in a 0.5 percent rake reduction. The credits can also be applied to purchase items from the DraftStreet shop.
In addition to street credits, DraftSteet also rewards users who take on a lot of action. If you finish in the top 25 on the monthly leaderboard, you'll be entered into a $2,500 freeroll in which the top seven are paid. If you finish between 26th and 100th in a month, you'll be entered into a $1,500 freeroll in which the top 10 are paid. Finally, if you finish between 101st and 200th in a given month, you'll be entered into a $1,000 freeroll in which the top 12 are paid.
In addition, DraftStreet hands over straight cash (homie) to the top performers each month.
| | |
| --- | --- |
| Finish | Prize |
| 1st | $1,000 |
| 2nd | $600 |
| 3rd | $300 |
| 4th | $200 |
| 5th | $200 |
On top of that, the highest-scoring lineup each month gets $300. DraftStreet also provides up to a $100 bonus for first-time depositors. When you add it all up, they really have one of the premiere rewards programs available.
Incentive Rating: 9/10
Usability
DraftStreet's interface is relatively clean. It doesn't match the minimalistic, crisp style of a site like DraftDay, but it's still fairly sleek. If DraftStreet lacks something in its design, it makes up for it in usability. The interface is extremely easy to navigate and self-explanatory.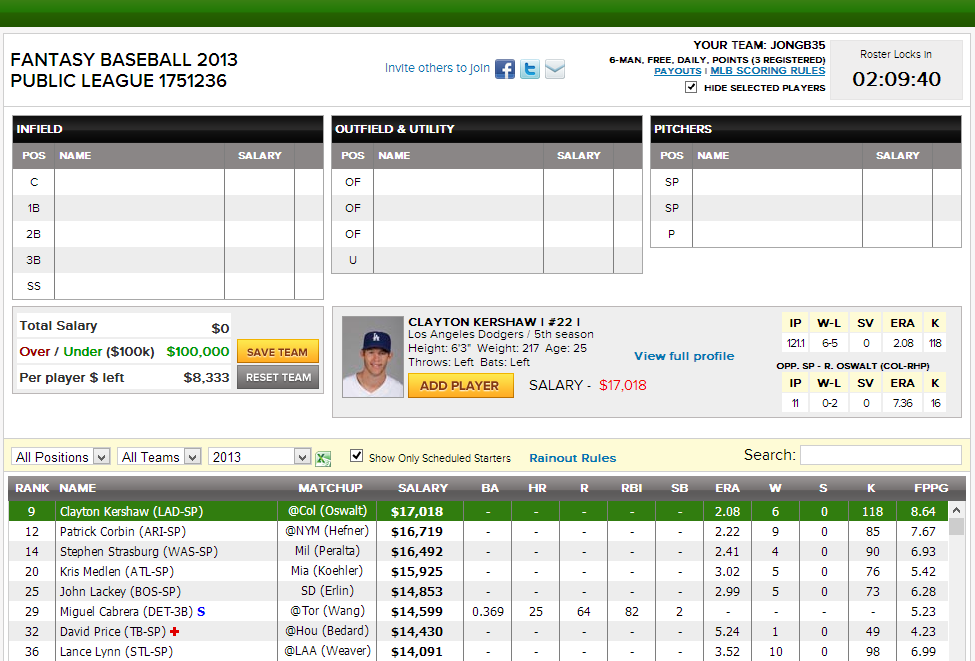 In the draft lobby, you can easily sort through all of the DraftStreet league offerings, filtering by size, draft type, entry fee, duration, payout, and start time.
DraftStreet's draft room is one of the best in the business. You can tell that's really where they've focused their design efforts. When you click on a player profile, you can see all kinds of useful information, including career stats, a game log, situational stats, and recent news. This information can be a big time-saver when you're setting your lineups.
Once your games begin, you can track all of your teams in the Live Scoring area. DraftStreet's live scoring feature is fantastic, updating in real time. You can also track your teams in real time on DraftStreet's mobile interface, which is outstanding. It's clean and easy to use, just like on the computer. DraftStreet does a better job than anyone else of incorporating every possible feature into their mobile design; you can join leagues, view active leagues, import and export lineups, and sort through players in seconds.
Usability Rating: 8/10
Action
DraftStreet's primary lure is that, as one of the kings in the daily fantasy sports industry, they attract players of all types. That means there's never a dearth of activity; you can always find enough action on DraftStreet. Since there are plenty of novice players who begin their daily fantasy sports lives at DraftStreet, the investment opportunity for sharks is outstanding.
DraftStreet's league selection is sensational. You can play in leagues ranging from free to $420. They offers heads-up leagues, tournaments, and just about everything in between, including 50/50s. In addition to traditional salary cap leagues and Pick 'Em contests, DraftStreet also offers live snake drafts. They're one of the only daily fantasy sites to do so, and it makes for an interesting feature. The process could be cleaned up a bit, but the snake draft concept is a draw for many traditional fantasy sports owners who aren't sure how to participate in salary cap leagues, or just don't want to.
Action Rating: 9/10
Rake
DraftStreet's rake caters toward high-rollers. The rake for intermediate owners playing in your typical $11 and $22 leagues is a little on the high side. For small buy-ins, the rake is very high. The 15 percent rake on $2 buy-in, 10-man leagues is simply way too much to plunk down for anyone.
| | |
| --- | --- |
| H2H Buy-In | Rake |
| $5 | 10.00% |
| $11 | 9.10% |
| $22 | 9.10% |
| $55 | 9.10% |
| $109 | 8.30% |
| $215 | 7.00% |
| $420 | 4.80% |
| 10-Man Buy-In | Rake % |
| $2 | 15.00% |
| $5 | 10.00% |
| $11 | 9.10% |
| $22 | 9.10% |
| $55 | 9.10% |
| $109 | 8.30% |
| $215 | 7.00% |
| GPP Buy-In | Rake % |
| $2 | 9.10% |
| $5 | 9.10% |
| $11 | 9.10% |
| $55 | 9.10% |
| $109 | 8.30% |
| $215 | 7.00% |
On the other end of the spectrum, the 4.8 to 7.0 percent rake for big spenders isn't bad. Nonetheless, the rake is the worst aspect of DraftStreet, but something they can get away with as such a popular daily site for new owners. It doesn't make the site unplayable, even for advanced owners, but it's something to monitor when you enter leagues.
Rake Rating: 5/10
Cashier and Support
DraftStreet allows deposits via PayPal, eCheck, Visa, Mastercard, AMEX, and Discover. You can cash out via PayPal or check, with the check taking 10 days to deliver.
DraftStreet is highly regarded for their customer service. You can contact them via e-mail, phone, or chat. E-mails and chat messages are responded to almost immediately, and there is almost always someone there to answer your phone calls (I know from experience). If you ever have an issue with the site, your problem will be heard immediately.
Cashier and Support Rating: 10/10
Bottom Line
DraftStreet is a major player in the daily fantasy sports business. They have quality incentives and an easy-to-use site design. The information within the draft area is second-to-none. Because DraftStreet is so popular, there's plenty of action; they're probably second only to FanDuel in that regard, and there's plenty of fish for the sharks to feed upon. The worst aspect of DraftStreet is the rake. It isn't insurmountable, but you need to be careful about which leagues you enter.
Overall Rating: 41/50
---
Other Details
Lineup Requirements
2 QB, 2 RB, 2 WR, 2 Flex, 1 TE, 1 D
DraftStreet's starting requirements deviate quite a bit from the norm. The first major alteration is requiring two starting quarterbacks. That places a huge emphasis on the position, making your strategy wildly different from what it might be on a site like FanDuel. With two flex positions, the lineup requirements are deep. Most owners would prefer to start a running back in those spots, so the importance of wide receivers is minimal at DraftStreet. Lastly, it's rather refreshing that the site doesn't require you to start a kicker—an inherently volatile and unpredictable position. That favors advanced owners.
Scoring
| | | | |
| --- | --- | --- | --- |
| Offense | Pts | Defense | Pts |
| PaTD | 4 pts | DTD | 6 pts |
| PaYd | .04 pts | DINT | 1 pt |
| RuTD | 6 pts | FR | 1 pt |
| RuYd | .1 pts | Sack | .5 pts |
| RecTD | 6 pts | SFTY | 2 pts |
| RecYd | .1 pts | Pts Allowed | D-Pts |
| Rec | .5 pts | 0-2 | 10 pts |
| 2pt | 2 pts | 6-Mar | 7 pts |
| INT | -1 pt | 7-10 | 4 pts |
| FL | -1 pt | 11-15 | 2 pts |
| - | - | 16-25 | 0 pts |
| - | - | 25+ | -3 pts |
Even with two starting quarterbacks, DraftStreet rewards four points for touchdowns. That really enhances their value even more since most two-quarterback leagues reward just three points for passing touchowns.
Also note that DraftStreet uses 0.5 PPR. Defenses aren't rewarded heavily for turnover or sacks, so there's no reason to overspend there.