DraftKings Maryland Promo Code: Bet $5 on anything, Get $200 in free bets instantly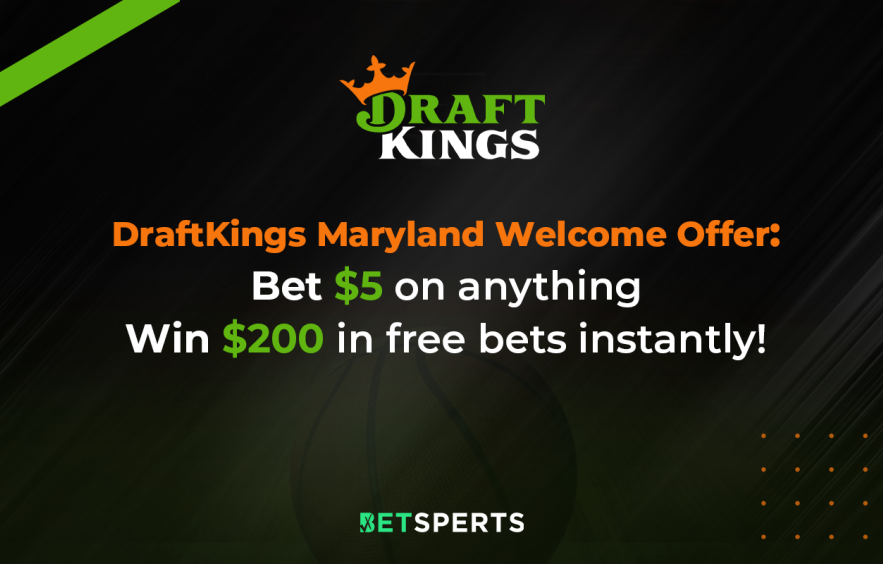 DraftKings has officially arrived in Maryland! To celebrate, DraftKings is providing the people of Maryland a fantastic welcome offer: Bet $5 on anything, Get $200 in free bets instantly! That's right, all you have to do is create your new DraftKings account with the links on this page, deposit $10 or more, then your first wager of $5 on anything on DraftKings will get you $200 in free bets!

DraftKings Maryland Promo Code
With all the great sporting events occurring this time of year, there is no better time to take advantage of DraftKings' welcome offer for the people of Maryland. When you sign up and make your deposit of $10 or more, your first wager of $5 on any market or bet that you desire will get you $200 in free bets to use on DraftKings.
How to Sign Up for the DraftKings Maryland Promo
1. Click here to head to DraftKings.
2. Set up an account. This will provide $200 in free bets when you deposit $10 or more and place your first $5 wager on any market.
3. Enjoy your free bets on DraftKings!

DraftKings Maryland FAQs
Is DraftKings Sportsbook Legal?
DraftKings Sportsbook is a legal, trustworthy, and fully legitimate betting operator. It follows strict laws and regulations in every jurisdiction it operates in to protect your money and personal information.
Why can't DraftKings detect my location?
DraftKings is required by law to determine your physical location while using our services. This can be checked by looking at the GPS/Bluetooth/Wi-Fi location services. Usually, if there are issues with detecting the location, it is because either location services or Wi-Fi are not turned on for the device.
How is my account information protected?
All of DraftKings confidential information is safeguarded by SSL (Secure Socket Layer), as represented by the padlock

visible on your browser's address tab. This protects the private information that DraftKings gathers. They encrypt all their private customer information and make it available to employees only when necessary.
How do I place a bet on DraftKings Sportsbook?
To place a bet, locate the event and result you want to wager on and click to add it to your slip. The green numbers next to each outcome are the odds, which determine the possible winnings. You can have up to 12 selections on your slip at one time.
To see your bet slip, tap the center button on the app or look to the right side of your screen on the web. Here you can see all of the picks you have selected that are waiting to be placed. You can change the type of bet from Singles to Parlays or Round Robins by clicking on the bet slip. The potential payout will be calculated based on the amount you want to bet.
After you have chosen your selections and inputted your wager amount, press 'PLACE BET' to finalize your bet. A receipt for all the bets you have placed will be shown. You can check on all your receipts and see the results of your bets by going to 'My Bets.'
How can DraftKings help me manage my play?
As part of DraftKings' commitment to Responsible Gaming, they offer a variety of ways to help you manage your play:
Player limits: If you want to limit your interactions with DraftKings but continue using the product, you can self-impose restrictions on certain aspects. These may include limits on deposits, entries, wagers, and time spent on DraftKings. Learn more about the player limits that are available for each product.
Cool-off period: If you are a Sportsbook and/or Casino player who would like to take a break, you can set a cooling-off period for yourself.
Self-exclusion: If you'd like to take a break from DraftKings, you can choose to temporarily exclude yourself from playing for a specific period of time, up to 5 years. Learn more about excluding yourself here.