8 Sleepers Who Will Supercharge Your Dynasty Roster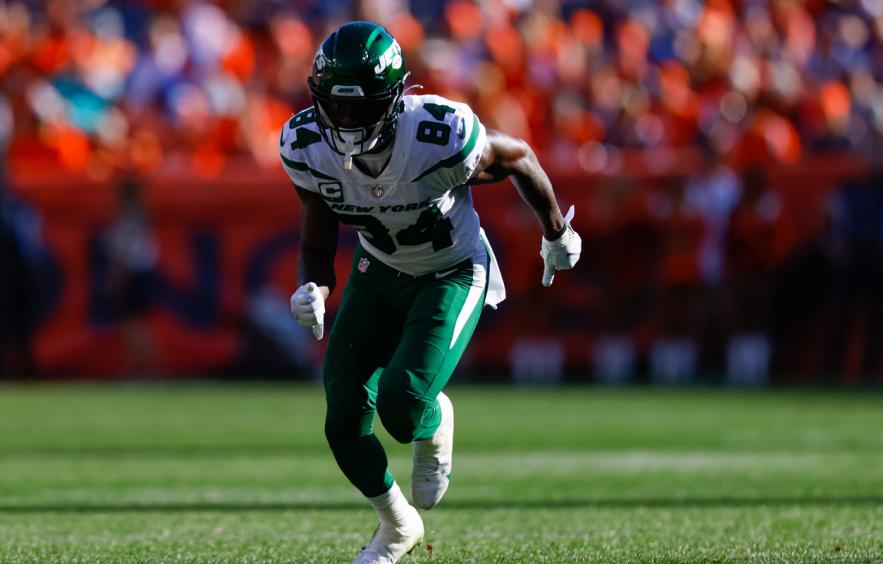 Justin Edmonds/Getty Images
With the NFL Draft now weeks gone by, we are in the thick of dynasty startup draft season. Whether you are in the middle of a draft or simply grinding to improve your current dynasty rosters, managers are always looking for sleepers who can make an impact. Years ago, the fantasy football industry used the term "sleeper" to refer to a player the average fan might not even be aware of, but with all of the information available today, that simply isn't possible. Instead, I now think of sleepers as players with low value and expectations but a relatively high ceiling.
Here are eight sleepers, including two unproven players, three veterans, and three tight ends, that could supercharge your dynasty roster. To help identify these sleepers, I've focused on players currently being drafted outside of the first fifteen rounds of dynasty startup drafts, based on ADP from Dynasty League Football.
Sam Howell

, QB WAS

Although Sam Howell started only one game for the Commanders during his rookie season, a Week 18 win over the Cowboys, that was enough to give the coaching staff confidence in the former Tar Heel this offseason. As early as February, Washington head coach Ron Rivera was suggesting that Howell would be the team's 2023 starting quarterback, and the moves the team has made since suggest that has been the idea all along. Washington dumped disappointing veteran Carson Wentz and let former starter Taylor Heinicke walk via free agency. While they did bring in an insurance policy in the form of Jacoby Brissett, the team is locked in on Howell.

Dynasty managers should be excited about what Howell offers as a runner. In his lone start last season, Howell rushed for 35 yards and a touchdown. In his final college season, Howell gained over 800 yards and scored 11 touchdowns as a ball carrier. Based on May 1QB dynasty ADP from DLF, Howell is being drafted as the QB33 and outside of the top 250 players.
Puka Nacua

, WR LAR

The lone rookie to grab my eye is the newest Rams wide receiver and it is just that landing spot that has many dynasty managers intrigued with the former BYU wideout Puka Nacua. Although he fell to the fifth round of the draft, due to the Rams' thin wide receiver depth chart, Nacua will have a chance to earn significant playing time immediately. Nacua is an ideal possession receiver and although he lacks elite speed, he was able to make an impact as a ball carrier in college, rushing for over 200 yards and five scores last season. In rookie drafts, he's coming off the board in the fourth round and in startups, he falls outside of the top-225 players, being drafted as the WR95.
Corey Davis

, WR NYJ

A little over a year ago, Corey Davis was a top-100 dynasty asset, based on DLF dynasty ADP. Now, he's not even among the top-100 dynasty wide receivers. He's being drafted at 256 overall and WR104. Given the past two seasons, the massive fall is understandable. Davis has missed time due to injuries and has averaged less than 12 fantasy points per game when on the field. Davis did get some good news recently though as Jets head coach Robert Saleh assured Davis "will be on this team."

The veteran receiver was considered an obvious cap cut as the offseason began but now he's primed to suit up alongside the best quarterback he's ever played with in Aaron Rodgers. The depth chart is crowded after the Jets added Allen Lazard,

Mecole Hardman and Randall Cobb, but none of those are clearly better than Davis at this point in their respective careers.
Leonard Fournette

, RB FA

I get it. This one is a bit dicey given that…well, you know…Leonard Fournette is still a free agent. But I still believe, at least a little bit. There are plenty of things going against the 28-year-old Fournette at this point in his career, and you probably already know about those. What might surprise you is that the former Buccaneer was still very productive last season. He finished as an RB1 for the season, based on total fantasy points, and produced as the RB24 or better in eleven games on the year. Only seven running backs finished with more top-24 fantasy games.

Once he was dropped by the Bucs earlier this offseason, his value plummeted too. His ADP dropped from RB25 in November to his current RB61. We probably shouldn't expect double-digit RB2 games from the veteran moving forward, but I do believe he can still help an NFL team and our dynasty teams and given his nearly-free price tag, he makes for an attractive win-now target.

Adam Thielen

, WR CAR

Much like Fournette, veteran receiver Adam Thielen is being written off far too soon in the dynasty community. Thielen's "down" year in 2023 still resulted in a WR30 finish and five games as a WR2 or better. After the two sides couldn't come to an agreement, the Vikings released the Minnesota native. The Panthers wasted little time in scooping up the veteran, signing Thielen to a three-year deal worth $25 million. Carolina, with a new coaching staff and new quarterback, also added D.J. Chark and rookie Jonathan Mingo. According to beat reporters, Thielen is still the favorite to serve as the Panthers top target in their revamped passing offense.
Taysom Hill

, TE NO

Here's the thing. No matter the situation, Taysom Hill continues to produce. He's been listed as a quarterback and a tight end. He's suffered multiple serious injuries during his career. He lost his Hall of Fame quarterback and potential Hall of Fame head coach. And he just keeps scoring fantasy points. Hill was the TE9 last season despite catching only nine passes on the season. In DLF's May dynasty ADP, there were 276 players drafted and Hill came in dead last, ranking him as the TE41.
Jelani Woods

, TE IND

It could be difficult to break out of the Colts crowded tight end room, but my favorite to do so is second-year athletic freak, Jelani Woods. He'll compete with Kylen Granson and Mo Alie-Cox, whom he split time with as a rookie. Playing with veteran Matt Ryan and a lame-duck coaching staff, Woods showed off his upside with a pair of TE1 games last season. With Shane Steichen coming over from Philadelphia, expectations are sky-high for the entire offense. Woods has a lot of qualities that fantasy managers love. First, he's a converted quarterback and he also dominated last year's Combine, including running a 4.61 40 at 6'7" and over 250 pounds. Based on the latest dynasty ADP data, Woods is being valued as the TE33 with an overall rank of 220. He's easily worth the investment in this late range of startup drafts.
Irv Smith Jr.

, TE CIN

An investment in Irv Smith Jr. in a dynasty league is a bet on the player staying healthy. After a promising rookie season in 2019, Smith had the look of a future elite tight end. In 2020, Smith posted a handful of TE1 games. Smith's downfall has been his health. After playing all 16 games in his rookie season, Smith missed the entire 2021 season and half the year in 2023.

That prompted the Vikings to trade for T.J. Hockenson and eventually let Smith walk as a free agent. After a lengthy time on the open market, the tight end-needy Bengals signed Smith. Things got better when Cincinnati didn't select a tight end in the recent NFL Draft. Those recent moves have helped push Smith's ADP up as he climbed over 40 spots from April to May. Still, he offers upside and value at his current ADP of TE22 and 184 overall.