UFC Fight Night: Holm vs Vieira Betting Preview & Best Bets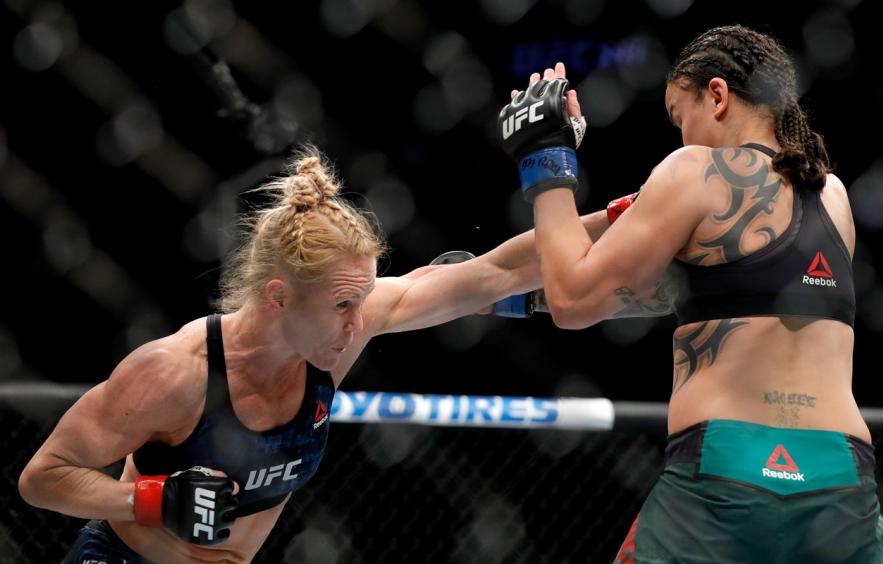 Steve Marcus/Getty Images
Part of the game is avoiding the bombs and we did just that last week as we managed to sweep the bets, going 2-0 +2.2 units. This week we get a former champion returning, a complete banger of a co-main, and many coin flip fights throughout the card. There will be plenty of bets for Saturday so be sure to hop in the Discord linked at the bottom of the article for more wagers, DFS, and more. Now let's dig in.

UFC Fight Night: Holm vs Vieira Best Bets
Holly Holm by Decision (-110, Caesars) Over Ketlen Vieira
At age 40, Holly Holm still has her eyes on reclaiming the Women's Bantamweight Championship. Forever recognized for her head-kick KO of Ronda Rousey to win the belt, she has accomplished far more than most know. A former world champion boxer, Holm defended her titles 18 times across three weight divisions. She's also in three different boxing Hall of Fames, including being inducted into the International Boxing Hall of Fame this year. Holm is one of the best boxers in MMA history, both men and women, and it's where she'll give her opponent fits all night. Following her loss to the dominant Amanda Nunes in 2019, she tallied two straight wins before taking some time off. Holm always understood how to take care of her body and mind and knows when to take a break. Now she's back and ready to keep the streak alive.
Ketlen Vieira is a Black Belt in BJJ and comes in with some momentum after her first five-round fight and victory over Miesha Tate. Vieira has done a very good job of pressuring her opponents, using her size to back them up and keep them down when it gets there. She hasn't gotten too much resistance outside of her fights against pure strikers. Her first loss came against Irene Aldana who was able to disrupt her and frustrate her with very good combinations, setting traps and eventually setting up the knockout once Vieira got sloppy. Holly Holm's boxing is on a whole other level than Aldana's and although Vieira went five rounds in her last fight, it was her first time. Holm has gone five rounds in five of her last nine fights and the ability to pick apart Ketlen from range and understand how to set up the traps offers a large enough edge.
Risk: 1.1 units on Caesars to win 1 unit.
Michel Pereira (-125, BetMGM) Over Santiago Ponzinibbio
Banger alert. Michel Pereira is a high-flying, show-boating, beast of excitement in the cage, and it's what attracted the fans early on. Unfortunately, it led to back-to-back losses early on with him seeming to not take the fights too seriously. In this business, you have to win and I think something has clicked for him now. Winner of four straight against solid competition, the Black Belt in Karate and BJJ uses unorthodox movements and a high-paced attack for as long as his cardio can hold it. Michel has found success mixing in takedowns of late but that won't be an easy task against his opponent.
Santiago Ponzinibbio holds a Black Belt in BJJ himself, so there may not be much action taking place on the ground here. The loser of two of his last three fights, he just hasn't been able to put it all together out there and will need to execute a perfect game plan to beat Michel. Working outside, staying out of range, and attacking the legs are necessary to slow down Michel. If Michel isn't able to move all around the cage, you take away what makes him the toughest to defeat. While a strategy is all well on paper, it'll be much more difficult to find the target here while Michel stays active and picks him apart from range.
Risk: 1.25 units on BetMGM to win 1 unit.
Polyana Viana (+115, Draftkings) Over Tabatha Ricci
Didn't think I'd do an article without an underdog, did you? Polyana Viana comes in with a 12-4 record and has won two straight. With eight submission wins, she knows her advantage is typically on the ground and she can work with just about anyone down there. As is the case with a lot of BJJ fighters, they can do incredible things on the ground but it's the wrestling knowledge necessary to get it there that Viana lacks. The significant six-inch reach advantage that she'll have in this fight will be her greatest weapon as it'll help her stay at range as she figures out the best paths to take down her opponent.
Tabatha Ricci has some decent grappling of her own, just not on Viana's level. A bit more well-rounded on the feet, Ricci comes in with a 6-1 record having split her first two fights in the UFC. She was able to land five takedowns in her last fight which led to her first UFC victory but it won't be her best path this time around. She's tough but not sure I've seen enough yet to overcome the significant size disadvantage here and if things get to the ground, Viana could certainly finish this one.
Risk: 1 unit on Draftkings to win 1.15 units.
For the most up-to-date picks check out my Twitter and subscribe to our Discord. This sheet from Dan Rivera tracks all my betting picks (and those from the rest of the betting staff) on the year. Just click on the tab with my name on it for the results.
---
This article is intended for entertainment purposes and adult users only. Call 1-800-GAMBLER if you have a gambling problem
---