Survivor Pool Strategy: 4 Things You Need To Know In 2022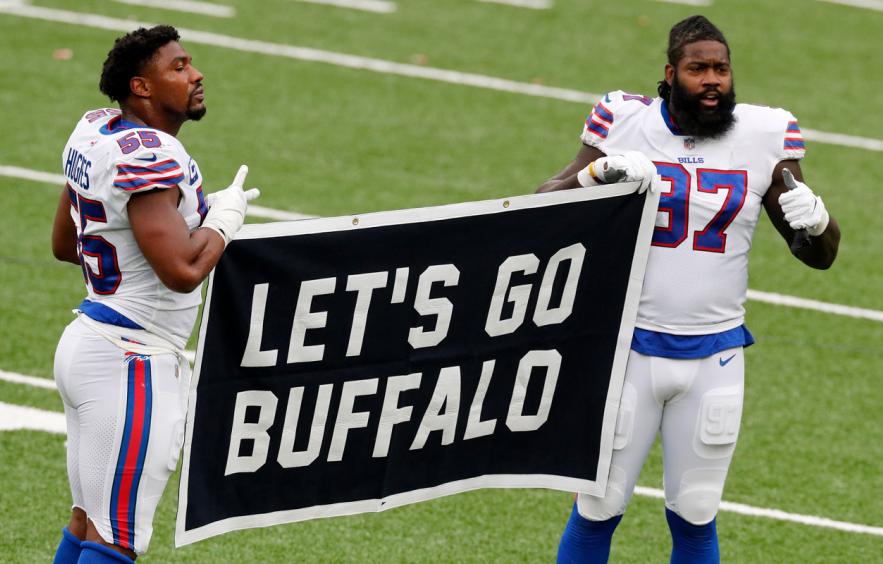 Jim McIsaac/Getty Images
This article was written by PoolGenius.
The 2022 NFL season has arrived, and with it the annual buzz about NFL survivor pool strategy. At PoolGenius, we've spent over a decade analyzing what it takes to win survivor pools (also known as knockout pools and eliminator pools). Our picks and tools have won over $3.7 million in survivor pool prizes for our subscribers.
We've already written a guest post on 4for4 about mistakes to avoid in survivor pools, and it provides a general overview of survivor pool strategy. In this article, we will focus specifically on the 2022 season, and identify four specific scenarios that you need to think about if you want to make the smartest survivor pool picks this season.
Via the link below, for a limited time 4for4 readers can also get a free trial of our NFL Survivor
Get Picks Now
Free Survivor Picks From PoolGenius
Products from PoolGenius and TeamRankings:
Survivor Picks | Pick'em Picks | Betting Picks
#1 - Buffalo Has High Future Value In 2022 Survivor Pools
As of the start of the 2022 season, the Buffalo Bills have the highest amount of future value in survivor pools, and it's not particularly close. Looking ahead, we project Buffalo to be one of the two biggest favorites in eight different weeks of 2022.
The Bills actually start the year with some tough matchups, including the season opener at the Rams and road games at Baltimore and Kansas City in the first six weeks. But from Week 9 to 16, Buffalo faces several juicy opponents, and we project the Bills to have win odds over 75% in six of those games.
Since you can only use Buffalo once, that means a big strategy decision about whether to use mighty Buffalo in the first half of the season, or save them for later in the year. In pools expected to last the entire 18-week season, conserving Buffalo could have big benefits.
#2 - Week 3 and Week 4 Will Force Big Strategy Decisions
It does not look like it will take long to get to some key decisions in 2022 survivor pools, as Weeks 3 and 4 are setting up as a challenging stretch.
Based on look-ahead betting lines, only three teams are favored by five or more points in Week 3, and only four teams are in Week 4. Our projected win odds have only three teams with greater than 65% win odds in each of those two weeks.
There's also another factor that makes these two weeks of survivor picks even more difficult. The Chargers are the biggest projected favorite in both weeks, when they face Jacksonville in Week 3 and then Houston in Week 4.
Since you cannot use the Chargers in both weeks, figuring out how to play these two weeks will immediately test your risk appetite. In the extreme case, saving the Chargers to use after Week 4 should set up some very high value opportunities, but it would require a solid gamble early.
#3 - Kansas City Is A Late Season Ace-In-The-Hole Pick
One team that probably will not draw many survivor pool picks early in the 2022 season is Kansas City. The Chiefs' schedule is extremely front-loaded in terms of difficulty.
But starting in Week 10, Kansas City will likely become a key team for navigating the second half of the year, especially in large survivor pools.
From Week 10 on, Kansas City projects as the top favorite in three different weeks, playing Jacksonville (Week 10), Houston (Week 15), and Seattle (Week 16). So if you're in a larger pool, you almost certainly don't want to burn the Chiefs early.
GET PICKS NOW: Free Survivor Picks From PoolGenius
#4 - Taking All The Safest Picks Early Is A Trap In 2022
In very small survivor pools, it's occasionally possible to focus on making the safest picks and survive long enough to win. But in most cases, that strategy doesn't come close to maximizing your edge.
Entering 2022, we project 9 different teams to have the highest win odds of the week over the first 10 weeks of the season. (As mentioned above, the Chargers double up as the biggest projected favorite in both Weeks 3 and 4.) So if you desire, you can try to just ho-hum along picking the safest team each week for the first half of the year.
Even if it works, though, your fortunes will change quickly down the stretch. After Week 10, one of those same early favorites is likely to be the safest pick of the week for the rest of the season. We project a total of only 10 different teams to be the biggest favorite of a week in 2022, led by Buffalo with four such weeks.
In most survivor pools, it would not be a good idea to use 8 or 9 of those 10 teams in the first half of the season. Simply surviving to the mid-season is often only a Pyrrhic victory.
At some point, you are going to need to take some risks to win a survivor pool. You want to make those riskier picks when they provide the most value—not when you are forced to make them because you've run out of good teams. And some of the best risk vs. reward trade-offs will often come during the first half of the season.
(Fun fact: According to the Optimal Path tool included in our NFL Survivor Picks product, even the best combination of safe picks over the course of 2022 gives you only a 1-in-100 chance of surviving the whole season.)
Get A Survivor Strategy Edge
While winning a survivor pool is hard and full of uncertainties, the best strategy will pay off in the long term. NFL Survivor Picks from PoolGenius is designed to help players always make the best risk-vs.-reward decisions. Among other things, the product:
Provides customized picks based on your pool's size and rules.
Takes into account the teams you've already picked.
Optimizes picks for multiple pools and entries (up to 30 picks per week).
Shows the latest betting odds and objective game predictions.
Compiles pick popularity data from survivor pool hosting sites.
Projects current and future week pick popularity for all teams.
Calculates the expected value and future value for all teams.
Shows the future picks that give you the best odds to survive the season.
Updates multiple times per day with the latest data.
For a limited time, 4for4 readers can get a free trial of the product, no credit card required.
Get Picks Now
Free Survivor Picks From PoolGenius
Products from PoolGenius and TeamRankings: