NBA Player Prop Bets: Finney-Smith Find the Glass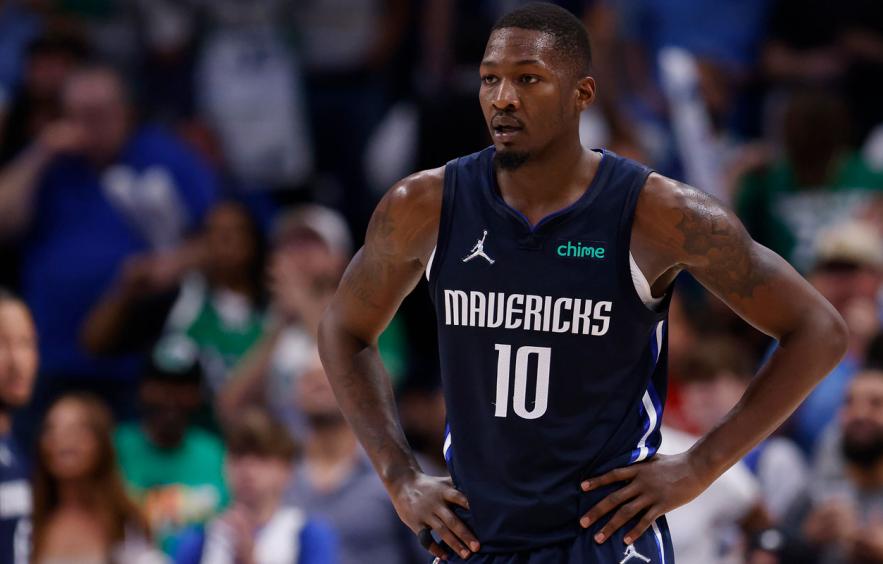 Ron Jenkins/Getty Images
The Western Conference Finals moving to Dallas makes all the difference in the world for the Mavs. When Luka Doncic has played in a playoff home game, Dallas is 4-0 with an average margin of victory of 17.8 points. To what extent that continues against a veteran Warriors team will determine if this is a series or a speed bump on Golden State's path back to the NBA Finals.
While determining how much changes due to the series moving, make sure to look at 4for4's Player Prop Finder, Player Prop Tool, and Prop Explorer, and get involved in the Discord chat. Let's make it a profitable Sunday.

*Lines accurate at time of publication
Caesars Player Prop (May 22, 2022)
Dorian Finney-Smith Over 5.5 Rebounds (+105)
Early in this series, Finney-Smith reclaimed his spot as a consistent rebounding presence after a series against the Suns where he played well but his role kept him further from the basket.
So far against the Warriors, Finney-Smith is averaging 7.5 rebounds on 10.5 rebounding chances. The conversion rate is fantastic and what gives optimism that it is sustainable is the average distance of rebounds so far being 5.2 feet, the closest to the basket of any series these playoffs. That shows Finney-Smith is able to get closer to the basket and implies each rebounding chance he gets is more valuable and consistent because it is coming from a more predictable location.
Working in favor of there being more chances is the unsustainability of the Warriors' shooting. Golden State is shooting lights out, 56.1% from the field in this series and it is not realistic to expect that level of shot-making to continue, especially as the Warriors head out on the road. With Finney-Smith playing 40+ minutes when in non-blowout situations, a shooting regression could lead to a noticeable bump in rebounding chances for Finney-Smith.
Risk: 1 unit on Caesars to win 1.05 units. (Playable to -112)
Draymond Green Under 7.5 Points (-105)
With all the scoring options Golden State has, clearly Draymond Green has made his livelihood in the other parts of the game that either his teammates lack or that feels are needed more on a given day. That has made even a low prop number like this in the scoring column, very volatile.
Green has gone over this prop in only five of 13 playoff games, splitting the two in this series. The other note is that Green has only gone over this prop once on the road. At the Chase Center, Green gets 6.6 shots per game but away from home, that number tumbles to 4.8. When considering numbers this low to begin with, 1.8 shots per game is significant.
In this series specifically, with Kevon Looney emerging and Green not being utilized as the center for as many minutes as previously, it keeps him away from the basket more often. Green is shooting 25% from behind the arc this postseason, so floating around the outside may help his playmaking for others but it is a hindrance when trying to score himself.
Dallas has resisted hiding Luka Doncic on Green either because of how that could get exploited with all the offensive actions Green initiates. That is why Doncic has been on the more capable scoring Andrew Wiggins. With Green, there is always the looming foul trouble as well that could limit his minutes versus what should be expected.
Risk: 1.05 units on Caesars to win 1 unit. (Playable to -115)
PointsBet Player Prop Bets (May 22, 2022)
Reggie Bullock Over 11.5 Points (+105)
While Dallas was very up and down at the Chase Center, Reggie Bullock was a main offensive contributor and should continue to be so as the series moves to Dallas.
In the series so far, Bullock is averaging 16.5 points and went over this prop in both games. The shot volume he has seen so far has definitely helped, with Bullock scoring 12 on 12 shots and 21 on 11 shots. In games this playoff where Bullock has gotten double-digit shots, he is averaging 16.4 points and has gone over this prop in every instance.
Bullock has benefited from plenty of wide-open looks, as tends to happen when on a team with Luka Doncic. Bullock is averaging 6.5 wide-open attempts in the series and is converting 3.5 of them. What has created even more opportunities for Bullock has been the willingness of Jalen Brunson to look for others. In the first two games of the series, Brunson is averaging 7.5 potential assists per game, up from the second half of the regular season where he was only at 5.9.
Like earlier with Finney-Smith, as long as the game is not a blowout, then he is in line for 40+ minutes and every possession could lead to another shot attempt. In Mavs playoff games where the difference is in single digits, Bullock has played more than 40 minutes in seven of eight. The number of avenues to the over makes this a value bet.
Risk: 1 unit on PointsBet to win 1.05 units. (Playable to -116)
For the most up-to-date picks check out my Twitter and subscribe to our Discord. This sheet from Dan Rivera tracks all my betting picks (and those from the rest of the betting staff) on the year. Just click on the tab with my name on it for the results.
---
This article is intended for entertainment purposes and adult users only. Call 1-800-GAMBLER if you have a gambling problem.
---