4for4 Betting Recap: Week 6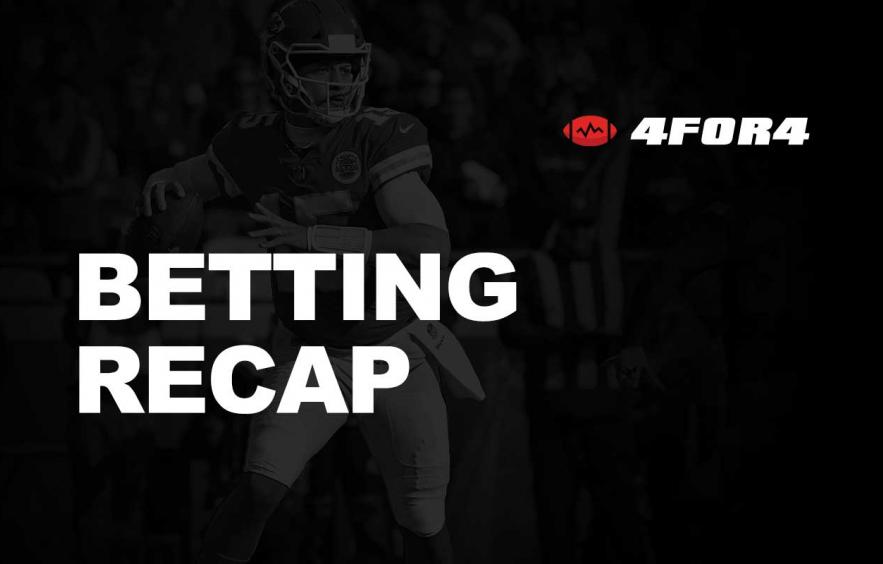 4for4 Illustrations
Welcome to the 4for4 football gambling recap! My name is Dan Rivera and I am in charge of tracking bets from Connor Allen, Ryan Noonan, Sam Hoppen and Greg Smith. Each week, I track these four and provide feedback after the Monday Night Football game ends. If you have not found it, I track them all here in this 4for4 Tracker. Make sure you switch to the right person and sport.
When you look at anyone in the 2021 NFL, you will see some yellow blocks. There are two points you need to know:
You will see a weekly tracker; this just lets you look at anyone on any given week. This is what I like to call the micro tracker.
The big yellow box has most of the plays broken down by position, prop type, totals, spreads, etc. The total units won or lost will differ from this deep dive version because certain plays didn't fit into the deep dive. For example, Ryan Noonan bet the Patriots to make the playoffs. It doesn't fit into any of the weekly bets during the NFL season.
Why do I do this? When tracking NFL bets, 99% of all bets anyone makes are working juice (meaning you have to lay more money down than you would win). This tracker is far superior compared to other trackers. Other trackers don't have bets broken down by type, it is just simply a tracker. To me, that isn't helpful. I want the data (picks) to tell a story so I can help whoever is making the picks win more. With the juice, you are better off avoiding losers than you are winning. My goal is to help anyone I track to avoid losers or have them attack areas they are having success. When you look at the deep dive table, be careful if one area looks good or bad. The sample size is key to that deep dive table and a small sample can get very skewed in one direction.
Ninety-nine percent of all plays tracked are to win 1 unit or 0.5 units. You will get maybe one, max two plays from any one bet to win more than 1 unit.
With that being said, let's look at Week 6!
Ryan Noonan
Week 6: 9-6, 60%, 2.92 units
YTD: 70-57, 55.12%, 10.53 units
Dan's Analysis: Ryan came up a bit short this week, just like Josh Allen (sorry). Ryan had an okay week but the Bills -3 loss hurt as that would have put him for over five units for the week.
For the deep dive, Ryan needs to stop playing game totals. He moves to 0-7 for the year, which has hurt him big. On the flip side, Ryan moves to 11-1 on team totals for 9.9 units. You are seeing Ryan's bad RB props start slowly start to even out. He moves to 12-16 for the year on RB props but it was the bad start to RB receiving yards that pushed this category down. Take out that category and Ryan becomes profitable in RB props.

Connor Allen
Week 6: 5-3, 62.5%, 1.86 units
YTD: 54-52, 50.94%, -1.54 units
Dan's Analysis: Connor with three straight winning weeks now! Connor was away this weekend for a friend's wedding, so this was a very light weekend for him compared to other weeks. For Week 6, not much of a takeaway from me. We are seeing him approach profit territory after a bad start.
For the deep dive, Connor has done well on WR props—23-13, up 7.85 units for the year. The downside is RB props brought him down big time this year—12-25, -15.56 units. This will be a category that will take the rest of the year to clean up. The categories you have to be aware of are RB receiving yards and receptions. Connor is currently 2-8 on the RB receiving yards and 2-5 on receptions. Lastly, Connor is 10-4 on QB plays, up 9.56 units.
Sam Hoppen
Week 6: 5-0, 100%, 5 units
YTD: 17-11, 60.71%, 5 units
Dan's Analysis: I am going to sound like a broken record on Sam for the next few weeks, but he is tough to give a deep dive on because of the small sample size. I don't encourage him, or anyone, to be betting large volume if that isn't your thing just because you want some results. That spells long-term disaster and I expect Sam to slowly grind it out.
Sam got the broom out this week! Going 5-0 on his Week 6 plays. Sam is probably a good 2-4 weeks out before the deep dive becomes effective for him. Just hard to gauge someone with such a small sample size. I don't encourage him (or anyone) to put plays out they aren't comfortable with. Sam doesn't have a real bad category right now, his RB and WR props are 50% with a very small loss in each. Sam is 6-2 on QB plays for 4.25 units.
Greg Smith
Week 6: 7-4, 63.64%, 3.1 units
YTD: 31-30, 50.82%, -1.15 units
Dan's Analysis: Another guy I will sound like a broken record on, Greg is working in some of the most efficient gambling markets out there. What I mean is that a half-point to a full point is the difference between having a winning weekend versus a losing weekend. With totals, you will see 1- or 2-point swings, but both of these markets are by far the hardest to win in the long term. For example, in Week 3, Greg had such bad beats on Raiders -3.5 and under 45.5. If the Raiders do their job and don't allow Dolphins to score in the end, he goes 4-4 instead of 2-6. That series had a net swing of 4.2 units that cost him 2.2 units.
Greg with the nice bounce back this week! Not much for him this week as working with spreads and totals you will get some very wild swings in wins or losses. We did see Greg start to dabble more in the props market.