2021 NCAA Tournament First Round Bets: Day 2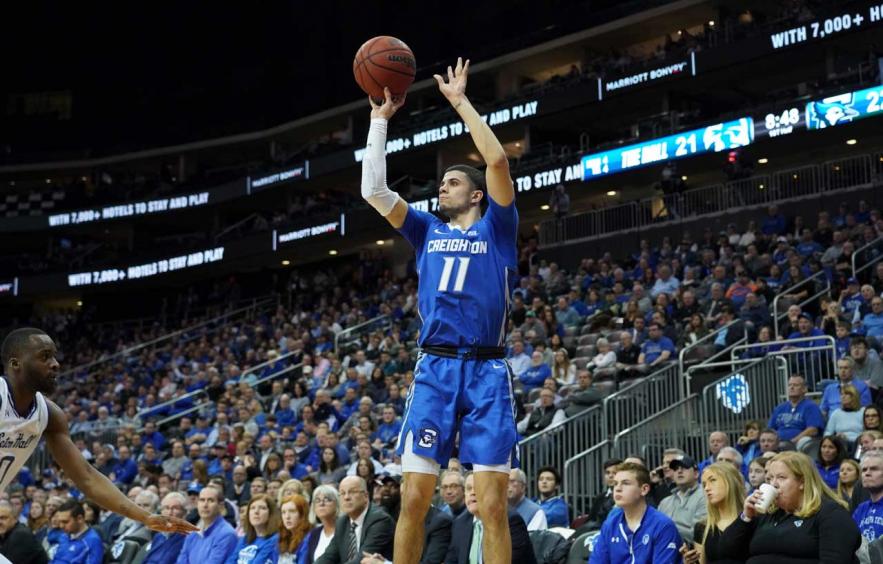 Porter Binks/Getty Images
After an exciting day one of March Madness games, the NCAA Tournament has queued up a solid run back on Saturday. With highly competitive contests across the board, betting markets remain exploitable even at this time of year.
For house-keeping purposes, the NCAA uses quadrant wins to rank strength of schedule for these teams. A quadrant-one win is defined as home games against Rating Percentage Index (RPI) top-30 teams, neutral games against RPI top-50 teams, and away games against RPI top-75 teams. With that said, let's dig into the top bets for the Saturday slate of the first round of the NCAA tournament.
2021 NCAA Tournament First Round Bets: Day 2
Oregon (7) vs. VCU (10)
Oregon -5.5 (-110 at FanDuel)
After a first-place finish in the PAC-12's regular season, the Ducks found themselves bounced by Oregon State in their conference tournament. Still finishing with a strong record, the Ducks drew a five-seed and now face the A-10 runner up in VCU as 5.5-point favorites. On the other hand, VCU finished the season 19-7, displaying significant weaknesses.
For example, VCU finished 2-5 in quadrant one games. On top of losing to notable opponents like St Bonaventure and West Virginia, VCU dropped games to George Mason, Davidson and Penn State. Competition wise, Oregon will be the best team VCU has faced all season long.
From an efficiency perspective, Oregon also holds the advantage. The Ducks rank 27th in offensive efficiency, while VCU slots in at 174th. These metrics also struggle to quantify a slew of injuries Oregon dealt with during the regular season. At various points, Chris Duarte, Eric Williams and Will Richardson all missed time for this team.
Stylistically, VCU also doesn't match up well against Oregon. Oregon's starting five lacks height with their tallest starter standing 6-foot-6. However, VCU's only players of size in Hason Ward and Levi Stockard average just 21.5 and 16 minutes, respectively. An underrated team coming out of the PAC-12 after an injury-riddled season, Oregon sets up well here against VCU.
Risk: 1.1 units on Oregon -5.5 points on FanDuel to win 1 unit.
March Madness Sportsbook Promos
BetMGM: Bet $10 on any game, get $160 in free bets
PointsBet: Bet $20 on any team, win $150 if they score a point
DraftKings: Bet $4, win $256 on any underdog
William Hill: Get a $2,021 risk-free bet
BetRivers: Get $250 in free bets on the tournament
Unibet: Get a $500 risk-free bet, plus $40 in free bets
Creighton (5) vs. UC Santa Barbara (12)
Creighton -7.5 (-110 at FanDuel)
Another matchup featuring a significant gap in competition, Creighton takes on UC Santa Barbara as a 7.5-point favorite. Creighton finished second in the Big East regular season before ultimately dropping their conference championship to Georgetown. Meanwhile, UC Santa Barbara won the Big West, but finished 2-4 in quadrant-two games.
Noted above, this remains another game with a significant gap in competition. UC Santa Barbara dropped four games this year—and all four came to opponents outside of KenPom's top 100. On the other side, Creighton lost to some of the best competition in the country, including Kansas by a point in non-conference play.
From an efficiency perspective, UC Santa Barbara actually holds advantages. They rank 31st in offensive efficiency to Creighton's 32. They also rank 31st in defensive efficiency to Creighton's 72. However, UC Santa Barbara struggles to defend threes, coming in at 148th in three-point defense. Creighton shoots 37% from beyond the arc, including a 41% shooting percentage from stud Marcus Zegarowski.
While this remains a trendy upset pick, UC Santa Barbara's low level of competition and weakness on the perimeter looks like trouble against Creighton. While 7.5 remains a lot of points to lay, Creighton has shown a willingness to run it up on lesser competition. For those without the stomach, Creighton Moneyline parlays remain playable as well.
Risk: 0.55 units on Creighton -7.5 points on FanDuel to win 0.5 units.
Texas (3) vs. Abilene Christian (14)
Abilene Christian +8.5 (-110 at FanDuel)
One of the tougher draws in the first round, Texas faces a live Abilene Christian squad as an 8.5-point favorite. Texas finished an up-and-down regular season with a win over Oklahoma State in the Big 12 championship. Meanwhile, Abilene Christian won the Big South after losing only four games all regular season.
Unlike some of the mid-major underdogs discussed above, Abilene Christian actually faced significant competition this year. The Wildcats took on Arkansas and Texas Tech in non-conference play, losing both. However, all of their losses on the season occurred by single-digits except to Arkansas.
Digging deeper, Abilene Christian also poses a problem for Texas from an efficiency perspective. Both teams play with an above-average pace, and the Wildcats remain solid on defense. Abilene Christian actually ranks 67th in offensive efficiency and first on defense. These metrics both best Texas heading into the game.
Texas' biggest strength comes in their front-court with a deep stable of big men, including Greg Brown, Jericho Sims and Kai Jones. However, the Wildcats possess two monstrous men in Kolton Kohl (7-foot-0) and Joe Pleasant (6-foot-8) capable of bodying the Texas frontcourt.
As for guard play, Texas may be in trouble against the top turnover defense in the country. Texas does play loose with the ball at times, ranking 246th in offensive turnovers. Abilene Christian literally ranks first in the country at causing turnovers, creating a strong mismatch.
With numerous advantages pointing towards Abilene Christian, this game sets up for a potential upset. Abilene Christian +8.5 looks like the safest play, but those with a higher risk tolerance could mix in a small wager on the Wildcats Moneyline.
Risk: 1 unit on Abilene Christian +8.5 points on FanDuel to win 1 unit.
*All lines accurate at the time of publication.
---
This article is intended for entertainment purposes and adult users only. Call 1-800-GAMBLER if you have a gambling problem.