TJ's #Taek: Week 14 NFL DFS Recap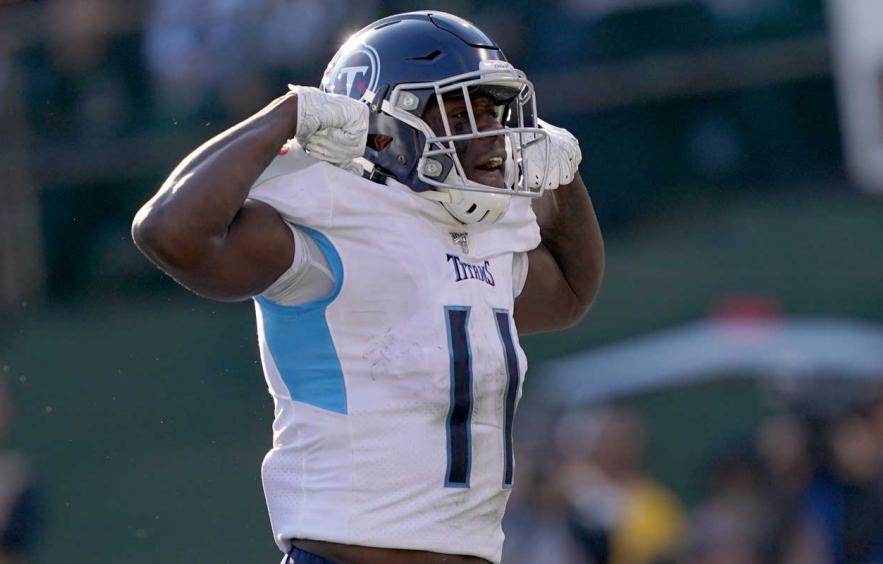 Thearon W. Henderson/Getty Images
Week 14's winning lineups from the biggest contests on FanDuel and DraftKings can be used to tease out lineup-building strategies and offer clues on how you could have landed on a similar team. Reviewing your hits and misses each week is imperative if you want to be a profitable DFS player but examining winning lineups is also a useful exercise in cultivating a winning approach.
DraftKings Week 14 Millionaire Winning Lineup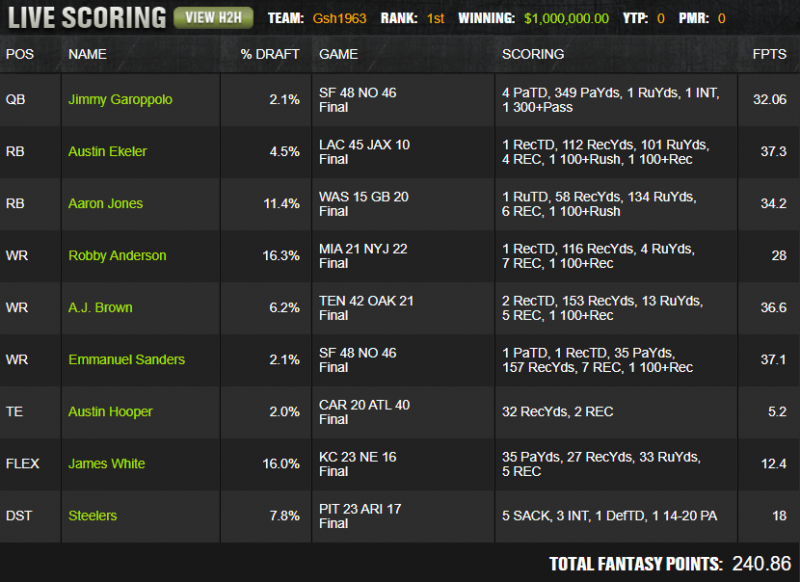 This week's Millionaire winner was the most contrarian lineup we have seen at the top all season, with an average ownership of just 7.6%. Hitting on multiple, low-owned, non-correlated plays is likely not an ideal strategy—this is only the third time all season a winning lineup has had an average ownership below 10%—but when it does work, it isn't hard to pull away from the field. There are two major factors that led to extremely low ownership in this lineup. Stacking a 49ers QB/WR duo in a game that wasn't expected to be high-scoring but turned into a shootout helped catapult this lineup to the top. A not-so-obvious contrarian play was the overall lineup construction. By fading the highest-owned player of the week, Bilal Powell, Gsh1963 was able to construct a balanced lineup, in terms of salary, while lineups that rostered Powell were almost forced into a stars and scrubs approach. Looking for unique roster construction opportunities can sometimes be as important as looking for contrarian individual players. In this case, the winner found both.
FanDuel Week 14 Sunday Million Winning Lineup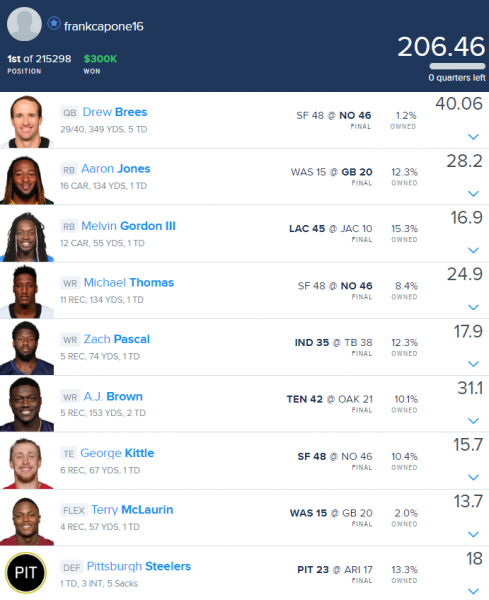 FanDuel's Week 14 winner only rostered three players owned in fewer than 10% of lineups but this was the second-lowest average ownership we have seen from a winner this year. That low average ownership was largely driven by Drew Brees and Terry McLaurin. Landing on Brees probably isn't as puzzling as getting to Jimmy Garoppolo. Since returning from injury, Brees has been among the most efficient fantasy scorers in the league and this was a chance to get a stack with the best receiver in the league at their lowest ownership of the season. McLaurin served as a reminder you don't have to be perfect at every spot if you can differentiate your lineup enough. Using a wide receiver in the flex on FanDuel has proven to be much more viable in large-field GPPs than we thought last season. It's worth noting this lineup left $500 on the table, the most we've seen from a winning lineup this season. While leaving this much salary on the table likely isn't optimal, it may be worth considering in a small percentage of lineups for differentiation purposes, but it isn't a strategy to get carried away with.
TJ's Final #Taek
This week was one of the more surprising weeks of the season, from the 49ers/Saints shootout to the construction of the winning lineups in GPPs. As DFS players, we can turn our nose up at winners and chalk the week up to variance or we can look for lessons to try and improve our own game. Even in Week 15, we're still trying to do the latter here.
The way to win large-field tournaments is to build our teams in such a way we benefit from chaos. Oftentimes that is as simple as finding contrarian players in a popular offense or stacking an entire game on both sides. But when those strategies become so prevalent that they aren't really contrarian, we need to look for other ways to be different. As we saw this week, that could mean looking for an unpopular build in terms of salary distribution or leaving extra salary on the table. What's important to note about these unpopular strategies is that you don't need to use them as a primary method of building lineups—due to the high variance nature of tournaments and their payout structures, being unique outside of just low-owned players only has to pay off once to turn an extremely high profit.