Noah Fant has Fantasy Starter Potential in 2019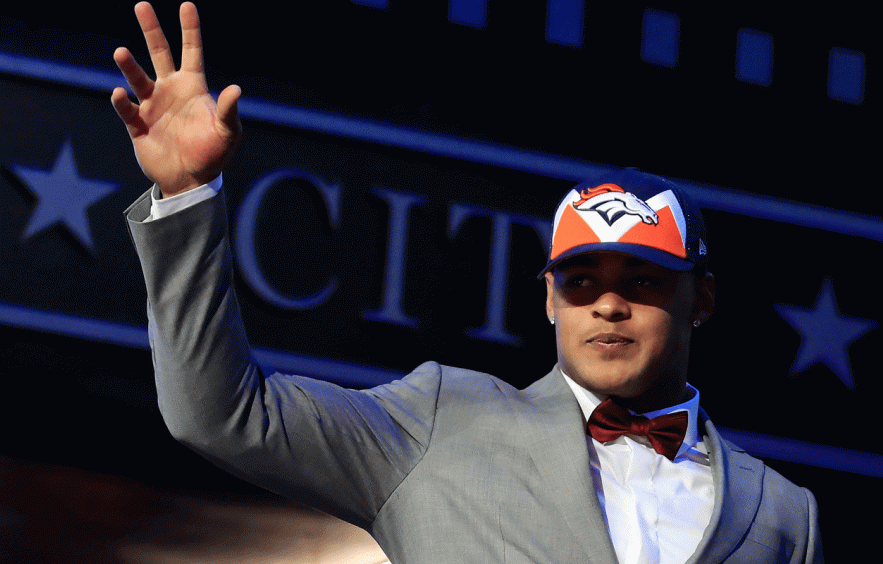 Andy Lyons/Getty Images
The Broncos have been searching in vain for a TE for what feels like a decade. No one at the position has had success, especially in the fantasy realm, since Julius Thomas in 2014. After striking out with two Big 10 TEs in Jeff Heuerman and Jake Butt, John Elway went to the Big 10 again for Denver's third TE in a four-year span, by drafting Iowa's Noah Fant in the first round of this year's NFL draft.
Will things be different this time around in Denver when it comes to TE play? I think they finally got it right and here's a look at why.
Noah Fant

is a Beast

The 21-year old absolutely destroyed the combine, not only with his speed but his athletic ability throughout all the drills. He was the top TE performer in all but three categories. Fant was reported to have grabbed everything thrown his way, showcasing solid hands and impressive route running.

His blocking has allegedly been a weak spot, but it's doubtful the Broncos will use him much in run-blocking scenarios—that's more of a Heuerman situation. Fant's 6'4", 250-lb frame makes him a mismatch all over the field and has people drawing comparisons to George Kittle. Like Kittle, the corners are undersized in comparison and the linebackers and safeties just can't keep up with his speed.
Plenty of Opportunity for Fant
Fant couldn't have walked into a better situation as far as competition in the Bronco's offense. In the TE room, he's already listed as the starter and should have no problem holding off Heuerman, Butt or Tony Fumagalli in training camp.
2019 also happens to be a year where a rookie TE has the potential to be an offense's No. 1 receiving option, which never happens. Their top WR Emmanuel Sanders is coming off an Achilles surgery, which is one of the most difficult to bounce back from in the NFL, especially at the age of 32. The remaining WR depth chart is comprised of inexperienced players, who will also be learning along with Fant. As long as he can grasp NFL defenses and Denver's playbook, the rookie has a legit shot to be fantasy relevant in 2019.
Flacco Loves a TE
We can't forget about Flacco's role in all of this. He's played with a plethora of TEs over the years and accomplished great things along the way. When Baltimore won the Super Bowl in 2012, Dennis Pitta was TE10 in targets with 94 and TE6 in touchdowns with seven. Fant is more athletically talented than any other TE Flacco has had in his arsenal, and if they can develop chemistry from the onset, this could be a rare breakout season for a rookie TE. Editor's note: For his career, Flacco has targeted tight ends on 21.2% of his attempts, a target share reached by just three tight ends in 2018.
Bottom Line
As long as Fant can stay healthy and get up to speed on NFL play, he has the potential to crack starting fantasy TE territory in 2019. He has all the cards stacked in his favor to make an impact in his first season as a professional football player. In PPR leagues, Fant is currently being drafted in the 13th round, which could present solid value if he indeed breaks out.