NFL Week 13 Betting Picks & Preview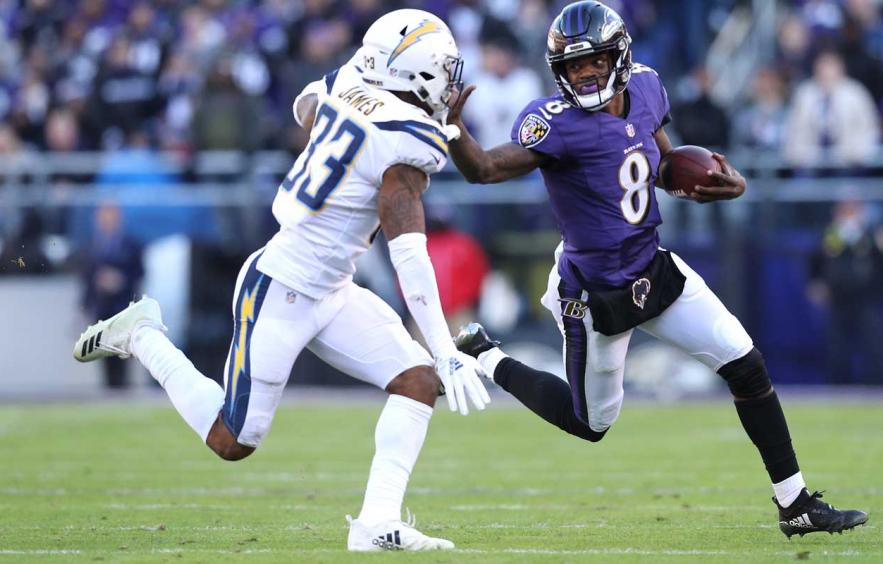 Thursday Night Recap: In my write-up of last night's clash between the Saints and Cowboys I noted that if you liked Dallas, then you believed the 'Boys would run the ball effectively, continue to play excellent defense and play keep-away from Drew Brees. In some respects, that's what happened but that also minimizes how great Dallas was defensively.
This season has been all about how explosive offenses have been, namely the Chiefs, Rams and Saints. What the Cowboys showed Thursday night is what happens when a team as defenders that can play in space. Led by rookie Leighton Vander Esch and Jaylon Smith, Dallas has linebackers that can run. New Orleans does a lot of things creatively with its offense but one simple thing the Saints do well is make defenders miss in space. That's how three-yard gains turn into 12. Last night, those three-yard gains stayed three-yard gains as Cowboy defenders closed fast and tackled well in space. It was a clinic on how defenses want to make offenses—any offense—earn every yard.
Long story short, I prognosticated that the Saints would turn last night's game into a track meet and I whiffed badly on that prediction. Dallas kicked New Orleans' ass for four quarters and if it weren't for some self-inflicted wounds, the Cowboys would have won by more than three.
With my Saints play crashing and burning, I am now 41-21-3 against the spread this NFL season. Below are my plays for Sunday's slate.
353 Los Angeles
Chargers

at 354 Pittsburgh

Steelers
Spread: Steelers -3
O/U: 51.5
Time: 8:20 p.m. ET
Line Movement
The Steelers opened as 3.5-point favorites but the line has been bet down to 3 at several sportsbooks, albeit with extra juice (-125 instead of -110). As for the total, it too has dropped, moving from 52.5 down to 51.5.
Public Betting
While the betting tickets are split 50-50 on this game, 56 percent of the money wagered is on Pittsburgh to cover the spread. 81 percent of the betting tickets and 90 percent of the money wagered is on the over.
Trends
The Chargers are just 2-5 against the spread in their last seven trips to Pittsburgh and are 3-8 against the number in their last 11 games versus the Steelers overall. The over cashed in four of the previous five meetings in Pittsburgh.
Prediction
I listed this game first because if I'm only playing one this weekend, it's the Steelers -3. When the lines were released last Sunday night I was shocked to see Pittsburgh was only laying a field goal at home.
Pittsburgh is a better team at home than it is on the road. Fantasy owners are aware of Ben Roethlisberger's home/road splits and he's the biggest reason why the Steelers average 35.4 points per game at home this season compared to just 23.2 on the road.
Speaking of Big Ben, he spent a lot of time this week talking about what happened on the final play in Denver last Sunday, but he missed open receivers multiple times throughout the game. It wasn't just the final interception that did the Steelers in, as they also lost a touchdown on the dumbest rule in the NFL and James Conner fumbled deep in Denver territory at the end of the third quarter to halt another potential scoring drive.
I bring all of this up to note that the Steelers self-imploded last week. They still out-gained the Broncos 527-308, which included a 25-to-17 advantage in first downs. Four turnovers are why they lost and I don't view that loss as an indictment on Pittsburgh. They simply didn't capitalize on their opportunities.
Oddsmakers typically give teams anywhere between 2.5 to 3 points for homefield advantage. So, with this line at 3, what oddsmakers are telling us is that these two teams are even on a neutral field? I don't buy that, especially since the Chargers will be without the vastly underrated Melvin Gordon.
Nothing against the Bolts, who are a solid team and a squad currently flying under the radar, but this line feels too low to me with the Steelers returning home after two weeks on the road. The last time the Steelers played in Pittsburgh they thoroughly embarrassed the Panthers as a much larger favorite than what they'll be Sunday night.
Pick: Steelers -3 (buy the hook if the line creeps up to 3.5)
357 Baltimore
Ravens

at 358 Atlanta

Falcons
Spread: Falcons -1
O/U: 49.5
Time: 1:00 p.m. ET
Line Movement
The Falcons opened as a 2.5-point home underdog but the line jumped the fence, making Atlanta a 1.5-point favorite a couple of days ago. As of Friday evening, the Falcons are now -1 at most sportsbooks. As for the total, it hit the board at 49 but was bet up to 49.5.
Public Betting
The Falcons are attracting 61 percent of the betting tickets and 56 percent of the money wagered on this game, while 61 percent of the tickets are on the under but 60 percent of the money is on the over.
Trends
The Ravens are just 1-4 against the spread in their last five games overall while the Falcons have failed to cover in four of their last five home games.
Prediction
Some have wondered aloud if Dan Quinn's job could be in jeopardy with the Falcons sitting at 4-7 on the year. That seems far-fetched. Atlanta had Super Bowl aspirations coming into the year but anyone that has paid attention to the Falcons understands that this became a lost season as soon as multiple key starters on both sides of the ball went down in the first few weeks. They're not the first team to suffer through a hard-luck season and they won't be the last. But it is their time.
I don't get the sense that the Falcons have quit on Quinn. Honestly, I just don't think they're a very good team as currently constructed. I've spent months fading the Falcons or taking the over in their games because of their injuries on defense. But it's been the injuries on offense that has really wrecked things for Atlanta.
The Falcons are playing with two backup guards due to injuries, which has turned Matt Ryan into a human piñata. Ryan showed some toughness last week in New Orleans, but Baltimore is going to harass him like the Saints did on Thanksgiving night. Throw in the fact that right tackle Ryan Schrader is having his worst season as a pro and this once-explosive offense has generated 16, 19 and 17 points in its past three games. Oh, and they have zero running game without Devonta Freeman.
Forget about Lamar Jackson, who will make his first NFL road start this weekend: This game is about Baltimore's defense shutting down a depleted, one-dimensional Atlanta offense. Jackson doesn't have to do anything more than he did in wins against the Bengals and Raiders the past two weeks: Make plays with his legs and let his running game and defense take care of the rest.
Pick: Ravens +1
351 Indianapolis
Colts

at 352 Jacksonville

Jaguars
Spread: Colts -4
O/U: 47
Time: 1:00 p.m. ET
Line Movement
The Jaguars opened as 3-point home dogs but the line has since climbed to 4. The total, meanwhile, opened at 47.5 but was bet down to 47.
Public Betting
As of Friday evening, 76 percent of the betting tickets and 91 percent of the money is on the Colts, while 60 percent of the tickets and 83 percent of the money is on the over.
Trends
The Colts are 0-6-1 against the spread in their last seven games against the Jaguars but the favorite is 11-4-1 against the number in the last 16 meetings between these two teams. The under is also 11-4 in the last 15 meetings.
Prediction
I noted in the Ravens-Falcons write-up that I believe Atlanta hasn't given up on its head coach Dan Quinn but I don't know if the same thing applies to Doug Marrone in Jacksonville. The Jaguars fired offensive coordinator Nathaniel Hackett earlier this week and benched Blake Bortles for Cody Kessler. The wheels have completely fallen off.
The Colts have turned things around this season because of the return of Andrew Luck, an underrated defense and a revamped offensive line. It wouldn't surprise me in the least if the Colts clinched the sixth seed in the AFC and were a tough out in the playoffs for whichever team clinches the three seed.
That said, this pick is about the Jaguars. Kessler is a game manager that doesn't take shots downfield and won't have the services of Leonard Fournette, who is suspended. The Jags will attempt to run the ball with Carlos Hyde and T.J. Yeldon and while that could work for a quarter or two, ultimately the Colts will force Kessler to succeed in the red zone and I have my doubts.
Does this feel a little too easy? Sure, but that's why we're laying four points with a road team. I'm not going to over-think this one though: The Jags have seemingly quit on their season, they won't have their best offensive player and they're starting a limited player under center. Give me Indy.
Pick: Colts -4
ATS Season Records
Week 1: 5-0
Week 2: 3-2
Week 3: 4-1
Week 4: 3-1-1
Week 5: 3-2
Week 6: 4-1
Week 7: 2-3
Week 8: 3-2
Week 9: 4-1
Week 10: 3-2
Week 11: 2-2-2
Week 12: 5-3
Week 13: 0-1
Overall: 41-21-3
Photo by Patrick Smith/Getty Images.