Enter the DraftKings/4for4 DFS Championship
Think you've got what it takes to beat 4for4's fantasy football experts? Go up against Josh Moore, John Paulsen, Chris Raybon and TJ Hernandez and win an entry into an exclusive Week 15 final with $10,000 in FREE prizes, plus 4for4 subscriptions.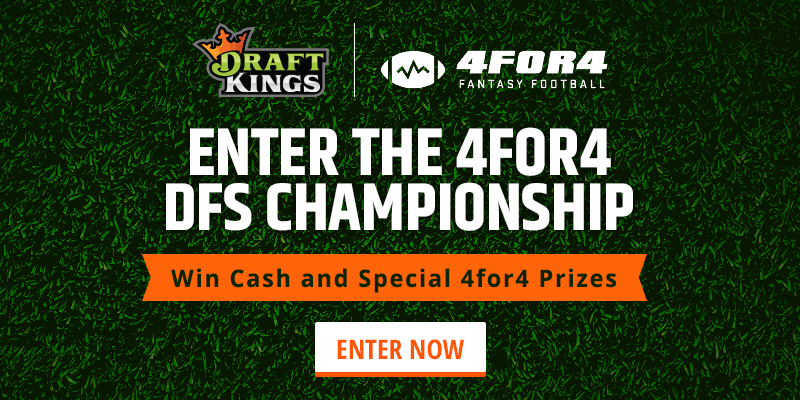 How to Enter
From Week 5 through Week 14 of the NFL season, you'll be able to enter a qualifier with $4,500+ in prizes. Finish in the top 5 any week to win one of 50 seats to the $10,000 final, which is FREE to enter and all 50 finalists get paid!
Weekly Qualifier (Win Cash & 4for4 T-Shirts)
Every week from Week 5 through Week 14, there will be a $10 contest for 500 contestants with $4,500+ in prizes, tickets to the championship and 4for4 T-Shirts. You can enter up to 5 lineups and win the following:
| Place | Prize |
| --- | --- |
| 1st | $300 + Championship Ticket |
| 2nd - 3rd | $250 + Championship Ticket |
| 4th - 5th | $200 + Championship Ticket |
| 6th - 7th | $150 + 4for4 T-Shirt |
| 8th - 10th | $125 + 4for4 T-Shirt |
| 11th - 15th | $100 |
| 16th - 20th | $75 |
| 21st - 25th | $50 |
| 26th - 30th | $40 |
| 31st - 35th | $30 |
| 36th - 45th | $25 |
| 46th - 60th | $20 |
| 61st - 100th | $15 |

Championship (Win Cash & 4for4 DFS Subscriptions)
The Week 15 final is a tournament that users must qualify for by finishing in the top 5 in any of the weekly qualifier contests. The prize pool for the final consists of $10,000 in cash prizes, plus FREE 4for4 subscriptions:
| Place | Prize |
| --- | --- |
| 1st | $2,000 + 5 Year 4for4 DFS Subscription |
| 2nd | $1,000 + 5 Year 4for4 DFS Subscription |
| 3rd | $500 + 5 Year 4for4 DFS Subscription |
| 4th - 5th | $250 + 5 Year 4for4 DFS Subscription |
| 6th - 15th | $200 + 2 Year 4for4 DFS Subscription |
| 16th - 25th | $150 + 1 Year 4for4 DFS Subscription |
| 26th - 50th | $100 |