FanDuel Ohio Promo Code: Free $100 & 3 Months of NBA League Pass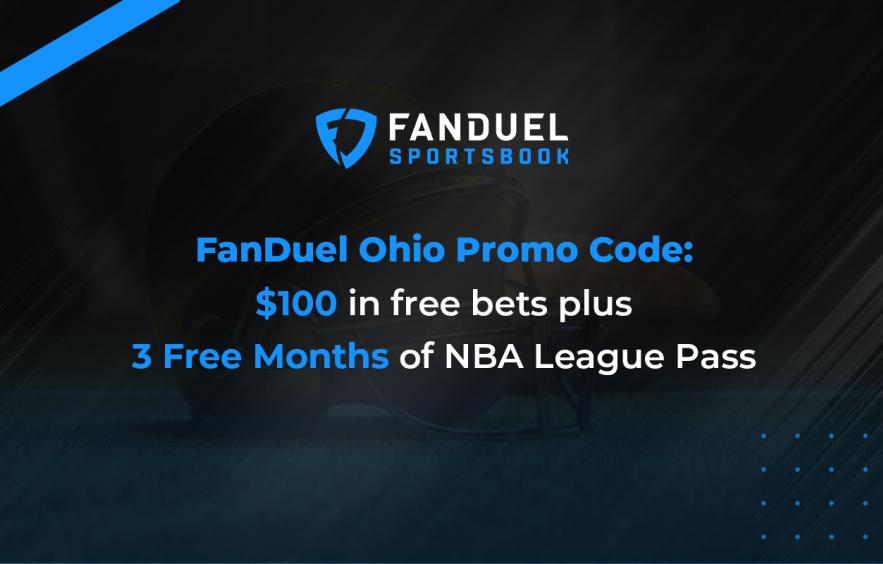 FanDuel is almost ready to go in Ohio, and they're offering a great welcome bonus before their launch of mobile sports betting on January 1st, entitling you to $100 in free bets plus a free 3-month subscription to NBA League Pass.
You don't need to deposit any money with FanDuel in order to get started with the welcome offer. Just click HERE to create your FanDuel Ohio account and you will be rewarded with $100 in free bets when FanDuel Ohio gets started on January 1, 2023. Don't wait until then, hop on this deal now and begin taking advantage of your NBA League Pass subscription right away.
How to Sign Up for FanDuel Ohio Promo Code
Claim the $100 FanDuel Ohio pre-launch welcome bonus by clicking HERE.
Create a new FanDuel account today and when they launch in Ohio on January 1, 2023, you'll receive $100 in free bets plus a free three months of NBA League Pass as well. FanDuel will give you a unique link and a code to use on the NBA League Pass registration page when you create an account.
Note: You can begin using your NBA League Pass subscription right away if you sign up for an account using that code. Once Ohio sports betting goes live on January 1, 2023, this generous offer will no longer be available.

Why Sign Up FanDuel Ohio Promo Code
FanDuel Sportsbook will be a top choice in the Ohio sports betting landscape. You will earn a free $100 from the site, plus you'll have the chance to take advantage of excellent promos like the Same Game Parlay, Odds Boosts, TNT Tuesday NBA deals, and much more. So create that account today and use this FanDuel Ohio promo code to get started and claim your welcome bonus. Just click our link anywhere on this page if you want to grab your free $100.
Take advantage of FanDuel's no-risk offer by taking them up on their $100 in free bets. You can sample some of the features they have to offer without any concerns about depositing any of your money. Hurry and join now and make use of this special Ohio promotion before it expires!

FanDuel Ohio FAQs
Can I play at FanDuel Sportsbook Ohio
You won't be able to play on the FanDuel Sportsbook in Ohio just yet, but it is going to come soon! On January 1st, 2023, mobile sports betting will become available within the state. After that day arrives, you will be able to join in on FanDuel fun in Ohio.
When will FanDuel Sportsbook arrive in Ohio?
FanDuel Sportsbook arrives in Ohio on January 1st, 2023 just in time for all the great New Year's Day sporting events!
Is there a promo code for FanDuel?
You don't have to enter a promotional code manually when signing up with FanDuel in Ohio! All you need to do is click any of the links on this page and the promo code will be entered for you, so just complete the registration process!
Can you bet on Props on FanDuel Sportsbook
Yes! FanDuel has a wide variety of player and team props for nearly all the markets they have available. However, these bets might not be visible right away when a game is first posted on FanDuel, although they will eventually show up.