FanDuel Maryland Promo Code: Bet $5, Win $200 on the World Cup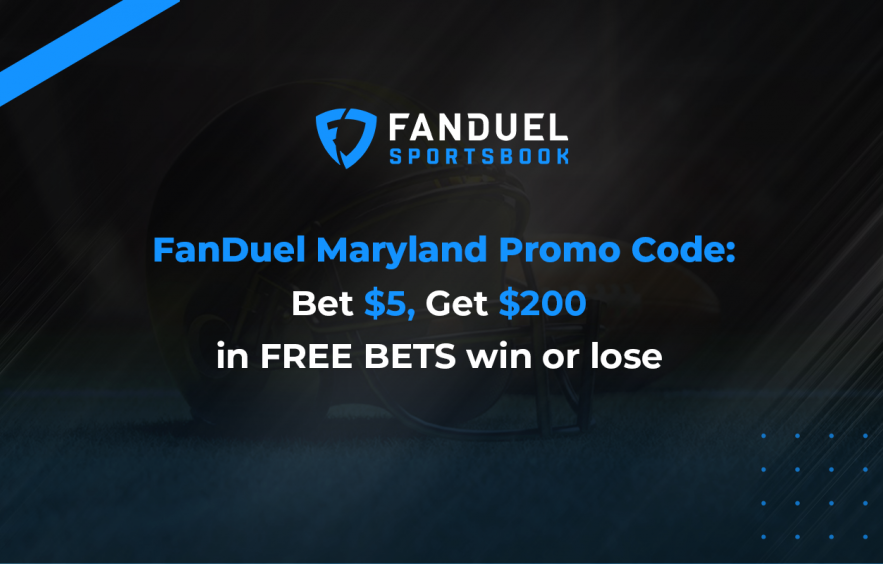 The United States faces off with Iran in a pivotal World Cup matchup this afternoon! Now that FanDuel is officially in Maryland they're offering residents a great welcome bonus: Bet $5, Win $200 WIN OR LOSE.
You can bet $5 to win $200 when you create your FanDuel, no matter if your bet wins or loses! So if your first bet of $5 isn't a winner, you will still be rewarded with $200 in free bets to use on FanDuel. In this article, we'll take a look at some of this afternoon's World Cup lines and show you how to capitalize on this amazing welcome offer from FanDuel.
FanDuel Maryland Promo Code Unlocks $200 in Free Bets
In Maryland, you can join FanDuel and receive $200 in free bets by making an initial deposit of $10 or more and placing a $5 first wager. Whether your $5 bet wins or loses, you'll be awarded $200 in free bets.
Sign up for This FanDuel Maryland Promo Code
If you're in Maryland and want to find the best sports betting bonuses, follow the link on this page. You don't need to input a promo code manually — just use any link on this site, and the code will be applied automatically. Here's a step-by-step guide to the sign-up process.
Click here to go to the pre-registration landing page on FanDuel Maryland.
Put in your email address and create a password.
Input your identifying information and create an account.
Verify your location using a Geolocation request.
After finishing the process, you'll receive $200 in free bets after you make your initial deposit of $10 or more and place your first $5 wager on FanDuel.
World Cup Preview - United States vs Iran
Both the United States and Iran are looking at a "win and in" scenario for their group matchup today. The United States has earned two draws thus far meaning they have two points, while Iran is 1-1 giving them three points from their win. A win from either team would clinch advancement from the group and a spot in the knockout round.
The United States is +100 on the Moneyline to win today's match against Iran
Iran's Moneylines odds are +300 to win against the United States
The odds for a draw in today's match are +230
FanDuel Maryland Promo Code FAQs
Is FanDuel Sportsbook Legal?
FanDuel is a secure, safe, legitimate, legal, and trustworthy platform. It is a leading provider of DFS, online casino, and sports betting services that are licensed and operational in several states.
How can FanDuel help me manage my play?
If you're struggling to manage how much you're spending on FanDuel, you can apply for a 'Timeout.' This feature allows you to pick a time period (1-365 days) when your account will be disabled and you won't be allowed to enter any contests. If you want to close your account entirely and permanently, simply contact their Customer Support Team. They can help you withdraw any leftover account balance and close your account.
How long do withdrawals take on FanDuel?
You can withdraw your winnings at any time through Online Banking, Debit Card, PayPal, Venmo, and Prepaid Card.
Online Banking: 3-5 business days
PayPal/Venmo: up to 48 hours
Debit card: up to 48 hours upon first withdrawal and 24 hours for all subsequent withdrawals
FanDuel Prepaid Play+: up to 24 hours
Cash at Counter: Your withdrawal will usually be processed within an hour, but if it is a larger amount it may take up to 48 hours. You will get an email when your cash is ready to be collected.
Check: 7-10 business days
Is there an age requirement for FanDuel Sportsbook in Maryland
All bettors using FanDuel in Maryland MUST be 21 years of age or older.