DraftKings Maryland Promo Code: Bet $5, Win $200 on USA vs England World Cup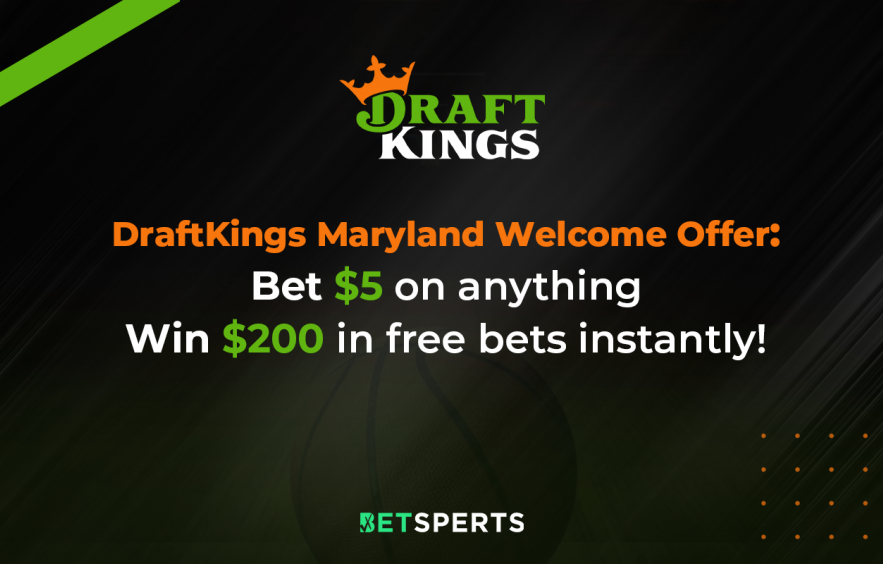 Welcome to DraftKings, Maryland! To celebrate DraftKings' arrival, they're providing Maryland residents with a fantastic welcome offer: Bet $5 on anything, and get $200 in free bets instantly!
The World Cup is in full swing and today we have a huge rivalry matchup between the United States and England, so there's no better time to take advantage of DraftKings' Bet $5, Get $200 offer!
In this article, we'll help you capitalize on the welcome offer from DraftKings and take a look at today's World Cup match between the United States and England.

DraftKings Maryland Promo Code
Now is the time to take advantage of DraftKings' welcome offer for the people of Maryland. When you sign up and make your deposit of $10 or more, your first wager of $5 will get you $200 in free bets to use on DraftKings.
How to Sign Up for the DraftKings Maryland Promo
1. Click here to head to DraftKings.
2. Set up an account. This will provide $200 in free bets when you deposit $10 or more and place your first $5 wager on any market.
3. Enjoy your free bets on DraftKings!

World Cup - United States vs England Preview
Both teams come into this game looking for a big win against their rival. England won big in their first match against Iran with a 6-2 result. The United States finished with a disappointing 1-1 draw with Wales in their first match. A win for England will advance them through the group stage. A win for the United States would not quite clinch advancement through the group stage, but it would put them in a great position to do so.
The United States is currently a +600 underdog on the Moneyline in today's match. England is -200 to earn the win. If you want to bet a draw, that result is listed at +330.
DraftKings Maryland FAQs
Is DraftKings Sportsbook Legit?
At DraftKings Sportsbook, you can be sure that your money and personal information are safe. The company follows all laws and regulations in every jurisdiction it operates in to protect you.
Can I create multiple DraftKings accounts?
No, it is not allowed to have more than one account on DraftKings. This is stated in the DraftKings Terms of Use. Having only one account per person is necessary to make sure that contests are fair, and also to follow state laws and regulations.
How can DraftKings help me manage my play?
As part of DraftKings' commitment to Responsible Gaming, they offer a variety of ways to help you manage your play:
Player limits: If you want to limit your interactions with DraftKings but continue using the product, you can self-impose restrictions on certain aspects. These may include limits on deposits, entries, wagers, and time spent on DraftKings. Learn more about the player limits that are available for each product.
Cool-off period: If you are a Sportsbook and/or Casino player who would like to take a break, you can set a cooling-off period for yourself.
Self-exclusion: If you'd like to take a break from DraftKings, you can choose to temporarily exclude yourself from playing for a specific period of time, up to 5 years. Learn more about excluding yourself here.
How is my information protected?
DraftKings has a comprehensive security program that uses industry standards and best practices. All confidential information is protected by SSL (Secure Socket Layer), as shown by the padlock visible on your browser's address tab.