DraftKings Ohio Promo Code: Get $200 In Free Bets on Registration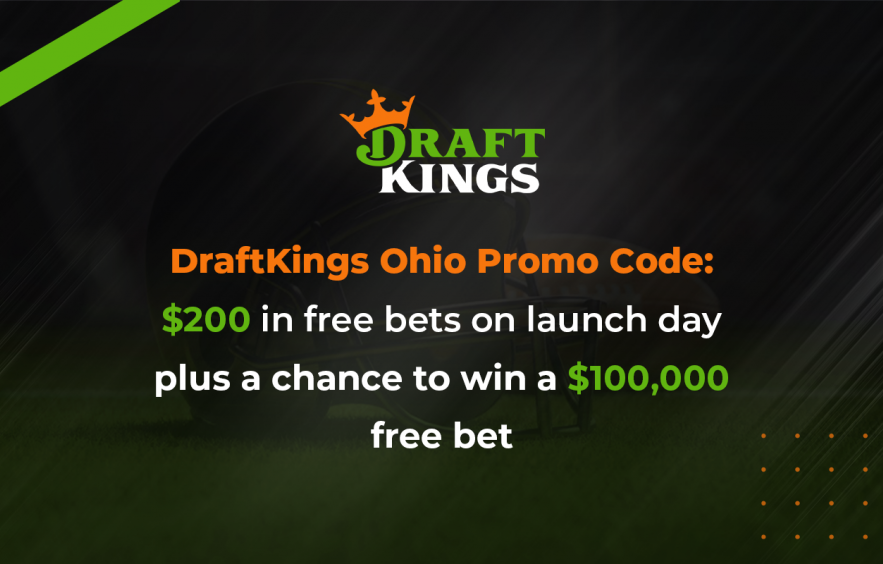 Greetings, Ohioans! Don't miss out on the amazing $200 wager gift from DraftKings! Furthermore, if you are one of the five fortunate people to sign up before Ohio starts operating, you will be able to take a shot at the enormous $100K free bet. Act quickly as time is running out in Ohio—create your account today before January 1st, 2023.
Ohio DraftKings Promo Code
Ensure that you sign up with DraftKings Sportsbook before the launch of mobile sports wagering in Ohio on January 1st, 2023 and be rewarded with $200 value of free bets. As well, five fortunate registrants will have a chance to win an incredible $100K free bet! This offer is only legitimate until January 1st, 2023 – don't let this opportunity pass you by!
How to Sign Up for the DraftKings Promo Code Offer
1. Just click right here to download the DraftKings app and get started.
2. Set up a DraftKings Sportsbook account. This will provide $200 in free bets when the app goes live.
3. On launch day, sign into your DraftKings account and claim your DraftKings bonus.

DraftKings Ohio FAQs
The DraftKings Ohio FAQs are meant to respond to any inquiries that players may have in regard to playing on DraftKings in the state of Ohio. The FAQs provide data regarding subjects such as eligibility, account registration and confirmation, deposit and withdrawal choices, wagering models and restrictions, lawful contemplations, responsible gaming approaches, and other significant matters.
Is DraftKings Sportsbook Ohio legit?
DraftKings Sportsbook is a reliable and lawful wagering platform. It strictly adheres to laws in every area it operates, safeguarding your money and private data. You can sign up now, so you can lawfully bet when January 1st, 2023 comes.
How do I use the Ohio DraftKings promo code
?
No need to worry about inputting a promo code when you sign up with DraftKings. Simply click any of the links or buttons on this post and the code will be automatically incorporated. After that, simply provide your details and take advantage of the welcome bonus.
When can I claim the Ohio DraftKings welcome promo?
Sign up with DraftKings Sportsbook by the 1st of January 2023 to be eligible for the $200 in free bets when Ohio launches mobile sports betting.
Do I have to live in Ohio to claim the welcome offer?
In order to get the bonus, you must be located in Ohio; however, you don't have to be a resident of Ohio or any other specific region to place wagers on DraftKings.
Does DraftKings Sportsbook help me control my betting?
As part of their commitment to Responsible Gaming, DraftKings Sportsbook offers a variety of ways to help you manage your play:
Player limits: If you want to limit your interactions with DraftKings but continue using the product, you can self-impose restrictions on certain aspects. These may include limits on deposits, entries, wagers, and time spent on DraftKings. Learn more about the player limits that are available for each product.
Cool-off period: If you are a Sportsbook and/or Casino player who would like to take a break, you can set a cooling-off period for yourself.
Self-exclusion: If you'd like to take a break from DraftKings, you can choose to temporarily exclude yourself from playing for a specific period of time, up to 5 years. Learn more about excluding yourself here.