DraftKings Ohio Promo Code: Claim $200 In Free Bets on Sign Up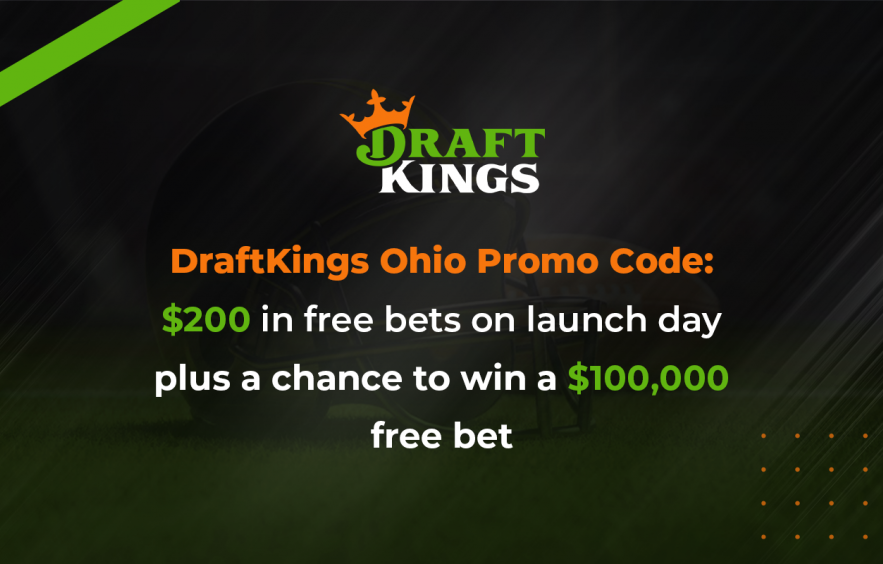 The countdown is on in Ohio for DraftKings Sportsbook to launch! Make sure that you are all set to get going by registering today and taking full advantage of the $200 free bets bonus from DraftKings! Also, five lucky people who sign up will have an opportunity to win a $100K free bet! Don't delay—sign up before Ohio goes live on January 1, 2023, and capitalize on this deal from DraftKings.
Ohio DraftKings Promo Code
Register for DraftKings Sportsbook before the start of mobile sports betting in Ohio on January 1st, 2023 and you'll be rewarded with $200 in free bets. Plus, five fortunate individuals who have pre-registered will have the opportunity to win a remarkable $100K free bet! This offer is available only until January 1st, 2023 – don't wait!
How to Sign Up for the DraftKings Promo Code Offer
1. Just click right here to download the DraftKings app and get started.
2. Set up a DraftKings Sportsbook account. This will provide $200 in free bets when the app goes live.
3. On launch day, sign into your DraftKings account and claim your DraftKings bonus.

DraftKings Ohio FAQs
Can I legally bet with DraftKings Sportsbook Ohio?
DraftKings Sportsbook is a dependable and legal sports betting website. It observes stringent rules in all jurisdictions it operates in, safeguarding your funds and private information. You can sign up now, and you will be able to wager legally on the first of January 2023.
How do I use the Ohio DraftKings promo code
?
You don't have to worry about manually entering a promotional code when registering with DraftKings. All you need to do is click on any of the links or buttons in this post and the code will be applied automatically. Once that's done, just finish up your details and take advantage of the welcome bonus.
When can I cash in on the DraftKings bonus offer?
Sign up with DraftKings Sportsbook before January 1st, 2023 in order to be allowed to utilize the $200 in complimentary bets after Ohio starts offering mobile sports betting.
Must I live in Ohio to bet at DraftKings?
To receive the bonus, you will have to be within Ohio's borders, but it is not mandatory for you to live in Ohio or any other particular state to place wagers on DraftKings. If you wish to take advantage of this welcome promotion, you must be present in Ohio. To gamble with DraftKings, one needs to be physically located in a state where it is allowed. To claim the reward, you have to be situated within the limits of Ohio.
Can the DraftKings Sportsbook app help me manage my play?
As part of their commitment to Responsible Gaming, DraftKings Sportsbook offers a variety of ways to help you manage your play:
Player limits: If you want to limit your interactions with DraftKings but continue using the product, you can self-impose restrictions on certain aspects. These may include limits on deposits, entries, wagers, and time spent on DraftKings. Learn more about the player limits that are available for each product.
Cool-off period: If you are a Sportsbook and/or Casino player who would like to take a break, you can set a cooling-off period for yourself.
Self-exclusion: If you'd like to take a break from DraftKings, you can choose to temporarily exclude yourself from playing for a specific period of time, up to 5 years. Learn more about excluding yourself here.