BetMGM Sportsbook Maryland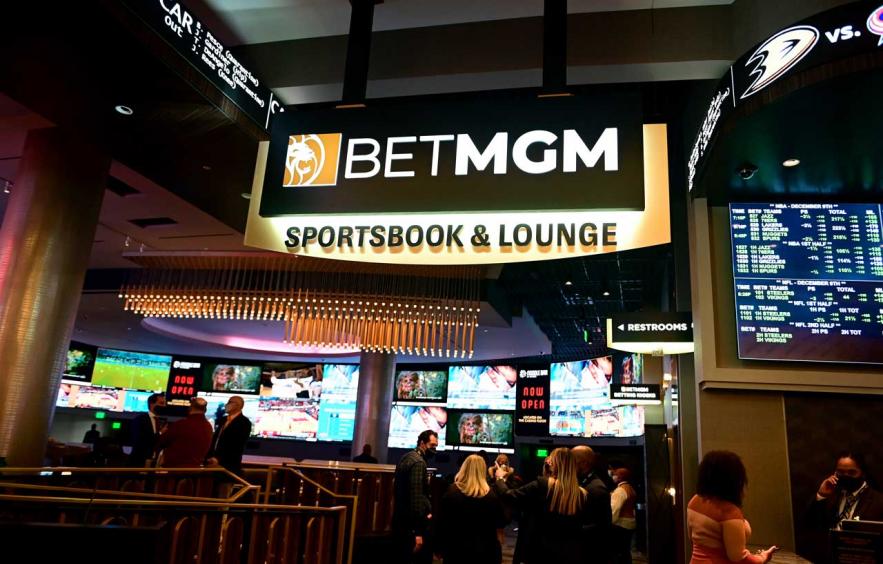 Shannon Finney/Getty Images
Online sports betting has arrived in the Old Line State! The go-live date of November 23, 2022 is here, and it is a complimentary option to the BetMGM retail sportsbook, MGM National Harbor, in Forest Heights, MD. Now Maryland bettors can wager from the comfort of their homes using the mobile app or website. Online sportsbooks were the final frontier launch in Maryland, a state that was surrounded by competitor online betting states.
The sports betting industry continues to grow and flourish, as witnessed by retail betting licenses in the state. Now that the wait until online and mobile BetMGM betting is officially official, it is time to learn more about the BetMGM welcome bonus and what competitors may be offering, including other free bets, a deposit bonus, or other exotic offerings.
What is the BetMGM Maryland Promo Code?
The BetMGM online sportsbook and BetMGM app are offering a welcome promotion code that gives you a risk-free bet of up to $1,000 when you sign up for a BetMGM account as a new user. The welcome bonus code is TODAY. This BetMGM bonus code expires December 31, 2022.
How to Sign Up on BetMGM Maryland
The state of Maryland will have the same BetMGM sportsbook app that other states had with their sports betting launch. Downlaod the BetMGM MD app using the Apple App Store or Google Play, or gain access to the sign-up bonus by creating an account on the online sportsbook in Maryland. New BetMGM residents of MD must allow for location access on the app or website to place bets at BetMGM. This rule applies to all mobile betting and online services.
Create your ID and password, allow for location services, and your account is created.
BetMGM Maryland Welcome Offer Comparison to other Codes
As always, read terms and conditions for bonuses and promotions before agreeing to their terms.
Vs. PointsBet Maryland - Sports bettors in Maryland can now join PointsBet online and receive two second-chance bets, a total of up to $2,000. $500 max for your first fixed odds bet, and up to $1,500 on your first Pointsbetting bet with promotion code OFFERMD. If your first fixed odds bet is $200, you will receive 200 in free bets, which can be split into four separate bets if you choose. Note that free bets do not return the value of the free bet, just the winnings from said bet. Like majority of free bets, these expire seven days after landing in your account. The BetMGM Maryland app and website do not have Pointsbetting, so if the unique option is something you want to try, get a PointsBet sportsbook account. Do note that Pointsbetting includes college sports betting, but the options are limited compared to pro leagues.
Vs. Fanduel Maryland - Maryland doesn't have a shortage of good promos. If you are a new customer and deposit $10-plus, and bet $5, you get $200 in free bets. This offer is through December 18, 2022. The BetMGM Maryland bonus code has a tough time matching this because it has been a popular choice for Maryland to place wagers since the Maryland Lottery and Gaming Control Agency gave FD a retail betting license in 2021. FD also gave mobile betting and their online product a facelift after less than ideal launch of both across multiple states. The recommendation is to download the BetMGM app, as well as FanDuel's.
Vs. Superbook Maryland - Superbook is not live in Maryland yet, but a December 11, 2022 meeting could change that for the partner of the Baltimore Orioles. Superbook appears to not have a sportsbook bonus code for their offer: 100% match on your first bet, win or lose, of up to $1,000. Their fine print does state that once you receive your bonus, 50% of future bets will come from the bonus, and 50% from your remaining account funds. Using the BetMGM promo does not come with this restriction.
Vs. DraftKings Maryland - The most-used app and website since the first sports betting bill allowed DFS sites to venture into betting is DraftKings. DK is offering a $200 free bet bonus, as well as a $100,000 free bet sweepstakes entry. The launch date promo matches the majority of the best free bet offers, but the 100K sweepstakes entry bonus for Maryland customers is a longshot contest. DK does have the title of the best sportsbook in the state for now because they tend to offer the best lines, but that could change with the BetMGM website being the cleanest to place bets. DK also is extremely quick to update lines for live bets, a negative for even the best bettors. BetMGM Maryland online betting is a better experience with a competitive product, but DK has the ability so far to keep bettors interested with their lines and promotions beyond sports betting in Maryland offers.
Vs. Caesars Maryland - Caesars has been a major sports staple for generations. With code TODAYPICS, you can get a free bet up to $1,500 or the chance to claim a $100 free bet with as little as a $20 wager on your first bet. No matter what, you get a $100 free wager for your next bet. Not bad, but Caesars offers new promos daily. Similar to the clean layout available at BetMGM, Caesars has made the app and online experience crisp.
Latest on BetMGM Maryland Promos
The exclusive BetMGM Maryland code is TODAY. BetMGM will issue a risk-free bet up to $1,000 when you sign up for a BetMGM account as a new user through December 31, 2022.
Is the BetMGM Maryland Sportsbook Legit?
Yes. Bets with BetMGM have been made easier with a clean app and website interface. Claim a BetMGM promo before the end of the year to see more. Legal sports betting is regulated well, and when betting goes live in any new state, large staff are hired to keep sports betting regulations fresh and applicable to the growing industry.
Why Choose The BetMGM Sports Betting App
Parlay Offers - BetMGM is offering 'One Game Parlays,' the same as same game parlays on other betting sites. With those, look for BetMGM to stay competitive because OGPs tend to give bettors worse odds compared to a straight parlay. 'Easy Parlays' are another option, but those can throw off new bettors. Wait until BetMGM offers more than just spread, moneyline, and totals for Easy Parlays.
Variety of Bets - Aside from OGPs, BetMGM also offers a girth of betting options, from straight bets to player props, from the University of Maryland sports teams, other college sports teams, and of course, professional sports across the world.
Multiple Rewards - One of the best ways to keep customers betting is to offer rewards. BetMGM lets users try their hand at free games, offers hubs for specific sports, and also has access to the MGM Rewards program under their 'Promotions' tab.
Popular Sports Betting Options to use with BetMGM Maryland
Spread(Run line) - Bets based on covering a set number
Totals - Total points scored in a contest
Moneyline - A straight bet for an outright win
Parlays - Combining multiple applicable bets into one larger bet for a higher payout
Prop bets - Bets on player points, strikeouts, home runs, by a player, etc.
Futures - Bets involving league championships, division titles, and player awards, among others.
Banking Options With BetMGM Sportsbook in Maryland
Deposits and withdrawal procedures are available.
Deposit Options - Mastercard, Visa, PayPal, VIP Preferred, PayNearMe, Play Plus, Online Banking, Apple Play, MGM Rewards, and Bank Wire Transfer
Withdrawal Options - Same options as above, with the preferred option being what was used to deposit
In-person choices - Same as above, plus cash
Support & Security on BetMGM Sports Betting Apps
When you place sports bets, you are inherently trusting the company. If BetMGM were to have a faulty process or concerning practices with retail sports betting, they would risk their sports betting license. It is okay to trust BetMGM. Their support is excellent, especially when trying to claim a BetMGM Maryland promotion.
BetMGM Maryland Sports Betting App Reviewed
BetMGM deserves your consideration. Their overall platform and bets are near the top of the industry. Sports betting goes live on November 23, so the time is now. Claim a BetMGM Maryland promo via their site or app. Get the latest BetMGM news and offers using those options as well. They will have a Maryland FAQ section, or a general FAQ area.
Pros & Cons of the BetMGM Maryland Sports Betting App
Elite platform
Mobile sports betting is the safest avenue for betting, making the platform extremely valuable
Lines could be better
Loses some luster for not having DFS options
BetMGM Maryland FAQs
Where can I use BetMGM in Maryland?
Anywhere in the Old Line State. Maryland residents must sign up in-state to access Maryland benefits.
Is BetMGM legal in Maryland?
Yes
Do I need a separate account for each state with BetMGM?
No
What Promo does BetMGM offer?
The exclusive BetMGM Maryland code is TODAY. BetMGM will issue a risk-free bet up to $1,000 when you sign up for an account as a new user through December 31, 2022.
What is the best BetMGM Maryland promo code?
The current new user offer is the best.