Streaming Defenses: Week 17 Targets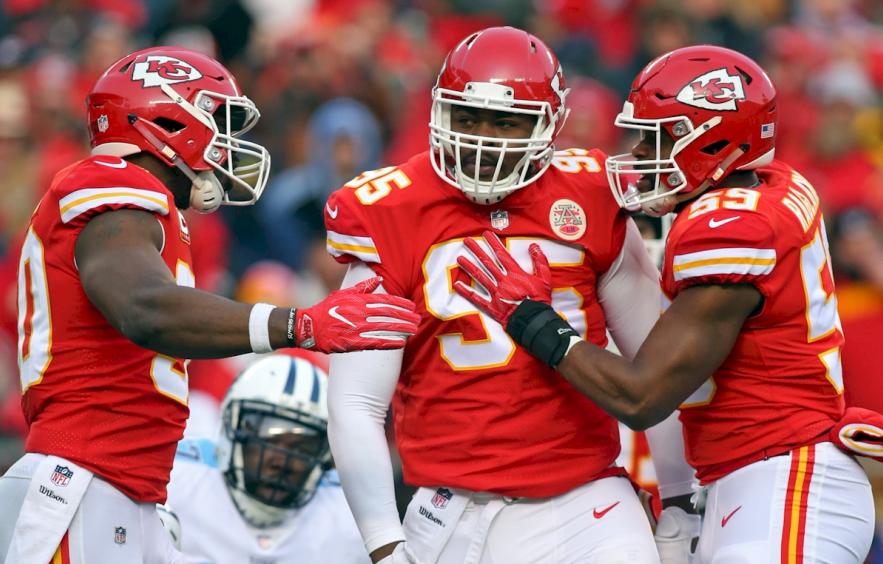 For those playing their Championship in Week 17, I'm here for you. You're crazy, and I think you should petition your commish to change it, but I'm here for you.
Last week, the Dallas Cowboys defense finished with 14 points and were the DEF4 in most scoring formats. Through 16 weeks, our streamers are averaging 9.5 points per game.
Generally, defenses need to be available in at least 40 percent of leagues to be eligible as a streaming option. This ensures we are talking about defenses that are readily available. Week 17 means the end of the fantasy season, and hopefully, you're playing for the title. If you've been streaming all season, why fix what's not broken? Here's who we're targeting in Week 17.
Top Streaming Targets
Kansas City
Chiefs

vs. Oakland

Raiders

The Raiders are a depleted offense and the Chiefs are fighting for playoff positioning. This one could get ugly for Oakland.

Chris Jones has been a monster on the line for KC. He leads the defense in sacks (14) and has been responsible for two forced fumbles. QBs aren't safe with him around.

Dee Ford and Justin Houston will wreak havoc on the edge. Ford is second on the Chiefs in sacks (11.5) and is generating a 14.5 percent pressure rate, as well as an 18 percent sack rate. Houston has produced a 13.8 pressure rate, so he's been getting consistent pressure all season. Anthony Hitchens has been the captain of the defense and is pacing the team in tackles.

Steven Nelson has been solid in coverage, recording four picks and 14 defended passes.

The Chiefs should cruise and are available in 45 percent of leagues heading into Week 17. The Chiefs not only can generate pressure and sacks but are also a top-10 team in turnover ratio (+8). The Raiders are 27th in aFPA to opposing defenses.
Seattle
Seahawks

vs. Arizona

Cardinals

The Seahawks might've been dropped heading into Week 17, so it's a perfect opportunity to grab them for a favorable matchup against the Cardinals.

Frank Clark has been their consistent presence on the edge. He's generating a 12.5 percent pressure rate and has converted 24 percent of his pressures into sacks. He's no stranger to generating turnovers as he's been responsible for three forced fumbles.

Bobby Wagner leads the defense in tackles and if he's able to, he'll strip the ball. Wagner has produced two forced fumbles and an INT.

Bobby McDougald has been a disruptor from the safety position, producing three INTs and three forced fumbles.

The Seahawks are available in 50 percent of leagues and have a favorable home matchup against the Cards. Arizona is near the bottom turnover ratio (-12), so there's upside for turnovers from an aggressive defense. The Cardinals is dead last in aFPA to the defensive position.
Pittsburgh
Steelers

vs. Cincinnati

Bengals

Pittsburgh heads into Week 17 with their playoff lives on the line.

Cameron Heyward and Javon Hargrave have been solid along Pittsburgh's defensive line. They've combined for 12.5 sacks and a 10.2 percent pressure rate. Heyward's pressure rate has been above 11 percent this season.

TJ Watt might be Pittsburgh's next great pass rusher. He's had an up and down season but has led the Steelers in sacks this season and generated an 11.4 percent pressure rate.

Joe Haden leads the Steelers in INTs, albeit with two, and has had 12 defended passes.

The Bengals season has been in a free fall since Hue Jackson arrived and Pittsburgh should be able to take advantage. The Bengals have turned the ball over 15 times this season and could have some trouble moving the ball against Pittsburgh this week.
Deep League Target
Atlanta
Falcons

@ Tampa Bay

Buccaneers

I'm going back to Atlanta this week against the Bucs.

Grady Jarrett has been a beast up the middle for Atlanta. Look out, Bruce Irvin has produced sacks in three straight games and has produced a 12 percent pressure rate since arriving in Atlanta.

The defense has been reborn since Deion Jones returned from injury. He's recorded 40 tackles along with a sack and INT.

Damontae Kazee leads the team in INTs (6) and Jameis Winston is certainly capable of throwing multiples.

Only the 49ers have a worse turnover ratio than the Buccaneers this season. Heading into Week 17, Tampa is ranked 31st in aFPA to the defensive position.
Defense To Bench
Tennessee
Titans

vs. Indianapolis

Colts

The Titans just lost one of their best pass rushers and they could have problems generating a pass rush against an improved Indianapolis offensive line. Andrew Luck isn't turning the ball over and the Colts offense is ranking third in aFPA to the defensive position.