Spend more time winning and less time guessing.
Receive 3 FREE downloads from the most accurate fantasy football site since 2010:

Tips and Tricks to Winning Your Auction League & Auction Strategy 101
Quickstart Guide to Daily Fantasy Football
Can We Predict NFL Injuries?

PLUS, get breaking player news, injury status and content updates via e-mail.
Trusted by over 20,000 users and 70,000 leagues.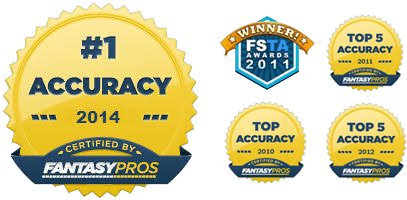 The Most Accurate Rankings 2010-2014