Sleeperbot + 4for4 Mobile Partnership
What if we could combine the fastest fantasy news alerts with the most accurate advice in the industry? We have teamed up with Sleeperbot to do just that. You can now get instant news updates and access 4for4 rankings and content, directly in the Sleeperbot mobile app (FREE).

If you are a 4for4 subscriber, you already have access to Sleeperbot's 4for4 Plugin! Your existing 4for4 login serves up our rankings and content on your mobile phone and is a great, FREE compliment to your 4for4 subscription.
If you are not a 4for4 subscriber, you can get access to Sleeperbot's 4for4 Plugin by buying a 4for4 Subscription on our website or by downloading Sleeperbot (iOS and Android) and buying in the Sleeperbot Store. The cost is the same.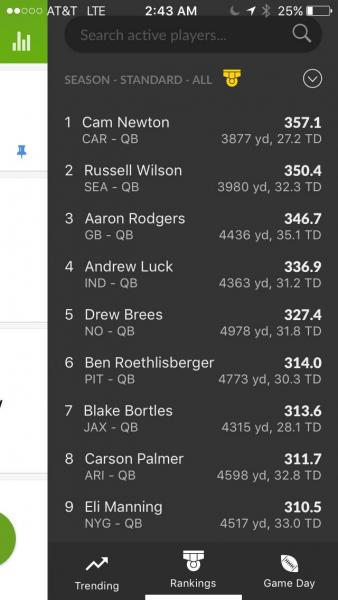 Through this partnership, you will now have instant push notifications for all of the major news pertinent to fantasy football. Sleeperbot's notifications are categorized so you can customize the types of alerts you wish to receive, and be the first of your league mates to know of any impactful news around the league. Time is of the essence, and Sleeperbot provides the fastest alerts in the industry.
In addition, Sleeperbot hosts a suite of free decision support tools to help you win your league, including trending players which take into account real-time add/drop data, advanced color-coded stats, detailed player cards with news and player notes, and live fantasy leaderboards on game days to highlight top performers.
We are proud to announce this partnership, and there are many more exciting features to come in-season.
Download Sleeperbot
Download Sleeperbot by going to the App Store or Play Store and get everything you need in one app. We're using it ourselves every day, and so should you!
If you run into any bugs or have a question, please send an e-mail to apps@4for4.com.
Setting Up the 4for4 Plugin
Sign up for Sleeperbot with your email and password, keep this handy in case you get logged out in the future.

Choose your favorite team. The avatar will be next to your user profile to designate your team allegiance.

Pick a username that will represent you on the app, and click "Join Group".

Click "OK" to enable breaking news notifications from Sleeperbot.

Cycle through the first-time user tutorial to learn about the different parts of the app (three screens total).

Next, if you have an invite code from a friend, enter it to receive a $2 credit on the app (or use ours: 4FOR4). Credits can be used to purchase premium content plugins and tools offered on the Sleeperbot Store. You can generate credits by sharing your unique invite code with your friends (see next item). Each time a friend uses your invite code to join Sleeperbot, you get credited with $2 on your account. Otherwise, if you do not have an invite code, click "Skip" to proceed.

To build credits on your account, you can share your unique invite code on social media, email, or text message. Your unique code can also be accessed via the $ icon in the left panel in the app.

To purchase a 4for4 plugin, access the Sleeperbot Store by swiping right to access the left navigation panel. The store icon is on the bottom.

Choose the 4for4 package desired (you can either use credits you have accumulated from sharing your invite code, or purchase the plugin directly using a credit card).

New users will need to create a new 4for4 account. Existing 4for4 subscribers who have already purchased the subscription on our website can login with your 4for4 username and password.

Sleeperbot will now populate with 4for4's award-winning rankings (right panel) and premium content (left panel will have a dedicated channel for 4for4 articles).
What's Included
4for4's most accurate rankings (sortable by position and scoring setting), our premium articles, player news, and a dedicated channel to chat with other 4for4 subscribers.

The fastest breaking news and alerts in the industry. Sleeperbot curates from hundreds of sources to break fantasy football relevant news to the community faster than anyone else.

Access to a community of diehard fantasy football fans for instant advice – get your start/sit, waiver-wire, and trade questions answered by other passionate and knowledgeable fans.

Trending sleepers, which calculate real-time net add drop data across major fantasy sports sites so you can see which players are trending up/down and snatch them off the waivers before your leaguemates.

Player profiles with news and detailed player notes.

Player stats and game logs, including fantasy points, and advanced hard to find stats like average depth of target, color-coded based on performance relative to position peers.

More features coming soon...
How to Navigate the App
Discussion Channels are Accessible on the Left Panel
Messages
The messages channel is where you can communicate with individual community members via 1:1 chat, or create a group chat of up to 200 members. To create a chat, press the chat bubble located on the lower right of the screen. Enter a username or multiple usernames to initiate an individual or group chat. Once the chat has been created, you can access additional chat options by swiping left (to access the right control panel). Here, you can invite other members to the chat group, disband the chat group, and toggle the chat notifications. Individual chats can be helpful as you make friends on the community, and group chats are great for smaller advice groups or chatting with your league mates.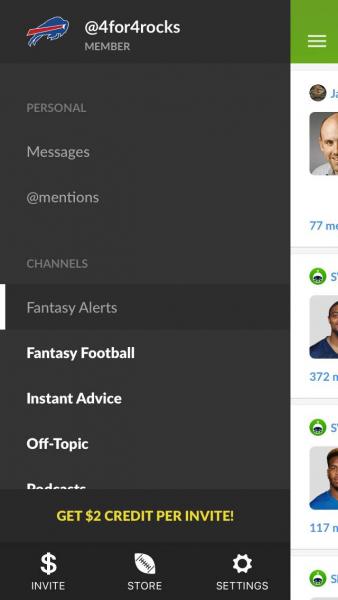 @Mentions
Includes the discussion topics in the public sections of the app (Alerts, Fantasy Football, Instant Advice, Off Topic, etc.) where you have been specifically mentioned by another user in the thread. You can find these topics sorted by most recent on top.
Fantasy Alerts
The Fantasy Alerts channel houses all of the alerts and breaking news that we push out to the community. Alerts are near instant, and curated by our team of analysts to insure that we screen for fantasy relevant and impactful news. Alerts will have a tag designating the alert type on the upper right hand corner of the topic card, and are categorized into:
Breaking News
Hype & Sleepers
Research & Analysis
Minor Updates
Defense-Related (defensive player news)
You can choose what types of alerts you receive push notifications for in your app settings by swiping right to access the left panel. All users default to receiving Breaking News, Hype & Sleeper, Research & Analysis, and Minor Updates push notifications. Click the topic to see the comments from community members pertaining to the news. A flashing icon of a green cap denotes there is additional analyst commentary, or promoted commentary from the user base worth reading. These usually contain insightful nuggets of wisdom or pertinent updates on the news alert. Just click the icon to access the analysis.
Fantasy Football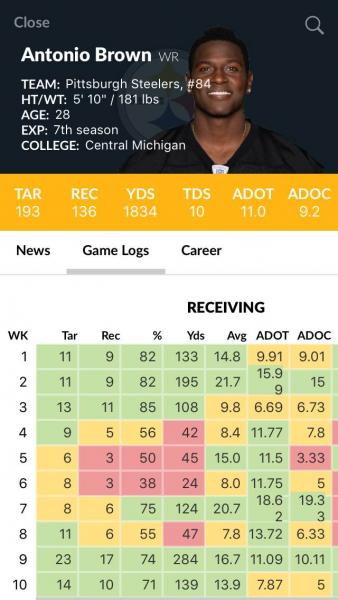 This Fantasy Football Channel is used for general fantasy football discussions.
Instant Advice
The Instant Advice channel allows you to ask other community members for help on your fantasy team. Be sure to be specific when asking a question, and add additional information pertinent to your league (number of teams, scoring settings, etc.). The more information and description you provide when asking a question, the more likely you will be to get a good and helpful response. To ask a question, just click the + icon on the Instant Advice screen. You will be prompted to choose the type of question you are asking:
General Fantasy Football
Who Do I Start/Draft
Trade Advice
Waiver Wire
Rate My Team
Misc. Help
To ensure all users have a chance to ask their questions, each user will be limited to one question every 10 minutes. Don't be discouraged if you don't receive immediate responses, sometimes the right person to answer your question may not be on the app.
Off-Topic
The off-topic channel is reserved for general non-fantasy football related discussion amongst the community.
Podcasts
Here you will be able to access links to 4for4's Most Accurate Podcast and DFS' Most Valuable Podcast. You will also be able to listen to other great podcasts.
Research Tools & Rankings are on the Right Panel
Player Search
A player search toolbar is on the top of the right panel, allowing you to type a player's name to pull up their player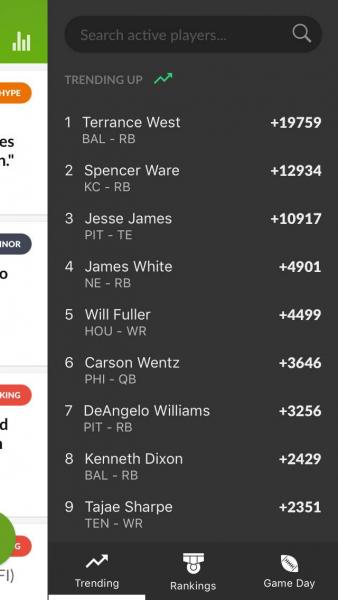 profile and card. Player cards contain recent player news (by 4for4), color-coded game logs (which highlight if they outperform, are average, or underperform their position), career stats, community discussion topics (coming soon), and real-time player fantasy performance tickers on game days (coming soon). For each player, we provide basic summary stats as well as advanced stats like average depth of target, average depth of catch, etc.
Trending Players
The trending players widget calculates the real-time net add/drops for a particular player across public leagues on major fantasy sports sites. For example, a trending: +13,668 figure would mean that the player was added a total of 13,668 more times than they were dropped. Each day, the trending calculations are reset so you can stay on top of the biggest player movements and identify potential sleepers. The top list shows the players trending up, and scrolling down reveals the players trending down.
Expert Rankings from 4for4
Rankings can be adjusted to reflect PPR, 0.5 PPR (coming soon), and Standard scoring, and can be filtered by player position by clicking on the down arrow in the upper right. In addition to the rankings, we have provided weekly yardage, touchdown, and fantasy point projections for each player. Clicking on the player name will bring you to the player card (see above).
Game Day
The Game Day feature (live in-season) will be a real-time leaderboard of top fantasy performers for the week. The list will be position based so you will have up-to-the-minute information on who is making a splash on the field on game days.
Query "Smart Bots" in Threads
We have built smart bots that respond to slash commands right in the chat interface, so you can get access to key functionality to power your discussions. Some examples of bot commands are below, with more to come. Just type the slash command and let Sleeperbot retrieve the information you need.
/player
(example: /player Odell Beckham)
Pulls in the player summary card for Odell Beckham, including summary statistics. Clicking the player summary card will bring you to the detailed player card.
/depth
(example: /depth ARI)
Pulls up depth charts for the team, organized by position. Depth charts are updated multiple times daily to reflect injury information and roster changes.
/plays
(example: /plays Carson Palmer)
Pulls in the 5 most recent plays for that player in real-time. This is a perfect way to check on what your favorite player has been up to on game days when you are not glued to your TV.
/giphy
(example: /giphy Awesome!)
Randomly generates a GIF of the keyword you typed after the command. This is a funny and fun way to get your point across in a non-traditional manner. Users can opt to hide GIFs in their feeds by accessing their user settings on the left panel.
Customize Display and Alert Settings
You can set your individual user settings by accessing the settings gear on the left navigation panel. Here you can choose to turn off giphys, and to select the types of notifications that you wish to receive. We will continue to add more customization features to this section.