StarStreet is still an up and coming site in the daily fantasy industry. It's main attractions are is it's interface, which is very user-friendly and innovative, and the fact that it's NFL lineups require two quarterbacks and no kicker or defense. The site features the Playboy Championships, where you can win an all expenses trip to the Playboy Mansion. How does StarStreet stack up to the other daily fantasy sites? Read on to find out.
Get started playing at StarStreet today.
Incentives
StarStreet offers a great initial deposit bonus of up to 200 percent. The bonus is released at three percent of your entry fees, effectively acting as a rake reduction. When you consider StarStreet already offers a decent rake (check out the 'Rake' section below), the juice can be as low as zero with the bonus money applied.
The site also offers rake-backs through their VIP program. Every game you enter gets you points, and the more points you get, the larger your rake-back. The details are below:
| | | |
| --- | --- | --- |
| Level | Points | Rakeback |
| Bronze | 100 | 10% |
| Silver | 10,000 | 20% |
| Gold | 100,000 | 30% |
| Platinum | 500,000 | 40% |
| Black | 1,000,000 | 50% |
While the Black level is very difficult to reach, the Bronze and Silver levels are very attainable and can offer a significant rake reduction over time.
StarStreet allows users to sign up and enter a free freeroll and take five game before ever making a deposit. However, to be eligible for the VIP program, users must make at least a $10 deposit.
Incentives Rating: 8/10
Usability
StarStreet has a very unique games lobby. Instead of having to click on a game to be taken to a lineup screen, StarStreet displays a three-column page with player salaries (exportable to a spreadsheet) in one column, your lineup in the second column, and available games to enter in the third column.
The games column is very innovative, providing text boxes (and up-down arrows if you'd prefer) that allow users to indicate how many entries they want in each contest right from the lineup creation page. This is a major time saver for those who enter multiple contests. Another great feature is as you edit the amount of entries into each contest, the page updates your total amount of entry fees and potential winnings.
The player list has useful colored icons next to their names that signify if a player is injured or may not be in the lineup on a given day, but the full player information pages cannot be viewed while making a lineup. There are only game logs from the last three games and only the most recent news blurb is shown. Player seasonal projections are displayed, which is a unique touch. The site does, however, contain a search bar where users can search any player (even out of season sports) and access his player page complete with season and career stats and full game logs.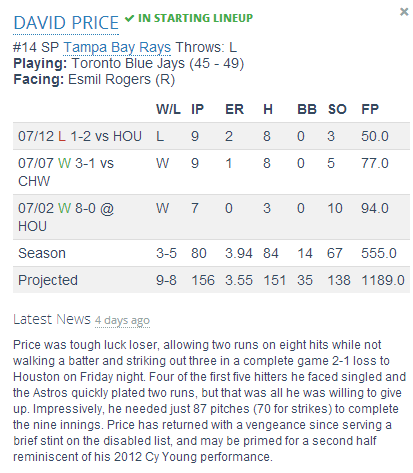 StarStreet's mobile offering is also very solid and has all the necessary features.
Usability Rating: 9/10
Action
StarStreet's user base has grown considerably in a short amount of time, but it still has the least action out of the major sites. StarStreet offers the standard game types as well as a "Pick Five" format, where you are presented five pairs of players and have to pick who will score the most points in each pair.
While there are a number of different buy-ins ranging from $1.10 to $1,060, there are limited amounts of contests at each price point, and a limited number of contestants in each contest. The overall quantity of games is not large enough for you to use StarStreet as your sole daily fantasy site, assuming you're seeking a lot of action.
Another issue of note with StarStreet's action is that because there are a limited number of games, many of these games tend to be inhabited by "sharks". A beginning user may have trouble growing their bankroll compared to other sites. At this point, StarStreet is perhaps still a bit better for more experienced gamers, especially in the higher-stakes games.
Action Rating: 4/10
Rake
StarStreet's rake varies across leagues, but for the most part is as follows:
| | |
| --- | --- |
|   Entry Fee | Rake |
|    $1- $55 | 9.10% |
| $109 | 8.30% |
| $270 | 7.40% |
| $535 | 6.50% |
The rake on $1 games is the lowest in the industry, and the 9.1% rake on games all across the board is very reasonable..
Rake Rating: 9/10
Cashier and Support
StarStreet's minimum deposit is $10 and the maximum is $3,000, and deposits can be made via Visa, MasterCard, American Express, Discover, or PayPal. Withdrawals can be done via PayPal or check and the minimum withdrawal amount is $10.
The site offers great support; you can email, call, or tweet them with any issues you may have.
Cashier and Support Rating: 9/10
Bottom Line
StarStreet has a great interface and usability, but is not yet the bet money-making opportunity due to the lack of total action and presence of sharks. StarStreet is still worth your time, but it will become even more inviting once new players join and the amount of action on the site increases.
Overall Rating: 39/50
Get started playing at StarStreet today.
---
Other Details
Lineup Requirements
2 QB, 2 RB, 2 WR, 1 TE, 2 FLEX
Another very unique feature of StarStreet, the lineup requirements are perfect for advanced users: two quarterbacks, no kickers, and no defenses. It's a refreshing set of requirements that reduces variance, helping the best players win by correctly picking players at the most predictable positions.
Scoring
Passing TD = 4
Passing Yard = 0.4
INT = -2
Rushing/Receiving TD = 6
Rushing/Receiving Yard = 0.1
Reception = 1
Fumble Lost = -2
2pt Conversion = 2
StarStreet's scoring system is pretty standard, although it's interesting to see quarterbacks still receiving four points for touchdowns, despite the fact that you're required to start two of them. That really helps to solidify the importance of the position. Note that StarStreet uses a full PPR scoring system.