Dynasty Top 200 Rankings (Post NFL Combine Edition)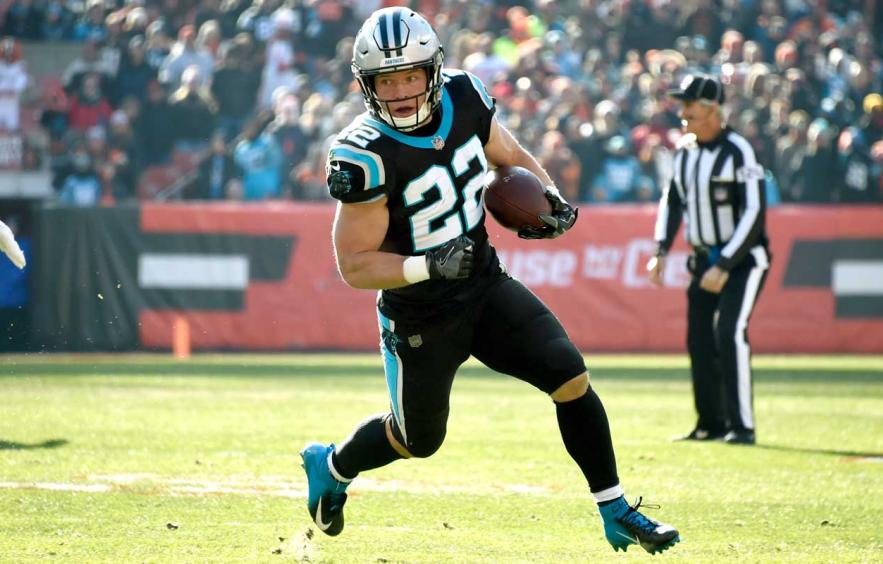 Jason Miller/Getty Images
Something I get asked often is when do you put rookies into dynasty rankings? It is a tough one to answer as a lot of factors influence their value before the season even begins. Chief among them is draft capital, as in which round did they get selected. That would mean waiting until after the NFL Draft.
The dynasty season, unlike the NFL season, does not take a break in the offseason. Draft picks get traded, startup drafts occur, and even some rookie drafts take place prior to the NFL Draft. Those are good reasons to begin thinking about individual rookie value now and how they place within the broader dynasty landscape. It also means focusing on their talent and potential without knowing team situations and even speculating on their potential draft capital. That can be dangerous, but if I've learned anything playing dynasty, it's the early and bold bets that win a league.
I will leverage my top 200 dynasty board and give analysis along with tiers that will give a rough idea of player value in draft picks. While every league and dynasty player will view a player's value differently, it should represent a guide for dynasty players to work from as they think about their existing rosters, or are beginning a startup dynasty draft.
Tier 1
1. Christian McCaffrey (RB1)
2. Saquon Barkley (RB2)
3. Michael Thomas (WR1)
4. Ezekiel Elliott (RB3)
5. Alvin Kamara (RB4)
6. Dalvin Cook (RB5)
This tier remains unchanged and likely will, barring any major injury. These players are what some dynasty players will refer to as untouchable, but I believe every player on a dynasty roster has a price. However, it will take three to five random first-round picks worth of value to trade for any of these players.
Tier 2
7. Tyreek Hill (WR2)
8. Nick Chubb (RB6)
9. JuJu Smith-Schuster (WR3)
10. Joe Mixon (RB7)
11. Amari Cooper (WR4)
12. D.J. Moore (WR5)
13. DeAndre Hopkins (WR6)
14. Chris Godwin (WR7)
15. Miles Sanders (RB8)
16. Davante Adams (WR8)
17. Mike Evans (WR9)
18. DK Metcalf (WR10)
19. Jonathan Taylor (RB9) - Rookie 1.01
20. Courtland Sutton (WR11)
21. D'Andre Swift (RB10) - Rookie 1.02
22. A.J. Brown (WR12)
23. Josh Jacobs (RB11)
Did you notice the inclusion of a pair of young rookie running backs? This is where Jonathan Taylor and D'Andre Swift slot in for me and they are essentially a 1A and 1B at this point in rookie drafts. Some other shuffling from my last rankings includes the rise of DK Metcalf, Courtland Sutton, Miles Sanders and A.J. Brown into this tier. They're a group of young players who have shown a lot in a very short amount of time. It will take two to three random first-round picks of value for this tier at a minimum along with some encouraging words.
Tier 3
24. Jerry Jeudy (WR13) - Rookie 1.03
25. Odell Beckham (WR14)
26. J.K. Dobbins (RB12) - Rookie 1.04
27. CeeDee Lamb (WR15) - Rookie 1.05
28. Leonard Fournette (RB13)
29. Kenny Golladay (WR16)
30. Lamar Jackson (QB1)
31. Derrick Henry (RB14)
32. George Kittle (TE1)
33. Austin Ekeler (RB15)
34. Stefon Diggs (WR17)
35. Calvin Ridley (WR18)
36. Deebo Samuel (WR19)
37. Aaron Jones (RB16)
38. Tee Higgins (WR20) - Rookie 1.06
39. Christian Kirk (WR21)
40. Henry Ruggs (WR22) - Rookie 1.07
41. Keenan Allen (WR23)
42. Tyler Lockett (WR24)
43. Laviska Shenault (WR25) - Rookie 1.08
44. Jalen Reagor (WR26) - Rookie 1.09
45. Melvin Gordon (RB17)
46. Patrick Mahomes (QB2)
For those who haven't been following the rookie class, this should speak to the strength of it. Seven of them fall within this tier, making nine of them inside the top 45 dynasty picks. Other jumps include Deebo Samuel, who seems embedded as the top 49ers wide receiver, and Patrick Mahomes who eeks into this tier. Dynasty players should value these players between one random early first-round pick to two first-round picks, which again speaks to the strength and value of the 2020 rookie class.
Tier 4
47. Julio Jones (WR27)
48. Robert Woods (WR28)
49. David Montgomery (RB18)
50. D.J. Chark (WR29)
51. Allen Robinson (WR30)
52. Cooper Kupp (WR31)
53. Cam Akers (RB20) - Rookie 1.10
54. Travis Kelce (TE2)
55. Clyde Edwards-Helaire (RB20) - Rookie 1.11
56. N'Keal Harry (WR32)
57. Kerryon Johnson (RB21)
58. Michael Gallup (WR33)
59. Tyler Boyd (WR34)
60. Kareem Hunt (RB22)
61. Devin Singletary (RB23)
62. Marquise Brown (WR35)
63. Kenyan Drake (RB24)
64. Phillip Lindsay (RB25)
65. Todd Gurley (RB26)
66. LeVeon Bell (RB27)
67. Evan Engram (TE3)
68. Deshaun Watson (QB3)
69. Marlon Mack (RB28)
70. James Conner (RB29)
71. Mark Andrews (TE4)
This tier only features two rookies as there is a dropoff for me in talent after the 11th player. This range of players remains a mix of dominant veterans and emerging youth. It will really depend on the overall dynasty strategy of a roster on preference in this tier. Phillip Lindsay was a notable move up into this tier as his versatility and success shouldn't be overlooked. These players will cost a first-round pick, anywhere from a projected early to middle first-round pick.
Tier 5
72. DeVante Parker (WR36)
73. Jarvis Landry (WR37)
74. Hunter Henry (TE5)
75. Justin Jefferson (WR38) - Rookie 1.12
76. Darren Waller (TE6)
77. Adam Thielen (WR39)
78. Kyler Murray (QB4)
79. Austin Hooper (TE7)
80. Mike Williams (WR40)
81. Brandin Cooks (WR41)
82. Chris Carson (RB30)
83. Zach Ertz (TE8)
84. Russell Wilson (QB5)
85. Will Fuller (WR42)
86. Darrell Henderson (RB31)
87. Mecole Hardman (WR43)
88. James White (RB32)
89. Noah Fant (TE9)
90. Terry McLaurin (WR44)
91. Curtis Samuel (WR45)
92. Darius Slayton (WR46)
93. T.J. Hockenson (TE10)
94. Denzel Mims (WR47) - Rookie 2.01
Another two rookies populate this tier including NFL combine darling Denzel Mims, who answered some questions about his deep speed with a sub-4.40 forty-yard dash. This is a good range to also bet on some disappointing 2019 rookies as several promising, but unproductive options are in this tier. Most of these players shouldn't cost more than a random late first-round pick.
Tier 6
95. Damien Harris (RB33)
96. T.Y. Hilton (WR48)
97. David Johnson (RB34)
98. Derrius Guice (RB35)
99. Mark Ingram (RB36)
100. Dak Prescott (QB6)
101. J.J. Arcega-Whiteside (WR49)
102. Brandon Aiyuk (WR50) - Rookie 2.02
103. Dallas Goedert (TE11)
104. Josh Allen (QB7)
105. Justice Hill (RB37)
106. Bryan Edwards (WR51) - Rookie 2.03
107. A.J. Green (WR52)
108. Anthony Miller (WR53)
109. Rashaad Penny (RB38)
110. Sony Michel (RB39)
111. Corey Davis (WR54)
112. Devonta Freeman (RB40)
113. O.J. Howard (TE12)
114. Tarik Cohen (RB41)
There's a lot of veteran talent in this range, but a pair of rookies make an appearance. Brandon Aiyuk could rise even higher while a broken foot stalled any momentum Bryan Edwards had heading into the NFL Combine. Rashaad Penny is a name I'm particularly interested in right now as the Chris Carson situation continues to evolve. Some names on this list may require a late first-round pick to pry away from owners but most are in the early second-round pick value.
Tier 7
115. Ronald Jones (RB42)
116. Zack Moss (RB43) - Rookie 2.04
117. Tony Pollard (RB44)
118. Sterling Shepard (WR55)
119. Duke Johnson (RB45)
120. Parris Campbell (WR56)
121. David Njoku (TE13)
122. James Washington (WR57)
123. Michael Pittman (WR58) - Rookie 2.05
124. Sammy Watkins (WR59)
125. Carson Wentz (QB8)
126. Tevin Coleman (RB46)
127. Andy Isabella (WR60)
128. Baker Mayfield (QB9)
129. Irv Smith Jr. (TE14)
130. Robby Anderson (WR61)
131. Diontae Johnson (WR62)
132. Royce Freeman (RB47)
133. Cole Kmet (TE15) - Rookie 2.06
134. Preston Williams (WR63)
135. Julian Edelman (WR64)
136. Alexander Mattison (RB48)
137. Tua Tagovailoa (QB10) - Rookie 2.07
138. Alshon Jeffery (WR65)
139. Mike Gesicki (TE16)
140. Aaron Rodgers (QB11)
141. Chase Claypool (WR66) - Rookie 2.08
142. Jordan Howard (RB49)
143. Dede Westbrook (WR67)
144. Harrison Bryant (TE17) - Rookie 2.09
145. John Brown (WR68)
146. Joe Burrow (QB12) - Rookie 2.10
Seven rookies show up in this tier, an area that I see as the land of uncertainty and a main reason it is over 30 players deep. This is a good place for dynasty players who went more veteran-heavy early to mine for some upside. This is also an interesting tier for signal-callers, with five players making the cut despite very different profiles. I wouldn't give more than a random second-round pick for any player here.
Tier 8
147. Matt Breida (RB50)
148. Marvin Jones (WR69)
149. Tyler Higbee (TE18)
150. Damien Williams (RB51)
151. KJ Hamler (WR70) - Rookie 2.11
152. Benny Snell Jr. (RB52)
153. Jamison Crowder (WR71)
154. Eno Benjamin (RB53) - Rookie 2.12
155. Jameis Winston (QB13)
156. Chase Edmonds (RB54)
157. Dante Pettis (WR72)
158. Gerald Everett (TE19)
159. Donovan Peoples-Jones (WR73) - Rookie 3.01
160. Jared Goff (QB14)
161. Tyrell Williams (WR74)
162. John Ross (WR75)
163. Anthony McFarland (RB55) - Rookie 3.02
164. Ryquell Armstead (RB56)
165. Ian Thomas (TE20)
166. Jamaal Williams (RB57)
167. A.J. Dillon (RB60) - Rookie 3.03
168. Emmanuel Sanders (WR76)
169. Matt Ryan (QB15)
170. Eric Ebron (TE21)
171. Auden Tate (WR77)
172. Miles Boykin (WR78)
173. Golden Tate (WR79)
174. Jaylen Samuels (RB59)
175. Sam Darnold (QB16)
176. Nyheim Hines (RB60)
177. Darwin Thompson (RB61)
178. Justin Herbert (QB17) - Rookie 3.04
179. Ito Smith (RB62)
180. Matthew Stafford (QB18)
181. Jonnu Smith (TE22)
182. Malcolm Brown (RB63)
183. Breshad Perriman (WR80)
184. Antonio Brown (WR81)
Another massive tier of players, this one includes six rookies among the ranks. A notable inclusion is A.J. Dillon, a running back who had a great NFL Combine and is poised to shoot up draft boards. My reservations are around his ability to fit into an NFL offense as a one-dimensional power runner with nothing to offer in the receiving game. This group of tight ends is intriguing as all have questions that this offseason will answer. It could be a good place to invest in a second option at the position. Most will cost a late second-round or a random third-round draft pick.
Tier 9
185. Jalen Hurd (WR82)
186. KeShawn Vaughn (RB64) - Rookie 3.05
187. Tyler Johnson (WR83) - Rookie 3.06
188. Latavius Murray (RB65)
189. Allen Lazard (WR84)
190. Will Dissly (TE23)
191. Chris Thompson (RB66)
192. Dawson Knox (TE24)
193. Cam Newton (QB19)
194. Kelvin Harmon (WR85)
195. Josh Reynolds (WR86)
196. Daniel Jones (QB20)
197. Devin Duvernay (WR87) - Rookie 3.07
198. Lamar Miller (RB67)
199. Hunter Renfrow (WR88)
200. Antonio Gandy-Golden (WR89) - Rookie 3.08
This tier of players is another 15 players deep past the top 200, showing what the rookie class is doing to the values of veterans. The previous iteration of this article even had a Tier 10 to reach 200 players. Keep an eye on all four rookies here as they could jump dramatically or plunge by the NFL Draft. Tyler Johnson has a lot of questions needing to be answered at his Pro Day. Give a random third (or less) for this tier.