Jared Cook in New Orleans: How Sean Payton Uses Tight Ends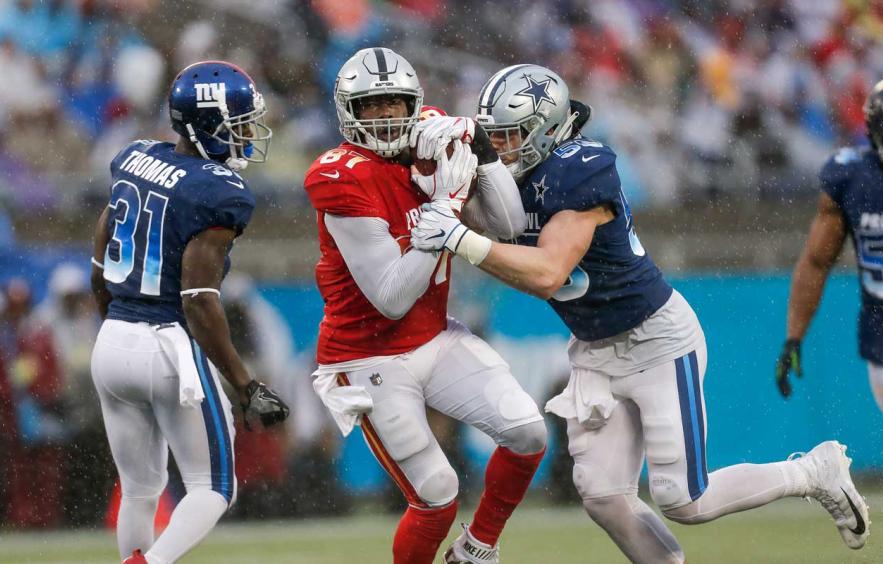 Don Juan Moore/Getty Images
Matt Hasselbeck once dubbed Jared Cook "an artist" at the tight end position, a pass catcher who didn't operate as "a blacksmith," but as someone who eschewed the confines of "math" in favor of "art" in route running and pass catching. 
Jared Cook: a true genius largely unappreciated in his own time. 
How Sean Payton Uses Tight Ends
The Artist is now a New Orleans Saint, and according to head coach Sean Payton, he's a "threat opposite" stud receiver Michael Thomas. Payton's implication seemed to be the Saints hadn't had that receiver/tight end threat not named Thomas in recent years. And he's right: the team's second most productive non-running back pass catcher in 2017 (Ted Ginn) caught a meager 53 balls, while the Saints' number two non-RB pass catcher in 2018 (Ben Watson) caught 35 passes. A deep analysis says that's not a lot. 
A close look at how tight ends have been used in Payton's system during his lengthy run in New Orleans shows at least decent opportunity for the number one guy at the position, even (sometimes) after the Jimmy Graham era. The New Orleans offense has never run through wideouts, but rather Graham during his staggering four-year run and more recently, pass-catching running backs. 
I suspect Cook's average draft position of 9.07—the 10th tight end off the draft board—will rise at least a bit in the coming months, thanks mostly to his career 2018 campaign in Oakland that saw the wily veteran haul in 68 passes on 101 targets, including nearly 900 yards and six touchdowns. The fleeting promise of his up-and-down years in Tennessee, St. Louis, and Green Bay had finally come to fruition: Cook finished 2018 as fantasy football's fifth highest scoring tight end. 
Below is a breakdown of how top Saints tight ends have been utilized over the past nine seasons, according to target share. Why focus on tight end opportunity, you might ask, champing at the bit to burn early-round draft capital on an elite tight end in 2019. Besides stats like receptions and yards per game, targets correlate (really) well with tight end fantasy production, according to a study conducted by TJ Hernandez. In short, volume matters a lot for tight ends.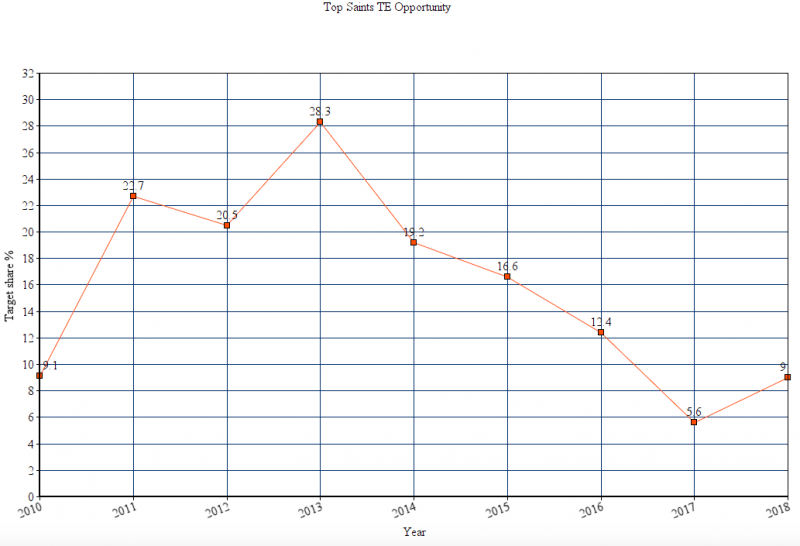 You might notice a sharp drop off after the Graham era, though there is the 2015 season, which journeyman Ben Watson drew 16.6% of the team's targets and caught 74 passes on his way to a top-seven fantasy season. Watson saw reliable opportunity that year, drawing at least five targets in 13 of 16 games, and at least eight targets in eight contests. 
There was also the 2016 season, which saw Coby Fleener get a not-hateful 12.2% of Drew Brees' targets. Fleener finished that year with 51 receptions despite only starting eight games. As Fleener was phased out of the Saints' offensive attack, other tight ends racked up 25 catches, leaving the position with 76 grabs on the season. No one person benefited—Fleener was nicked up, then lost favor with the Saints coaching staff—but it's good to know the tight end position was, in fact, a part of the offense's production. Fleener, had he kept his starting gig for 16 games, almost certainly would've been a plugged-in fantasy starter. Saints tight ends in 2016 combined for TE8 production. 
The 2014 season jumps out too. Graham, who missed some time thanks to injuries, saw his target share fall by around 9%—an eye-popping drop. But the Saints continued to use the tight end spot, as evidenced by the 27.3% target share the position enjoyed that season; Watson stepped in and caught 20 passes on 31 targets that year. New Orleans tight ends in 2014 saw 176 targets. I know, you're reeling. I'm reeling too. 
Speaking of overall tight end opportunity in Payton's system, I've compiled some data showing the position has (mostly) fared alright, with the 2017 season representing the tight end's nadir in New Orleans.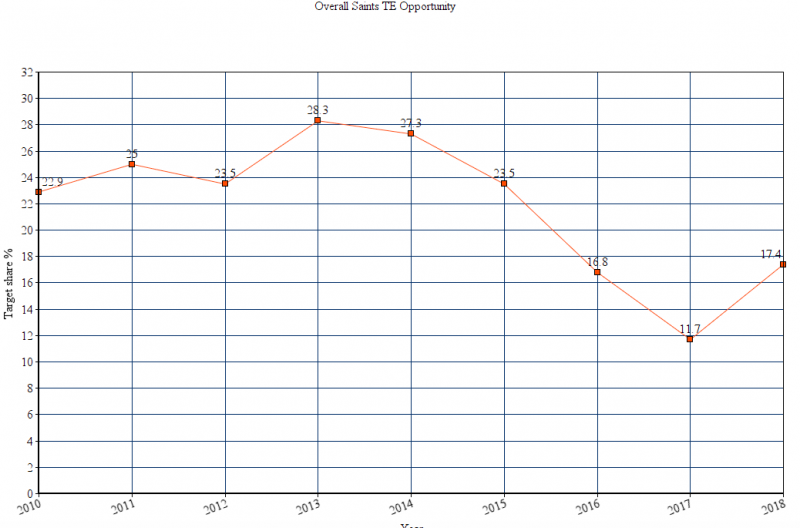 The Bottom Line
A hater might knock Cook for his excruciating lack of touchdowns over his 10-year career. Cook, after all, has scored on just 5.8% of his career receptions. He scored a grand total of six touchdowns in a recent four-year stretch. Thankfully, per TJ's excellent breakdown, we know that tight end touchdown scoring doesn't really matter because it's "extremely volatile" and tight ends don't see nearly the sort of red zone opportunity as wideouts. That Cook hasn't been a prolific touchdown scorer over the past decade shouldn't be a strike against him. Instead, it's his average draft position climbing to the part of a draft where you'd have to pass on guys like Latavius Murray, Marvin Jones, Will Fuller, and Sammy Watkins that should give you at least some pause. For the re-draft price, I'm taking Cook and his prospects as a secondary option in New Orleans over David Njoku, who's going two rounds earlier than Cook. 
The tight end formerly known as the Artist, who will soon catch passes from the guy who's thrown more than 30 touchdowns in 10 of the past 11 seasons, has a lot going for him in 2019.