How DeSean Jackson to Philadelphia Impacts Fantasy Football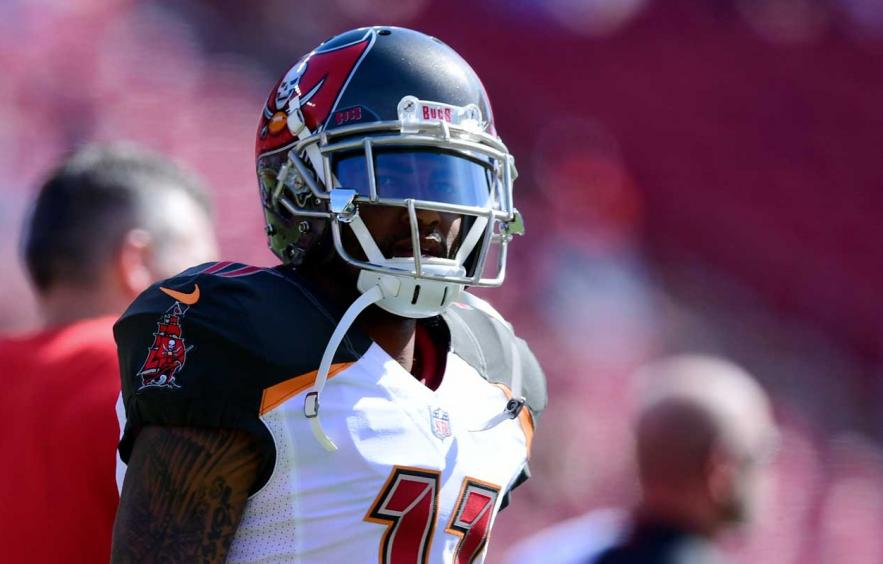 Julio Aguilar/Getty Images
On March 11, the Buccaneers traded DeSean Jackson and a 2020 seventh-round pick to the Eagles for a 2019 sixth-round pick. Going into his 12th year in the league and turning 33 in December, Jackson remains one of the preeminent deep threats in the NFL. The following will examine how Jackson's return to the team that drafted him changes the fantasy landscape for both Tampa Bay and Philadelphia.
At this point in his career, most fantasy football players know what DeSean Jackson is—a boom-or-bust wide receiver whose booms are often just one long touchdown. Jackson hasn't averaged 13 or more PPR points per game—approximate WR24 numbers—since 2015 and he's scored double-digit PPR points in 15 of his 26 games over the last two years, exceeding 20 points just twice in that span.
What DeSean does do is stretch the field, and he does it well. Even at 32 years old, Jackson's 18.9-yard average depth of target led all receivers with at least 70 targets in 2018. One of the biggest reasons for Jackson's swings in Tampa Bay was quarterback play—Jackson ranked in the top 10 in targets of 20+ air yards last season but just 10 of those 24 deep targets were catchable, according to SportsInfoSolutions (SiS). On catchable deep balls, DeSean led the league in PPR points per target. 
Even as one of the best deep threats in the league, Jackson doesn't see the requisite volume or stay healthy enough to be a reliable plug-and-play fantasy asset. He hasn't played a full season since 2014, missing at least two games in three of the last four seasons and he's reached triple-digit targets just once since 2014. Jackson will continue as an inconsistent WR3 with WR2 upside, but as the 116th player off the board in post-free agency ADP, his price is palatable. His presence in an offense still impacts his teammates' fantasy value, though.
Jackson's arrival in Philadelphia addresses a glaring need, in terms of a deep threat. Philadelphia threw 20+ yards downfield on only 10% of their passes last season, the 10th-lowest rate in the league, according to SiS. Adding Jackson's 20–25 deep targets per year would push the Eagles to a deep-ball rate just above 14%, or top five in the league, which should catapult Carson Wentz's efficiency numbers. Of the 33 quarterbacks that threw 20+ yards downfield at least 20 times last year, just nine had a higher on-target rate than Wentz, per SiS. 
The claim the DeSean will buoy Wentz's efficiency isn't without precedent. Every quarterback that Jackson has played with has posted higher yards per attempt numbers with DJax on the field, and the difference is usually quite significant—Jackson's quarterbacks have averaged 0.94 more yards per attempt when Jackon plays than when he doesn't, a 14% increase in that efficiency metric.
While Wentz is the clear winner here, fantasy owners will surely wonder about the prospects of Philadelphia's other pass catchers, most notably Zach Ertz and Alshon Jeffery. As of this writing, the Eagles have 115 unaccounted for targets from 2018 and Jackson isn't a player that commands heavy target volume. Additionally, Jackson simply doesn't run the same routes as Ertz and Jeffery—recall that Philadelphia had a bottom-10 deep-ball rate last season. While Jackson may not be a fantasy starter himself, his presence boosts the outlook for his quarterback and Philly's two-primary targets, as he should take safety pressure of Ertz and Jeffery while allowing for both to maintain their role in the red zone.
In addition to Jackson leaving Tampa Bay, Adam Humphries also skipped town, signing a four-year contract in Tennessee. The Buccaneers go into the offseason with 229 available targets, the fourth-most in the league. With Mike Evans posting WR1 numbers in two of his last three seasons and O.J. Howard finishing 2018 tied for fifth at his position in PPR points per game, the player that should get the biggest boost is Chris Godwin. 
Since the beginning of 2017, Godwin has played six games without Jackson, averaging a 3.7/72.8/0.67 line on 7.7 targets, or nearly double the fantasy production in games with Jackson. New head coach Bruce Arians has quickly advanced the optimism surrounding Godwin, saying Godwin will see plenty of work out of the slot, touting him as a potential 100-catch receiver.
Speaking of Arians, he should maintain an aggressive downfield attack in Tampa, despite the loss of Jackson. As a play caller, Arians offenses have thrown the ball 15+ yards downfield on 21.9% of passing plays, a rate that would have ranked fourth-highest in 2018. DeSean also wasn't the only deep threat in the Bucs' offense—Evans and Godwin ranked fifth and 21st, respectively, in average depth of target among receivers last year (min. 70 targets), while Howard ranked second only to Rob Gronkowski at tight end (min. 40 targets).
While it was earlier noted that Jackson has generally boosted his quarterbacks' efficiency, the loss of DeSean may not impact Jameis Winston as much as the boost for Wentz. Of all the quarterbacks that have played with Jackson, Winston saw the smallest variance in efficiency without his primary deep threat, averaging just 0.04 more yards per attempt in games with Jackson compared to those without him.