Emmanuel Sanders is a Calculated Risk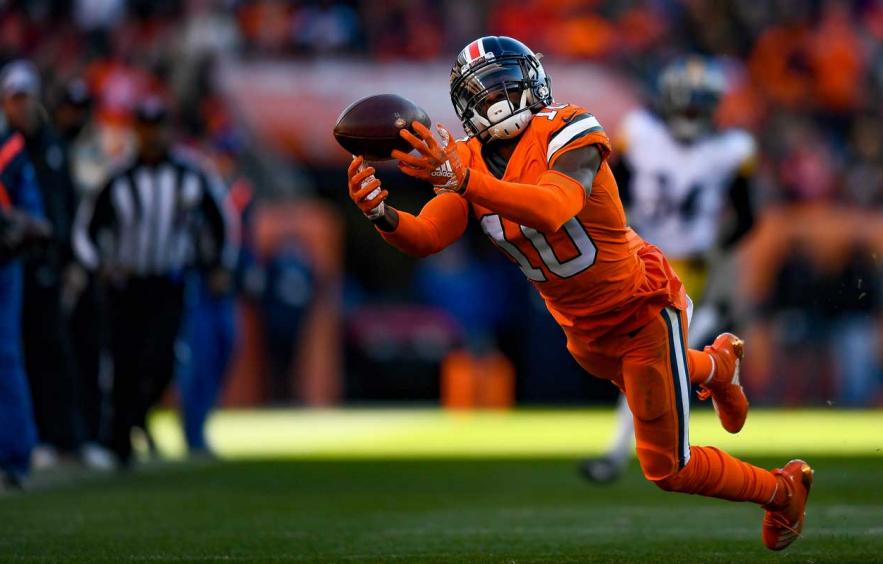 Dustin Bradford/Getty Images
With Emmanuel Sanders now sitting seven spots ahead of consensus in our rankings, he's appearing at the top of my screen in a lot of fantasy drafts. While I was fading Sanders earlier this offseason, I've reconsidered whether that is the right approach. Here's why you should too.
Have You Forgotten How Good He Was?
Even after their record-setting 2014 season, in which Sanders was the overall WR7 (in half-PPR scoring), he has remained in the top 24 in points-per-game in three out of four seasons. As recently as two years ago, he was widely considered a reliable WR2.
The perception of Sanders took a nosedive in 2017. In the lone exception to his streak of five WR2-or-better seasons in a row, Sanders finished outside the top 50. With a catch rate below 30% in 4-of-12 games, however, some of the blame presumably belongs to quarterback Trevor Siemian. Nonetheless, some were predicting that the Broncos would move on from Sanders and, at 31 years old, that his career might be over.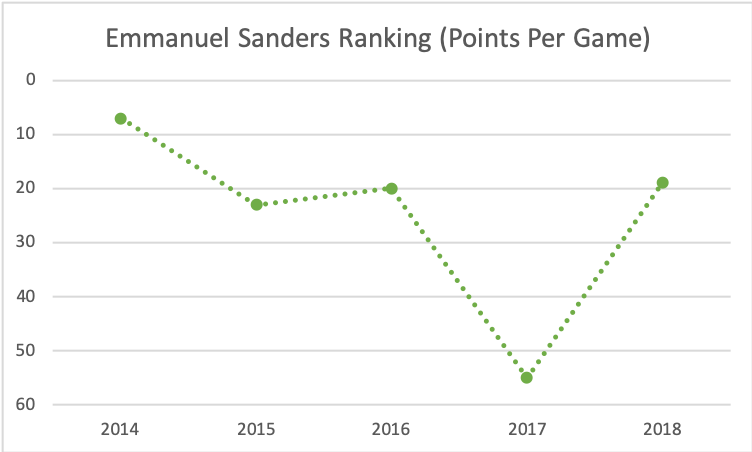 Sanders bounced back in 2018, with his best fantasy finish since 2014. He returned to pre-2017 volume, with over eight targets per game, and pre-2017 production, with over 70 yards and 0.3 touchdowns per game. Things were looking up until Sanders tore his Achilles in December of 2018.
An Improved Injury Outlook
An Achilles injury seems to be one of the most difficult to recover from, especially for a player that is now 32 years old. However, that perception may be out-of-date. As Dr. David Chao said on Twitter,
Achilles tendon rupture recovery has improved like ACL return.
Used to be a minimum of 9-12 months. https://t.co/6D575sJrUv

— David J. Chao (@ProFootballDoc) September 6, 2018
This may be a case where the improvements in medical practices are moving faster than public perception. Sanders has posted videos of himself running and cutting. While Dr. Chao says Sanders is clearly not 100% yet, he is now seven months post-injury with another two months to go before the season starts.
Earlier in the offseason, my impression was that drafters were not sufficiently weighing the possibility that Sanders might start the season on the PUP list, which would mean at least six games missed. However, Sanders ADP has drifted higher and higher since then. Meanwhile, the odds that he will end up on the PUP have shrunk and now seem fairly small. At this point, it appears to me that the situation has reversed: the public has become too pessimistic.
An Improved Outlook at Quarterback?
After seeing passes from Siemian and Case Keenum over the last three seasons, Sanders will now be catching them from Joe Flacco, a non-elite but Super Bowl-winning quarterback. It would be hard not to view that as an upgrade.
Let me urge some caution on that front, however: Flacco has not been good in recent years. His yards per pass attempt, a standard and reliable indicator of quarterback performance, has not been better than 6.5 in the past three seasons, which actually matches the worst season of Siemien and Keenum.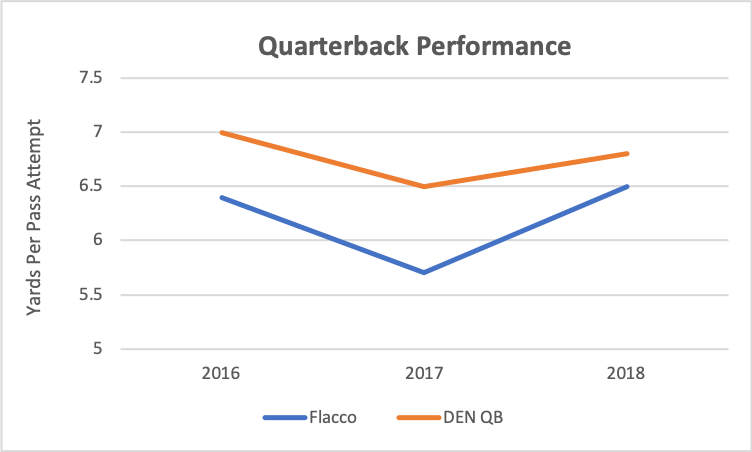 Looking beyond yards per pass attempt, however, there is reason to be optimistic about the fit between Flacco and Sanders specifically. As Daniel Rymer of Pro Football Focus noted in a recent article, Sanders stands out in his ability to catch deep passes and Flacco throws a lot of them.
This is exactly what we would like to see for Sanders to fully return to his pre-2017 form. While his target volume was similar in 2016 and 2018, the latter year included far fewer deep passes. Sanders's air yards dropped from 112 to 78 per game, a change so large that it is unlikely to be just random noise. Sanders partly made up for the drop in yards per target with an increase in receptions (although that would be no help in standard scoring), but overall his scoring should be higher with a return to his earlier usage and more deep passes.
Worth the Risk in the 11th Round
As mentioned above, fantasy drafters have soured on Sanders this off-season, with his ADP now dropping into the 11th round. Consensus rankings how place him at WR55.
For the reasons discussed above, I think there is little chance he finishes that low. On a points-per-game basis, he was a WR2 again in 2018, and the underlying stats look set up to improve this season rather than worsen. His competition for targets is also weaker than it was in the past—instead of contending with Demaryius Thomas for targets, he just has to fight off Courtland Sutton, a player I like but not yet a talent like Thomas.
While I do think some extra caution is warranted with a 32-year-old wide receiver, the only scenario where I can see him finishing outside the top 50 at the position is if he starts the season on the PUP. That is a possibility but, as noted above, an increasingly small one. While I wouldn't be willing to take such a risk early in the draft, with an 11th round price tag, Sanders is a risk worth taking.