Never-Too-Early 2019 Running Back Rankings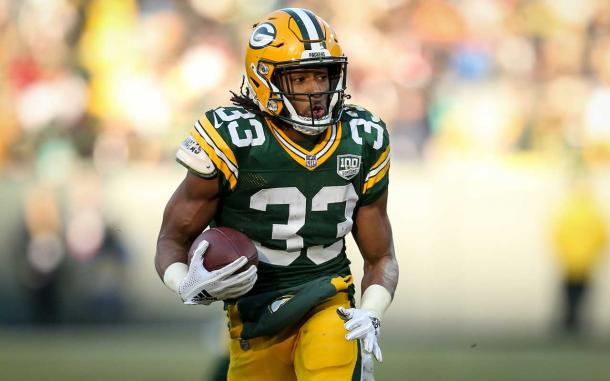 Below you'll find my second stab at 2019 rankings for the running back position.
The rankings are based on half-PPR scoring systems. Why half-PPR, you ask? It's the scoring format that DRAFT uses for their best ball leagues. I also thought it would be a good compromise between full PPR and standard scoring so proponents of both systems could find the rankings useful, at least in a general sense. 4for4 will release its full projections after the 2019 NFL Draft, as usual.
I've included 2018 regular season points per game and two-year points per game (where applicable) through Week 16 of each season. I've also included the difference (DIFF) between my rank and the player's current average draft position (ADP) of 12-team half-PPR best ball drafts at DRAFT. A positive number means that I'm relatively high on the player while a negative number means—you guessed it—that I'm relatively low on the player.
---
More Never-Too-Early Rankings: QB | WR | TE
---
Below the rankings you'll find some discussion about a few players that jump out as particularly good or poor values heading into the spring.
The position looks quite top-heavy heading into the 2019 season and, as usual, the RB2/RB3 rankings are a real puzzle.
Aaron Jones led the Packers' backfield for a long stretch before spraining his MCL. Through his first two seasons, in the 12 games where he has garnered at least 10 carries, Jones has averaged 95 total yards and 1.0 touchdown on 16.5 touches per game (16.7 PPG). He was also getting more involved as a receiver as the 2018 season wore on, catching 18 passes in his final five (full) games. That's a 58-catch full-season pace, and he showed major improvement in pass protection as well. He should be in the driver's seat to be Green Bay's RB1 in 2019.
It looks like DRAFT users are not quite as bullish on Kerryon Johnson as I am. In his final eight games, Johnson racked up an average of 94 total yards (5.53 YPC) and 0.5 touchdowns on 16.1 touches per game (13.9 PPG), so I could make the case that he should be three or four spots higher in my running back ranks. HC Matt Patricia is committed to the run, so Johnson should be heavily involved in 2019.
When I watched all of Marlon Mack's touches from the second half of his rookie season, I came away impressed and felt that he had the inside track to starter's touches. He struggled with an injury in training camp, but once he got going, he really got going. He had five games where he ran for at least 119 yards and a touchdown and saw as least 10 carries in all but two games. He was not as involved in the passing game as I'd like (1.4 receptions per game), but he averaged a total of 87 yards and 0.79 touchdowns per game (14.0 PPG) in 14 games, including the postseason.
I'm very interested to see where Mark Ingram and Tevin Coleman land in free agency. Ingram is 29 years old, has dual threat ability and has averaged 4.6+ yards per carry in each of the last four seasons. Coleman is younger—he turns 26 in April—and although his 2018 season Is viewed as a disappointment, he still gained 1,076 total yards and scored nine times on 199 touches, including 4.8 yards per carry. Over the past three seasons, both Ingram (16.1 PPG in 34 games) and Coleman (13.1 in 19 games) have shown RB1 upside when they receive 10+ carries.
Josh Jacobs appears to be the consensus top running back in the Draft, at least at this point. Here's a list of all the first round running backs from the last four drafts: Todd Gurley, Melvin Gordon, Ezekiel Elliott, Leonard Fournette, Christian McCaffrey, Saquon Barkley, Rashaad Penny and Sony Michel. This group averaged 17.4 touches per game as rookies, resulting in a 13.6 PPG average. Only Gordon and Penny failed to average more than 10.0 PPG as rookies. Jacobs' landing spot will be key, but if he goes in the first round, he's a good bet to produce in 2019.
3/10/19 Updates
Damien Williams took over for Kareem Hunt in mid-December and definitely looked the part. He averaged 19.4 touches for 114 yards and 1.6 touchdowns in five games (23.4 PPG in half-PPR formats), including the postseason. He averaged 5.60 YPC in that span and showed dual-threat ability, playing well enough to earn a two-year extension from the Chiefs. The team signed Carlos Hyde, but given his 3.66 YPC with three teams since 2017, I think he'll serve as the backup with Williams getting 15-17 touches per game as the lead back.