8 Rookie Defensive Backs to Target in 2019 IDP Leagues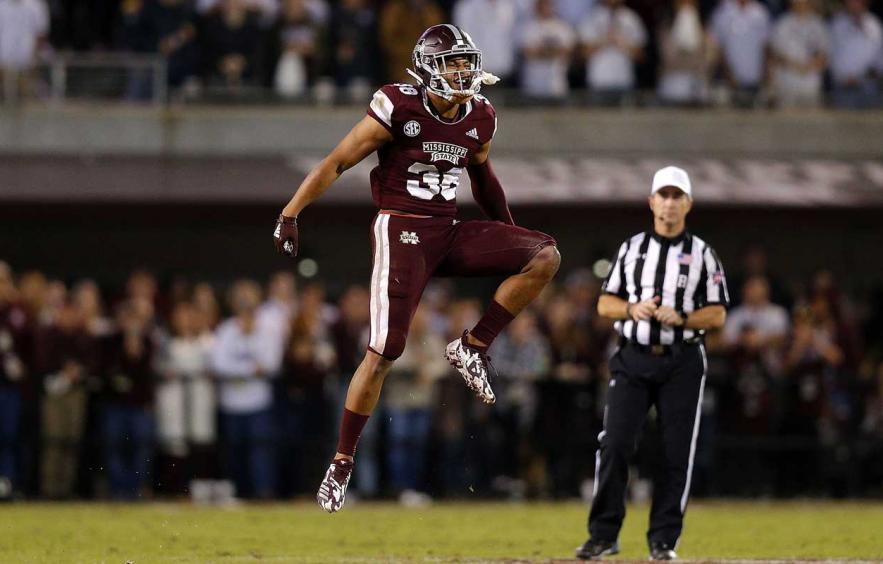 Jonathan Bachman/Getty Images
The 2019 DB class, as usual, featured some talented playmakers. As the league focuses more on the pass, teams are focusing in on ball-hawking defensive backs who can turn the ball over.
Of all of the IDP positions, the defensive back is the position you can wait the longest on. Even if you don't land the top DB, you can expect a few to emerge throughout the season. 
If you're in a dynasty league or you're looking for more information on the rookies discussed below, you should definitely check out all the content from our friends at Dynasty League Football.
Below are the DBs I'm targeting in IDP leagues for the 2019 season for redraft and dynasty leagues.
Jonathan Abram, SS, Oakland Raiders
It appears the Raiders are moving on from Karl Joseph with the addition of Jonathan Abram. As the Raiders' 27th overall pick, he's in line to be their starting strong safety out of the gate.
Abram made four starts for Georgia in 2015 but then transferred out. In 2017, he made his return to D1 ball with Mississippi State. He established himself as a presence and was solid in run defense. Abram recorded a 12.6% tackle rate over two seasons, including 14 tackles for loss. He's a strong hitter and and has plus speed. Abram fits the mold of a "big nickel" linebacker and should play up near the line of scrimmage. He runs downhill and will use his burst to finish off tackles. He's also going to be a problem for tight ends. He doesn't play stiff, but he's not as fluid as you'd like and he'll need to improve his anticipation on the ball in coverage.
Abram should be the top DB taken in most rookie drafts, and in redraft, I'm targeting him as a DB2 with upside to finish among the top-10 DBs in 2019. He reminds me of Landon Collins and he should make an immediate impact with the Raiders. He should be a force in the box and it wouldn't surprise me if he hit 100 tackles as a rookie.
Juan Thornhill, SS, Kansas City Chiefs
Thornhill is a converted corner and should find himself in the mix for the starting SS job after the departure of Eric Berry. Thornhill is a gifted athlete who should be able to make big plays for the KC defense.
Over 36 starts during his stint with Virginia, Thornhill produced a 2:1 solo-to-assist tackle ratio and a 9% tackle rate. He enjoyed a highly productive senior year in 2018, amassing 98 tackles and six INTs. Thornhill has the capability to be an every-down player, as he accumulated 2,320 snaps over three seasons. His ball hawk skills have translated from cover corner to safety and he should be deployed all over the field. His eyes and reactions from ball to man to ball are elite. He can make the open-field tackle and has a strong closing burst. He just needs to take on blocks better at the line of scrimmage.
He should be able to beat out Daniel Sorensen at strong safety and he should be the second DB off the board in rookie drafts. Thornhill has the upside to provide stats across the board, including tackles and picks. As long as he wins the SS job, I'm targeting him as a DB3 in redraft leagues.
Chauncey Gardner-Johnson, SS, New Orleans Saints
The Von Bell experiment is over in New Orleans. Even though Gardner-Johnson was a fourth-round pick, he has a great chance at locking up the SS spot in The Big Easy with his ball skills.
CGJ started 26 total games for the Gators and notched nine picks, including three to the house. Over the 2017 and 2018 seasons in Florida, he recorded 129 tackles (including 15 for a loss), resulting in a 10% tackle rate. He has the build to be a run stuffer up near the line of scrimmage and rush the QB. He also has the ability to be that center field defender and turn the ball over. He's fluid in his motions and is versatile enough to play all over the field as a box or free safety. He can also cover the slot and is similar to Minkah Fitzpatrick in this regard. Gardner-Johnson won't waste any motions to make tackles but he will overreact, which causes him to lose balance, but that can be coached up.
CGJ's landing spot should put him in the conversation as one of the top-five safeties off the board. He has the opportunity to be an all-around stat stuffer in his rookie year. In deeper redraft leagues, he'll be a depth target as a high upside DB3/4.
Darnell Savage Jr, FS, Green Bay Packers
Savage joins a talented secondary room in Green Bay. Savage should see immediate playing time at free safety and has the ability to play in the box or slot.
Savage has a strong football IQ and sports borderline-elite cover quickness. After recording just one pick in 2016, he went on to produce seven over the next two seasons at Maryland. In coverage, he allowed zero TDs during his 2017 and 2018 seasons. Preventing looks to be a positive trait in today's NFL. He has natural movement in coverage and has above-average make-up speed so it's not a big deal if he gets behind a play. He loves to hide in waiting, baiting opposing QBs to throw the ball. In run support, Savage knows the paths to take to the ball and won't get caught in traffic. He's slightly undersized, but his ball skills more than make up for it.
Savage will be a top target in balanced or big play scoring leagues this season. He should be one of the top-five safeties off the board in rookie drafts. He should be on the field for the majority of the snaps, bookending Adrian Amos, so he's going to have the opportunity to make big plays.
Deandre Baker, CB, New York Giants
The Giants gave up three picks to move up to the 30th spot to take Baker. He should slide in as the starter outside opposite Janoris Jenkins this season.
Baker was one of the top cover corners heading into the draft. Opposing QBs didn't want to throw his way—over three seasons at Georgia, he allowed just 43.5% of the passes thrown his way to be caught and gave up just one TD on 131 targets. Baker made a play on the ball 24% of the time he was thrown, resulting in seven picks and 24 defended passes. He's a prototypical man cover, and while he isn't a burner, he's smart and can recognize routes and patterns. Baker also times the jump balls well. He's a bit small so there might be some concern on how he matches up with some of the bigger receivers.
He's going to be asked to play man coverage and with Janoris Jenkins opposite him, he's going to see plenty of balls thrown his way. He played in one of the top conferences (SEC), so he's battle tested. For those in CB-required leagues, I like Baker as one of the top rookie corners off the board. In redraft leagues, he should be targeted as a high upside CB2/3.
Greedy Williams, CB, Cleveland Browns
Another LSU cornerback, another solid NFL pro in the making. The Browns were ecstatic to land Williams in the second without having to give anything up to get him.
Greedy pieced together two solid seasons at LSU. Over the course of those seasons, he was targeted 130 times and allowed a 39.2% completion rate, while allowing just three scores. He made a play on the ball on 22.3% of his targets, resulting in eight picks and 21 defended passes. He has a long frame and has the acumen to excel in all coverages. He'll likely be asked to play man and is rarely caught out of position on his routes. He has the footwork and speed to make up for coverage mistakes. He has quick eyes to go from man to ball and will just need to add some mass during the offseason to avoid being overpowered by bigger receivers.
Greedy should push T.J. Carrie immediately for the starting job opposite Denzel Ward in 2019. If Williams sees the majority of the snaps on the outside, he should be tested immediately by opposing QBs, just based on his declaration that Cleveland is going to the Super Bowl. In CB-premium, he should be the second rookie taken after Baker, and like Baker, has CB2/3 potential if he's starting.
Taylor Rapp, S, Los Angeles Rams
Rapp is going to be an intriguing prospect in 2019. On the surface, the Rams are not an ideal landing spot, however, he'll have a chance to get on the field this season.
He turned in a solid 2018 campaign, where he notched 59 tackles, two INTs and five sacks. Rapp was a dependable tackler, missing on just two attempts. He excels in run support and making tackles in open space. He seems to always take the right angles and his footwork is top notch. Even though he knows how to dish out the hits, he takes on too much contact.
Though he's behind John Johnson on the depth chart, Rapp could see a share of snaps on sub packages. He can play that safety/linebacker hybrid role which will take advantage of his strengths in the run and getting to the QB (he had five sacks in 2018). Rapp is an Eric Weddle injury away from being a starter in 2019.
Nasir Adderly, FS, Los Angeles Chargers
As if the Chargers didn't already have one of the best safeties, they add Adderly to the mix and have potentially the best safety duo in the NFL since Kam Cancellor and Earl Thomas.
Adderly was one of the top coverage safeties in the NCAA. In 2018, he was thrown at 23 times and yielded a 30.4% catch rate. He was not responsible for giving up any scores either. He is a versatile DB who can play both corner and safety, and even though he had some inconsistencies, his ball skills should translate to the next level. He has fluid hips, allowing him to change his direction easily. He's an explosive athlete and goes low when tackling in space.
Adderly should find himself as the starting free safety and play center field defender. He should be a target in balanced scoring and big-play scoring formats for his upside to make the splash plays.