4 Tight End Touchdown Regression Candidates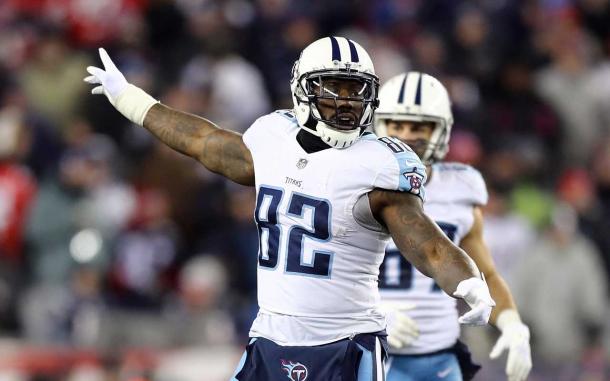 Red Zone Expected Value Overview
In 2015, I introduced Red Zone Expected Value (Red Zone EV), a metric designed to help quantify a player's scoring expectation based on the starting field position of every play that takes place inside the red zone. Most readers know that most touchdowns happen inside the 20 but analysts continue to refer to blanket red zone numbers like the 20-yard line as some magic threshold to cross. The fact is that a pass from the 1-yard line doesn't have the same scoring expectation as a run from the 19. Red Zone EV is designed to sift through that mess, breaking touchdown expectation down by position and type of play.
---
More Touchdown Regression Candidates: QB | WR | RB
---
For example, over the last three seasons, a pass play that starts between the opponent's 16- and 20-yard line has an 11 percent chance of scoring a touchdown, resulting in an expected value of 0.66 points scored per pass attempt (6 points per touchdown * 0.11), whereas a pass play that starts inside the 5-yard line has a Red Zone EV of 2.59 (43.1% touchdown rate).
Using this methodology, we have been able to pinpoint touchdown regression at an incredible rate. Over the last two seasons, 23 players have been pinpointed as negative regression candidates and played at least eight games the following season—all 23 of those players saw their overall touchdown rate drop by at least 1.2 percent with an average drop off of 3.75 percent. Of the 20 players expected to revert positively to the mean with at least half a season's worth of play, 15 saw an uptick in touchdown rate, increasing by an average of 1.4 percent. 
Tight End Red Zone EV
As mentioned in the introduction, each position has different scoring expectations. The following table lists the expected value for all tight end red zone targets, based on starting field position:
Expected Value of a Tight End Red Zone Target, 2015–2017

| Starting Yard Line | % Chance of a TD | EV of a Target |
| --- | --- | --- |
| 20 – 16 | 14.0% | 0.84 |
| 15 – 11 | 20.3% | 1.22 |
| 10 – 6 | 32.5% | 1.95 |
| 5 – 1 | 49.0% | 2.94 |
For tight ends, touchdowns are among the most volatile year-to-year stats, and the rate at which tight ends score touchdowns varies even more. One of the biggest reasons touchdown stats are so unstable from one year to the next is that tight ends rarely see a large enough sample of targets near the goal line in a single season to represent their true scoring ability. Because of their low volume, just a couple of touchdowns or missed opportunities can swing scoring rates for the entire season.
Just because touchdowns and scoring rates are inconsistent doesn't necessarily mean they aren't predictable, though. The swings in scoring rates mean that most tight ends' touchdown efficiency is likely to regress to the mean—either to the league average mean or to their individual mean, if there is a large enough sample.
Equipped with this knowledge, we can look at individual touchdown rates and Red Zone EV scores from the previous season to help pinpoint players who might regress, either positively or negatively, in the touchdown column.
Negative Touchdown Regression Candidates
League Average Touchdown Rate, 2015–2017: 5.3%
League Average Red Zone Touchdown Rate, 2015—2017: 28.5% of targets
2017 Touchdown Rate - 7.3%; Career - 4.4%
2017 Red Zone Touchdown Rate - 44.4%; Career - 27.0%
2017 Red Zone EV -  31.1; Actual Points Scored from Red Zone Touchdowns - 48
Every year, there is an entire offense that plays over their head, resulting in multiple players who show up in this series. One of those teams last season was the Eagles. Philadelphia scored on a mind-numbing 6.7 percent of all passing plays and 37.2 percent of red zone tosses. Both numbers were tops in the league and miles ahead of the league averages—4.2 percent overall touchdown rate on passes and 23 percent scoring rate in the red zone.
Zach Ertz was one of the biggest beneficiaries, hauling in eight touchdowns, all from inside the 20. Based on where those targets came from on the field, Ertz should have scored about five touchdowns. There's enough of a sample size for us to know Ertz is a good, not great scorer. Of the 20 active tight ends with at least 50 career red zone targets, Ertz ranks 10th in touchdown rate. Sure, Ertz hasn't had the Carson Wentz that we saw in 2017 for his whole career, but to bet on a repeat of last season is betting that Wentz can sustain an Aaron Rodgers-like touchdown pace.
This isn't to say that Ertz isn't worthy of his draft capital—even if we regress his touchdowns to expectation he still would have finished as the PPR TE3. Rather, owners should understand that Ertz likely finished at the top of his range of outcomes and if the pendulum swings back too far, he could finish as a middling TE1 rather than a dominant one. 
2017 Touchdown Rate - 5.2%
2017 Red Zone Touchdown Rate - 54.5%
2017 Red Zone EV -  21.5; Actual Points Scored from Red Zone Touchdowns - 36
Last season, Evan Engram accomplished what few tight ends ever do—producing huge as a rookie. A lot had to break right for Engram's big rookie campaign, though—Odell Beckham missed most of the season, the Giants played the seventh-most plays while trailing with the third-highest passing rate in negative game script, and Engram scored at a ridiculous rate in the red zone. 
From a pure volume standpoint, Engram will have trouble maintaining his numbers from a year ago—Odell Beckham will likely return to the dominant target share that he's accustomed to, rookie running back Saquon Barkley will cut into the short passing game, and new head coach Pat Shurmur is a playcaller who would prefer to run more often than not. While it's clear Engram's red zone scoring rate should drop, his overall touchdown rate may not be the best baseline to measure him by, even though it's roughly the league average for tight ends—Eli Manning's 4.6 percent career touchdown rate ranks just 23rd among active passers. A drop in volume combined with a drop in scoring rate adds up to a classic sophomore slump.
Positive Touchdown Regression Candidates
Continue reading to see which two tight ends TJ believes are in line for positive touchdown regression and who should score more fantasy points in 2018 than last season...
4for4 Premium Content
There's more, but it's available only for 4for4 subscribers.
If you are a current subscriber, please login here