2017 Never-Too-Early Rankings: Quarterbacks
Below you'll find my first stab at 2017 rankings for the quarterback position. I don't generally like to publish rankings prior to free agency and the draft, but I know that early mocks/drafts have already started up, MFL10s are close behind, and 4for4 subscribers may be wondering where I stand on certain players heading into the offseason.
These rankings will go up one position per day this week, so be sure to check the front page if you're interested in seeing the other positions.
The rankings are based on PPR scoring systems. I've included 2016 points per game, two-year points per game (where applicable) and two-year Coefficient of Variation (CV) which measures how consistent a player is on a week-to-week basis. (The lower the CV, the more consistent the player.) I've also included the difference (DIFF) between my rank and the player's current rank at Fantasy Football Calculator, a site that compiles ADP data for early mock drafts. A positive number means that I'm relatively high on the player while a negative number means -- you guessed it -- that I'm relatively low on the player.
Below the rankings you'll find some discussion about a few players that jump out as particularly good or bad values heading into the spring.
The QB position continues to be loaded with productive players, so my approach – to wait on a quarterback – heading into 2017 fantasy drafts won't change much. Matt Ryan, Kirk Cousins, Dak Prescott, Matthew Stafford, Tyrod Taylor and Marcus Mariota were all drafted outside the top 12 and ended up finishing inside the top 12 by season's end.
Until Sammy Watkins' foot injury, my primary target in 2016 drafts was Tyrod Taylor and he still produced top 8 numbers with Watkins in and out of the lineup. He was a top 10 quarterback on a per game basis in 2015, so he has now produced starter-caliber numbers in two straight seasons. Below you'll find that his numbers are pretty comparable to Russell Wilson's, and Wilson is considered to be one of the best quarterbacks in the league: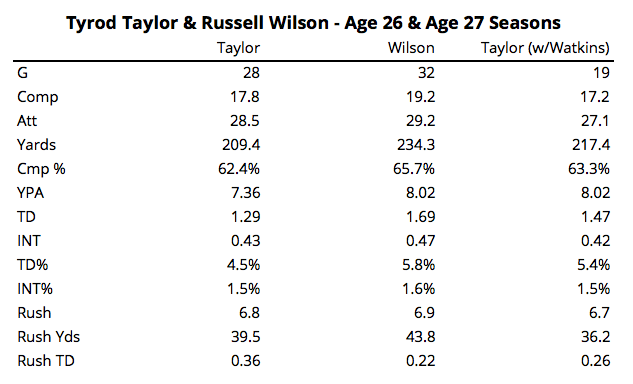 I'm very anxious to see where he lands and have no idea why the Bills aren't locking him up long-term. If I knew he was guaranteed a starting job with a decent receiving corps, I'd have him a few spots higher.
I'm not sure why FF Calculator drafters are viewing Manning as a low-end QB1 after he finished QB21 in 2016. This could be a Matt Ryan situation, since Ryan followed up career-worst fantasy finish with his career-best, but Manning and the offense were worse this year when everyone expected both to be better in his third full season in Ben McAdoo's offense. One encouraging stat is that the Giants have finished in the top 9 in pass attempts in three straight seasons under McAdoo.
I'm a bit low on Big Ben, whose home/away splits are becoming the stuff of legend. Over the last three seasons, Roethlisberger is averaging 340 passing yards, 2.9 touchdowns and 0.8 interceptions at home, while posting 270 yards, 1.1 touchdowns and 1.0 interceptions on the road. Normally, I don't put too much stock in small sample splits, but this 42-game sample is pretty eye-opening. He'd be an ideal quarterback to have as part of a committee – start him at home, sit him on the road – but his 6th/7th round ADP is far too expensive for that. He'll probably go in the 8th/9th in a sharp league, but that still feels too early.
A Few Random Thoughts
Filed Under: Preseason, 2017
We are your friend's secret weapon.
Get 4 FREE downloads
Receive breaking news alerts & analysis.
Battle-Tested by 40,000+ fantasy football diehards since 1999.