Randall Cobb & Mike Evans Will Resume Being Fantasy Studs in 2016
What's the only thing better than ice cream cake? Top fantasy players having massive bounce back years that you predicted! For various reasons last season, marquee fantasy players failed to live up to their own massive expectations. Read on to find out why you should expect some of their failures to end this year, and why specifically Randall Cobb and Mike Evans are poised for huge bounce back years.
The 2015 NFL Season ended rather oddly for Cobb. Facing off against Patrick Peterson and the ball-hawking Arizona Cardinals secondary, Cobb was injured and forced to leave the NFC Divisional Playoff game with a punctured lung. What makes this injured lung such an odd injury is how it was caused: by Cobb's own mic pack.
As fans, we want to hear and breathe football as much as possible. That's why the NFL puts mics on its best players, so the fans can be that much more into the game. Unfortunately for Cobb, it was his turn to wear a mic. Not that anyone is to blame for this accident, but there still exists potentially one person and one person only who could have prevented this tragedy: Jordy Nelson.
Lost for the season with a torn ACL in training camp, Nelson didn't play a single snap for the Packers in 2015, forcing Cobb into the number-one receiver role. Not to say that Cobb didn't perform like a number one wide receiver in years past (Cobb is ranked 10th in fantasy points per game among all wide receivers to play from 2012-2014), but part of what has made the Packers offense so dangerous is their ability to consistently use Cobb to exploit mismatches all over the formation.
The problem with having a versatile player like Cobb is that they are more dependent on teammates to help draw attention away from them. It's no coincidence that Tavon Austin's best season came when Todd Gurley came to town, and there's a difference between forcing a player the ball in creative ways (think Percy Harvin's entire tenure in Seattle) and allowing a player to be a versatile playmaker. Up until 2015, Cobb fell in the latter group.
But when Nelson went down, Cobb's fantasy production went right down with him. Despite a career high in targets, Cobb had his fewest receptions ever with at least 15 games played, and Cobb saw his 12 touchdowns in 2014 get cut in half. So what's the deal? Was Cobb a fun chess piece whose reign on the NFC North is finally over? Or is Cobb about to go back to being the every week playmaker fans had grown accustomed to? Let's find out.
The Jordy Effect
The consistent storyline for the Packers' 2015 offensive woes was mostly centered on the idea that their receivers couldn't get open against press man coverage. The Packers, like a lot of teams (most notably the Patriots), love to have their receivers run a wide array of crossers and pick routes to beat man coverage. The problem was that in 2015, it appeared as though Green Bay's receivers were having a lot more difficulty than normal in getting off of press man coverage.
This narrative makes even more sense when you consider Cobb is only 5-foot-10, 190 pounds. How versatile can Cobb be if he can't even get off the line of scrimmage? Unfortunately for Lions, Bears and Vikings everywhere, looking at the film shows that the idea that Cobb and the Packers couldn't handle press man coverage isn't quite the entire story.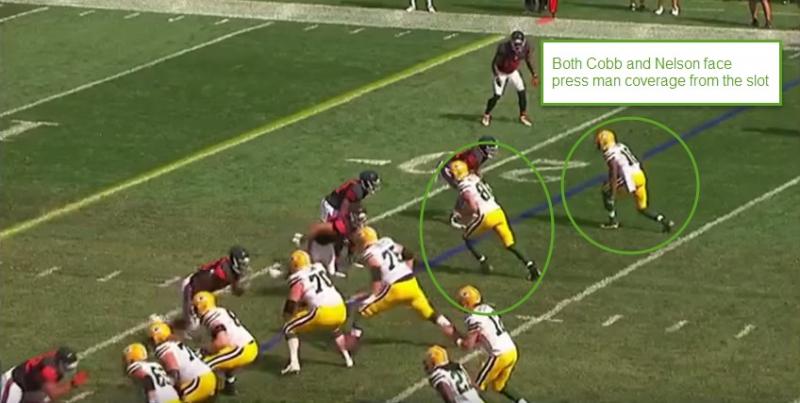 This clip against the Bears from 2014 features a shotgun formation with both Nelson and Cobb in the slot. The Bears are in press man coverage with a blitz coming from the other side of the formation, so as long as their corners can hold up against the Packers wide receivers momentarily, they should be in business.
Green bay runs a nifty route combination that is designed to free up Cobb in the corner of the end zone. Without a bunch of field to work with near the red-zone, it can be hard to generate open area for wide receivers this close to the end-zone. Luckily the Packers have Aaron Rodgers at quarterback, and he sends Nelson deep towards the middle of the field to both give Cobb more room on the outside, and to pull away the safety who is yet to be visible in the screen.
This play truly demonstrates the Jordy effect at its finest. The Bears have their number one corner Kyle Fuller on Nelson, and also have their only safety shaded over top Nelson in the middle of the field. No one can blame the Bears for playing this way, as Nelson is an even more dangerous threat than Cobb (remember how Cobb is ranked 10th in fantasy points per game among all wide receivers to play from 2012-2014? Nelson is 9th). It's thanks to this nicely designed play that also had the outside wide receiver stay short to keep his corner away from Cobb, and to Nelson's natural gravitational pull effect on any opposing secondary, that really gives Cobb a chance to shine and beat his man one-on-one.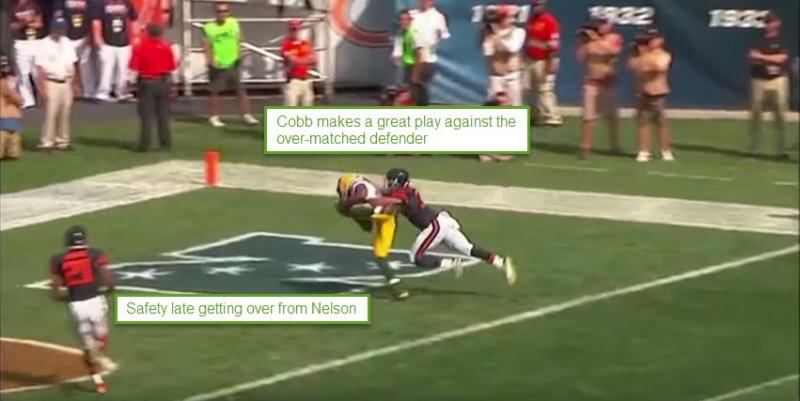 In the end, Cobb comes down with the beautifully placed throw, and Chicago's safety was too concerned with Nelson to have any hopes of making a play on the ball. While NFL offenses are undoubtedly very complex, at their simplest form all NFL offenses really try to do is get one-on-one mismatches for players like Cobb to exploit.
Cobb's 2016 Outlook
Cobb's disappointing 2015 came down to the fact that he became the Nelson of the Packers offense. Instead of being able to run away from teams number-two and three corners, Cobb had to take on the number-one guy, while also often facing safety help over the top. James Jones was the number-two for most of 2015 in Green Bay, and his eight touchdowns were the second most during his nine year NFL career, so it's not like Rodgers suddenly forgot how to play quarterback.
A lot of times the obvious fantasy football breakout is the guy who has a player ahead of him on the depth chart go down with an injury. While this strategy is usually a good bet with running backs, defensive coverages will typically try to take away a quarterback's number one option at all costs, and last year this number one option was Cobb. Double digit touchdowns for the diminutive Cobb may not be a realistic bet for 2016, but look for Cobb's 2015 career low in yards per reception to simply be a fluky blip on the radar as he gets back to his old ways as Rodgers' lethal and productive number-two wide receiver.
Jameis Winston has said some interesting things in his career. Some quotes resulted in Winston being scorned by the country and ultimately being suspended. One particular Winston speech was were perfectly harmless, but the delivery on Winston's end was lacking, according to America. However, it wasn't until last season in October when I thought Winston may have finally gone too far. The quote goes as follows: "He's (Mike Evans) like our secret weapon now."
Secret weapon? The same guy who just had a top-10 rookie wide receiver season EVER is a secret weapon? The same guy who nearly decapitated Terrance Newman on a casual run play is a secret weapon?
While Evans' 1,200 yards in 2015 were far from secret, his three total touchdowns resulted in a massive nine-touchdown decrease from 2014. At 6-foot-5, 231 pounds, Evans is an animal, and three-touchdown games for the former Texas A&M Aggie should be less surprising than a three-touchdown season.
So what's the deal with the Buccaneers secret weapon who shouldn't be so secret? Did defenses in 2015 figure out how to slow down the budding star? Not exactly.
Red Zone Targets
Targets have the ability to turn the most average receiver ever into the most prominent fantasy receiver of the week. Remember when Leonard Hankerson was the guy for one week in 2015? That was fun. Anyways, with targets being a great indicator of fantasy success, I wanted to first make sure that Evans didn't suffer from a lack of opportunities in 2015.
As it turns out, Evans actually had 26 more targets in 2015 than he did in 2014, and for that matter Evans had six more catches in 2015 as well. This brings us back to our initial question: where did all of Evans' touchdowns go?

What the above chart shows is that despite having essentially the same amount of opportunities, Evans greatly struggled to pull in big catches for red zone touchdowns in 2015. In fact, Evans was dead last in the NFL among players with at least 10 zone targets, hauling in just two receptions. In 2014, a red zone target to Evans was more certain to end in a touchdown than an incompletion, but this red zone domination became obsolete in 2015.
This is weird. Past studies have shown a high positive correlation between wide receiver size and red zone dominance, and for Evans to go from being a beast to a hazard in the red zone is perplexing, to say the least. Could it be that Evans' new rookie quarterback was too erratic to give him a chance?
Drops
Unfortunately for Evans, it appears his touchdown problem begins and ends with himself. With 11 drops last season, Evans took home the NFL's 2015 crown for worst hands, which is never a title a receiver wants to have.
Fortunately for Evans, this wouldn't be the first time a very good wide receiver had an isolated season where they were plagued by drops. Over the last five years, studs such as A.J Green, Calvin Johnson, DeSean Jackson ,and others have finished a season in the top ten for drops among all wide receivers, only to never resume their pass-dropping ways in the following years.
Just to be sure, I looked at all 34 receivers to finish a season in the top-10 for dropped passes from 2011-2015 and checked to see how many of them were repeat offenders. All in all, seven out of the 34 receivers found themselves in the top-10 in dropped passes more than once from 2011-2015, meaning we should expect roughly 20 percent of wide receivers with drop problems to see their issue continue.
Evans' 2016 Outlook
So will Evans fall in the bad 20 percent or the good 80 percent of receivers who have had a season killed by drops? Time will answer that question, but so far we have uncovered the following facts:
Evans has had two straight seasons with at least 120 targets and saw his number of targets and catches increase from 2014 to 2015.
Evans dominated the red zone in 2014 before failing miserably in 2015.
Big and tall receivers have historically been more efficient and better in the red zone than smaller receivers.
Evans led the NFL in drops in 2015 after finishing 77th in total drops in 2014 with just four.
In the last five years roughly one out of every five receivers to have a major issue with drops have seen their problem continue.
Evans is a big receiver who has had a lot of success with a high level of opportunity so far in his two-year career. Last year, Evans really struggled with drops and red zone production, but history tells us that Evans' high drop totals likely won't continue, and his size alone still makes him an ideal red zone threat. If Evans can go back to his ways of being a reliable pass receiver, look out, because a second-year Winston could be the best quarterback Evans has ever had.
Still not a subscriber? Sign up here!
---
Related Articles
We are your friend's secret weapon.
Get 4 FREE downloads
Receive breaking news alerts & analysis
BONUS: Learn how to play DFS.
Battle-Tested by 40,000+ fantasy football diehards since 1999.