FanDuel Hindsight Week 8: Brees Cooks the Giants Welcome to FanDuel Hindsight, where we'll recap the previous week on FanDuel, focusing on the Sunday Million tournament, which has a $1 Million grand prize. We'll use the benefit of hindsight to see what lessons can be learned about the Sunday Million winner's low-owned, difference-making plays, then check in on how the most popular plays of the week fared.
Editor's Note: 4for4 has an ALL-NEW DFS SUBSCRIPTION! It includes our revolutionary Lineup Generator, Stack Value Reports, Ceiling & Floor Projections, GPP-Specific Articles, Ownership Outlooks, DFS Theory Articles, Lineup Construction Articles, a Downloadable .csv with Projections and Salary Data, and much more! DETAILS HERE! Previous subscribers don't worry, you'll get the same DFS content you got last season, but we think you'll want to UPGRADE to our DFS subscription because it takes our DFS content to the next level!
FanDuel user westcoast4 took down the grand prize with a historic outing from Drew Brees. Brees just threw another touchdown. Like, right now. I know it's Tuesday.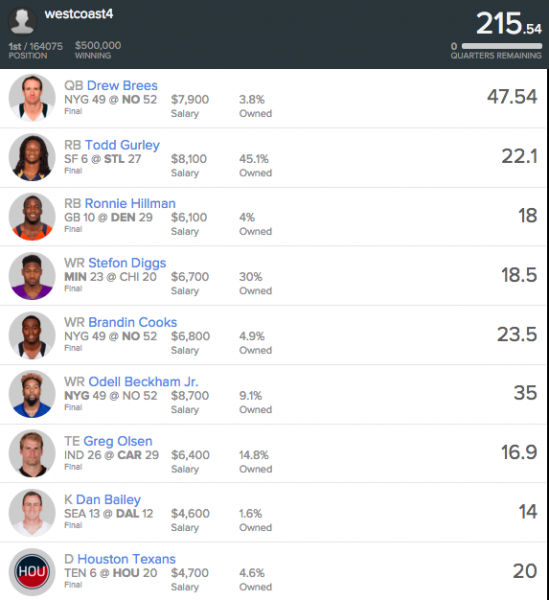 The lineup had two extremely popular plays (Todd Gurley and Stefon Diggs), but five strong low-owned plays that really put it over the top. For the second week in a row, the winning lineup deployed the team facing the Titans, which 4for4's aFPA tool (available to premium subscribers) has ranked as the best possible matchup for a defense. I also want to note that westcoast4 used a very astute correlation play, stacking Brees and Brandin Cooks with Odell Beckham. Deploying members of opposing passing games can have a synergistic effect: the more success one passing game has, the more pressure it puts on the opposing passing game to keep airing it out to keep up. Let's review some of westcoast4's difference-making selections.
QB Drew Brees
Why Not Many Were on Him: Despite posting lofty yardage totals throughout the season, Brees had been struggling to throw TDs, which caused his salary to plummet and removed him from many people's radar.
Hindsight Bias: No hindsight bias needed here if you listened to the Week 8 DFS MVP Podcast, where I mentioned Brees was a perfect buy-low for tournaments due to a variety of reasons, including likely positive touchdown regression, a steep salary drop, and a high implied total for the Saints. You can listen at the 10:13 mark here.
Why He Was Low-owned: It was easy to write off Hillman's 111-yard game before the bye as simply exploiting the NFL's worst run defense. The Broncos backfield had been tough to gauge, with Hillman and C.J. Anderson splitting work nearly evenly.
Hindsight Bias: While Hillman's efficiency in Week 6 against the Browns could be chalked up to facing an weak run defense, the 23 touches he received were nothing to scoff at. Efficiency can be tough to predict, but there's always value in cheap volume. In fact, Hillman wasn't efficient, managing only 3.2 yards per carry. However, included in his 23 touches were four red zone carries, two of which he converted into touchdowns.
Why He Was Low-Owned: Since many users stack in tournaments, Cooks's ownership percentage was similar to Brees. Cooks had been a disappointment compared to preseason expectations, scoring more than two points per $1,000 only once in his first seven games.
Hindsight Bias: The Giants had one of the league's worst pass defenses coming in to the game, and Cooks was still leading the Saints in targets. Although the diminutive Cooks had only scored six touchdowns through his first 17 career games, any receiver getting decent volume from future hall-of-famer Brees has a shot at two scores. Also, Cooks had seen 13 targets in his previous game.
D Houston Texans
Why They Were Low-Owned: The Texans defense had been real-life-terrible, so the majority of the field went with more attractive options, namely the Rams, who were a correlation play with Gurley.
Hindsight Bias: In fantasy, it doesn't matter if a defense stinks, as long as that defense is better than its opponent. As I mentioned, the Titans' anemic offense ranked dead last in DEF aFPA. They were also trotting out their backup quarterback, Zach Mettenberger.
How Did the Most Highly Owned Plays of the Week Fare?
QB Philip Rivers 15.6% Owned, 24.04 Points
Despite suffering more injuries to his receivers and along his offensive line, Rivers continued to post good numbers against the Ravens' leaky pass defense.
RB Todd Gurley 45.1% Owned, 22.1 Points
Just like last week, Gurley proved the wisdom of the masses correct again by posting a 20-133-1 line on the 49ers. This was a case of Gurley's talent making the difference, as the 49ers actually played good run defense for most of the game. Gurley used his athletic ability to burst through a hole and run away from the defense for a 71-yard touchdown, but his other 19 carries went for only 62 yards,
RB Justin Forsett, 27.9% Owned, 7.9 Points
Forsett managed a respectable -- but ultimately underwhelming -- 4.1 yards per carry against a Chargers run defense that played better than in weeks past, holding Forsett to a long carry of just 11 yards. Despite the game's close, high-scoring nature, Forsett wasn't involved in the passing game, drawing only one target. Forsett was an example of a play that was correct by process, but didn't work out. It also shows the value of a well-placed fade.
WR Stefon Diggs 30.0% Owned, 18.5 Points
Diggs was on the verge of a disappointing game, but his talent shined through when he turned a short completion into a clutch 40-yard touchdown late in the fourth quarter.
WR Antonio Brown 19.2% Owned, 13.7 Points
Whenever Ben Roethlisberger plays, Brown has the highest floor and one of the highest ceilings of any WR. The problem in this game was, we got a floor game from Brown. Six catches and a touchdown isn't bad, but it won't win you a tournament at an $8,400 price tag.
WR Keenan Allen 23% Owned, 12 Points
In a moment that is best described in DFS circles as "tilting", Allen doubled over in pain after a nifty second quarter touchdown grab, never returning to the game thereafter.
TE Tyler Eifert 24.9% Owned, 5.9 points
Serving as a reminder that tight end is the most volatile and difficult-to-predict position in fantasy football, Eifert put up a harmless 4-39 line despite facing a strong on-paper matchup. We knew coming in that Eifert was fairly touchdown-dependent, as he was only averaging 6.7 targets per game but had scored six touchdowns.
D St. Louis Rams 38.6% owned, 12 Points
After the Rams put up 25 FanDuel points in Week 7, a large segment of the field locked them in, even with a $600 price increase. The Rams didn't disappoint, finishing in the top-five at the position. However, all four defenses that outscored the Rams cost at least $400 less than the Rams, giving users who rostered those defenses an edge.