FanDuel Hindsight Week 5: The RB Formerly Known as Muscle Hamster goes H.A.M Welcome to FanDuel Hindsight, where we'll recap the previous week on FanDuel, focusing on the Sunday Million tournament, which has a $1 Million grand prize. We'll use the benefit of hindsight to see what lessons can be learned about the Sunday Million winner's low-owned, difference-making plays, then check in on how the most popular plays of the week fared.
Editor's Note: 4for4 has an ALL-NEW DFS SUBSCRIPTION! It includes our revolutionary Lineup Generator, Stack Value Reports, Ceiling & Floor Projections, GPP-Specific Articles, Ownership Outlooks, DFS Theory Articles, Lineup Construction Articles, a Downloadable .csv with Projections and Salary Data, and much more! DETAILS HERE! Previous subscribers don't worry, you'll get the same DFS content you got last season, but we think you'll want to UPGRADE to our DFS subscription because it takes our DFS content to the next level!
A player who posts a 158-yard, three-TD performance deserves a nickname, but Doug Martin hates his, we'll refer to him as...Doug Martin. Joshua9028 rode a Martin contrarian play and an Eli Manning-Odell Beckham stack to victory in the Sunday Million.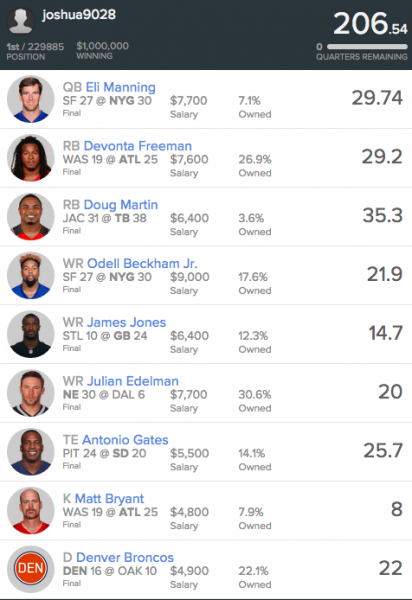 Martin, Antonio Gates, and Eli Manning each provided multiple TDs, while every non-kicker in the lineup scored at least one TD. Matt Bryant was the only player in the lineup to not score at least two points per $1,000.
Frequent readers of this column may have noticed that as the season has worn on, winning lineups have had fewer extremely low-owned plays. This makes sense, as both owners and salaries adjust to this season's data, it is harder to spot an under-the-radar source of points. Joshua9028 had three chalk plays (Devonta Freeman, Julian Edelman, Broncos) combined with a bunch of players in the second tier of ownership at their respective positions. With that being said, joshua9028 still had one majorly important and extremely low-owned play in his lineup:
Why People Weren't On Him: There were a handful of popular RBs in both on the slate (Devonta Freeman, Bell, Jamaal Charles, Justin Forsett) and in Martin's price range (Todd Gurley, Dion Lewis). Most users paid $300 more for Gurley or $500 more for Lewis.
Hindsight Bias: Martin fit the profile of a good RB value play, as he was a home favorite and was averaging 18.5 touches per game coming in. Also, the Jaguars were allowing over one TD per game to opposing RBs.
How Did the Most Popular Plays of the Week Do?
QB Tom Brady 23.3% Owned, 25.3 Pts
Brady helped his fantasy cause by scoring a short rushing TD, and otherwise coasted with 275 yards and two TDs.
RB LeVeon Bell, 35.1% Owned, 20.7 Pts
Bell paid off the 35 percent of owners who rostered him with a game-winning TD out of the wildcat, but cheaper backs like Freeman, Forsett, Lewis, and Martin were all better $/point values.
RB Devonta Freeman 26.9% Owned, 29.2 Pts
The Falcons' offensive line continued to get it done against tough run defense, and Freeman was able to rush for 153 yards en route to another big day.
RB Jamaal Charles 22.5% Owned, 8.9 Pts
Charles had 84 total yards with over 20 minutes to go in the game and his team in a goal-to-go situation when he tore his ACL.
WR Larry Fitzgerald 23.4% Owned, 14.3 Pts
The Cardinals only needed 169 passing yards from Carson Palmer to take care of the Lions, and Fitzgerald had his lowest yardage total of the season (58) despite catching a TD.
WR Jeremy Maclin 22.6% Owned, 12.5 Pts
Maclin caught eight balls for 86 yards, but failed to reach the end zone, setting back the 22 percent of owners who rostered him.
TE Rob Gronkowski 23.9% Owned, 8.7 Pts
Owners who paid up for Gronk got burned, as he posted a 4-67 line but failed to reach the end zone for the second straight game.
K Cairo Santos 19% Owned, 5 Pts
Santos had a field goal blocked a few plays after the Charles injury and the Chiefs never got close again. Santos missed a 66-yard field goal at the end of regulation.
D Denver Broncos 22.1% Owned, 22 Pts
The Broncos are probably the league's best defense, and turned in another stellar performance in a 16-10 road win over the Raiders. They notched four sacks, two fumble recoveries, a blocked kick, and a pick-six.