FanDuel Bankroll Builder: Thanks, Devonta Welcome to 4for4's FanDuel Bankroll Builder series. Many thanks to FanDuel and Josh Moore, who have staked me a $1,000 bankroll on FanDuel which I began playing with in Week 4. Throughout the season, I'll document all my gains, losses, and shower cries along the way. More importantly, I'll walk you through my thought process as far as bankroll management, game selection, player exposure, and my main cash game lineup(s) in hopes that we'll both learn valuable lessons from my successes and failures.
Editor's Note: The 4for4 Championship is still going strong in Week 5 - and now we're rolling out something special! This week's tournament still awards 5 Championship seats and $7,000 in cash prizes, but in Week 5 you can enter for only $5 (instead of $10) and you can also win a FREE VIP TRIP to Las Vegas for the World Fantasy Football Championship Event in December! The trip will include a hotel room and round trip flight, as well as access to FanDuel's exclusive parties the weekend of the event. This will be the weekend of a lifetime, and your best chance to get there is in the 4for4 Championship. Draft a team now!
The first thing I had to do was decide what amount of my bankroll I'll put into play. Anywhere between five and 20 percent is common, depending on how aggressive or conservative you are. I decided on 20 percent because since the NFL is weekly, as opposed to other sports, which are truly "daily", I want to be aggressive since I'm spending a week (as opposed to a day or two) doing research for each slate.
Next, I had to decide my allocation between cash games and tournaments. I like to go with 80 percent in cash games, 20 percent in tournaments. That equated to $160 of cash games and $40 of tournaments.
For my cash games, I posted 120 $1 head-to-heads and entered eight entries into the $5 Big Double Up.
For my tournaments, I entered 20 entries into the $2 Snap.
My main cash game lineup is below.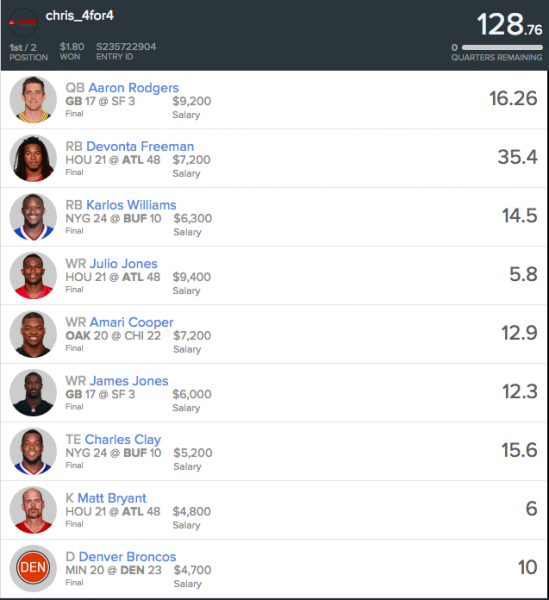 I always initially aim to create one lineup for head-to-heads on FanDuel, diversifying only if I feel two (or more) lineups offer equal value. Because I tend to play a high volume of head-to-heads, I'm fine with limiting variance by playing against a bunch of different opponents, rather than by playing a bunch of different lineups. 
Because the 0.5-PPR scoring makes FanDuel very touchdown-oriented, I always want exposure to the best projected offenses of the week in cash games. I knew I wanted exposure to the Packers, Falcons, and Raiders. 
I started my lineup by slotting in the chalk play of the week, Karlos Williams. Cheap RBs seeing a starter's workload in good projected game script are essentially must-plays in cash games; you just want to take what the defense gives you, so to speak. Next, I slotted in James Jones. I knew he'd be highly owned, and at $6,000, he had too much upside to fade at such a cheap cost and high ownership in a great matchup. After those guys, I went with Matt Bryant at kicker and the Broncos on defense, which I thought were the two best values at their respective positions. Sometimes I'll go back later and adjust my kicker and defense if I need more cap space or have more left over, but I like to insert all of my cheaper plays first so that I know how much salary I have left to build the core of my roster.
With Williams, James Jones, Bryant, and the Broncos locked in, I had $39,200 left to fill five slots (QB, RB, WR, WR, TE). The players I really wanted to fit in were Aaron Rodgers, Julio Jones, Devonta Freeman, and Randall Cobb. But first, I had to make a decision at TE.
Greg Olsen was the chalk play, but because TE is a high-variance position with little weekly consistency, I like to pay as little as possible for TE in cash games unless there's enough value to fit in Gronk. I really liked Charles Clay's value this week against a Giants team that struggles to cover TEs. I also liked the idea of pairing him with Williams. I figured that with LeSean McCoy and Sammy Watkins out, Williams and Clay would be responsible for a large chunk of the Bills offense at such a cheap cost that if one bombed, the other would likely make up for it.
Once I went with Clay, Cobb turned out to be the odd man out, because jettisoning him afforded me enough cap space to get Rodgers and Julio in. I figured that if Cobb had a big game, I'd be covered with Rodgers, plus I already had exposure to the cheaper James Jones. By bumping down from Cobb and settling on Amari Cooper, I was able to fit Rodgers, Julio, and Freeman, and still get a piece of the Raiders offense with Cooper.
Freeman turned out to be the major difference-maker because he wasn't a popular cash game play, which helped me post a 115-5 (95.8%) head-to-head record.
Many times, I'll also put my heads up lineup into all my double ups, but sometimes I'll diversify a bit more, playing some variations on my cash game lineup, since double-ups present more risk if your one lineup tanks. Last week was one in which I did diversify in double-ups, playing my cash game lineup but also deploying a bunch of variations of it that included Derek Carr, Cam Newton, Matt Forte, Latavius Murray, DeAndre Hopkins, and Randall Cobb. I didn't perform as well as I did in head-to-head, but still managed to double up in six of eight entries despite only using my main cash lineup once.
In GPPs, my best lineup turned out to be my cash game lineup (always play your cash lineup in a GPP just in case), but I had a successful GPP day overall, winning $72 on $40 of entries. Again, this was mainly due to rostering Freeman, who I noticed was grossly under-owned when I was compiling data for my Tournament Ownership Outlook column. Because I saw he was owned only half as much as Joseph Randle despite being -- in my eyes -- the much stronger play (Freeman was a home favorite and Randle was a road underdog, for starters), I recommended fading Randle and playing Freeman.
One interesting note about my Week 4 is that since this was my first week adding the Bankroll Builder in to my routine, I was more crunched for time than I anticipated, and was forced to enter the same lineup in 12 of my 20 GPP entries. Earlier on, I had entered 20 identical lineups in the Snap and intended for them to be only "placeholders" until I created my actual lineups, but I only got to finish making eight. Jonathan Bales wrote a great column about his weekly DFS routine which you should absolutely check out, and in it he mentioned that he doesn't enter many GPPs until around 12:40 PM on Sunday because he likes to wait for overlay, which results in an incredibly hectic 20 minutes leading up to kickoff. I follow a similar practice, and between adjusting to late-breaking news, adjusting other lineups, and entering contests, there was no way I could edit my last 12 identical entries on here in time for kickoff. Luckily, the lineup I went with 12 times finished well enough to cash in the Snap, but there's a lesson here: always give yourself enough time to manage your lineups. Even if you have to enter a bunch of free contests just to prepare contingency lineups that you can quickly export, always leave enough time. And always count on there being some late-breaking news that may alter your roster construction across all lineups. Anyone who plays NBA DFS (which is extremely fun, by the way) is familiar with the chaos surrounding lineup lock.
Week 4 Results
|   | Entry Fees | Winnings | Net |
| --- | --- | --- | --- |
| H2H | 120 | 207 | +87 |
| Other Cash Games (Double Up, 50/50) | 40 | 60 | +20 |
| GPP | 40 | 72 | +32 |
| Total | 200 | 339 | +139 |
Week 4 Start

Week 4 End

Note: My net profit was $139 as stated above -- the extra $3 came from a bonus.
Most Popular
There is no data to display.