Bales Goes Deep: This Is How I Work I was traveling this past weekend. I've been traveling a lot lately, and it's really messed up my process for building daily fantasy lineups. I basically stopped playing MLB at the end of the season because I had so little time.
The only week I wasn't traveling this year, I qualified for the DraftKings Fantasy Football Championship. Coincidence? Uh, yeah. It is. But it fits my narrative really well that I need to stay home even more, especially on the weekends when other people my age are doing fun things. If you don't commit your life to daily fantasy with the same sort of extreme vigor that a nun does when she thinks about a lifetime of celibacy and says, "Yeah, you know what? That's for me," then you aren't living. You can't really say you're taking full advantage of every opportunity life presents you until you wake up to set daily fantasy football lineups before your roommate even gets home from the bar.
But chya no wut doe? I do think getting into a routine is really important. That's especially true in daily fantasy football, which is a week-long contest of gathering and processing information. Yes, data plays a role in every daily fantasy contest, but football is such a unique sport that you simply cannot win without collecting information—whether it's news, injury reports, or whatever—and then implementing that information (to which most players also have access) by making subjective decisions better than others.
Now, I know some really incredible DFS players who do awesome work on the road. I'm just not one of them, and I suspect most other players benefit from a set routine as well. I get a ton of questions from readers asking me to walk through my personal routine—my process for researching, building lineups, and entering leagues. So that's what I'm going to do today.
Inspired by Lifehacker, this is how I work.
By the way, today's post is once again brought to you by GrubHub. Send me a pair of noodle socks and you too can be my unofficial sponsor.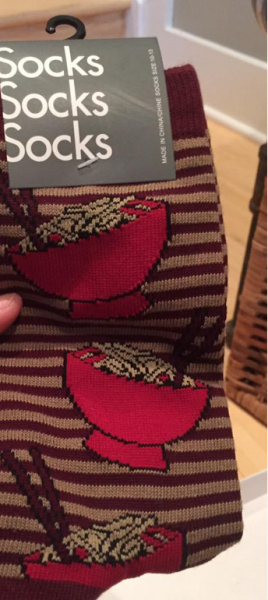 Editor's Note: The 4for4 Championship is still going strong in Week 5 - and now we're rolling out something special! This week's tournament still awards 5 Championship seats and $7,000 in cash prizes, but in Week 5 you can enter for only $5 (instead of $10) and you can also win a FREE VIP TRIP to Las Vegas for the World Fantasy Football Championship Event in December! The trip will include a hotel room and round trip flight, as well as access to FanDuel's exclusive parties the weekend of the event. This will be the weekend of a lifetime, and your best chance to get there is in the 4for4 Championship. Draft a team now!
Examining Salaries
Every morning, I get up and make my commute to the office. That commute involves turning to the left just slightly, picking up my laptop, and then laying back down.
Here's where the magic happens.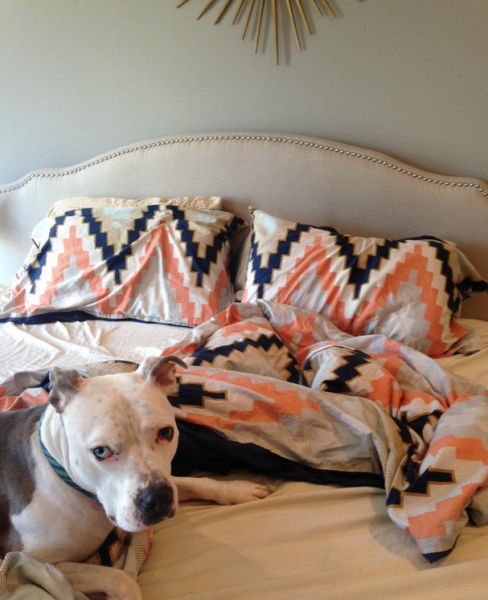 I thought about making my bed for this photo. That's how much I care about you guys. I didn't do it obviously, but still, the thought was genuine.
The daily fantasy football "research" portion of my week really begins on Tuesday mornings. That's when I log onto the daily fantasy sites and just look. This happens before I do any real research; I don't want any stats or others' opinions to affect what I think. I just study salaries, matchups, pricing quirks, different lineup combinations, and so on. I do this for maybe an hour or so.
During this time, I write down the guys I naturally like for cash games and tournaments. I detailed more about this last week, but I think it's just really important to see how all of your research throughout the week—which tends to get skewed by certain narratives—matches up with what you naturally think on Tuesday morning.
Performing Research
From Tuesday afternoon until Thursday morning, I do a lot of the data-driven research that I use for the week. This might be anything from aggregating projections to less formal processes like analyzing points above/below expectation that defenses have allowed to particular positions or just looking at red zone opportunities.
I typically do this in my office, which is where I move after I get out of bed.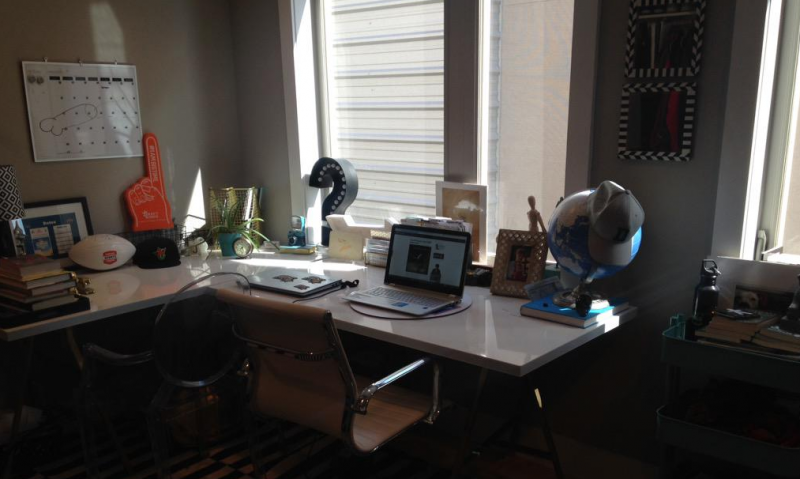 I like to keep my office somewhat messy. I feel like if there isn't Tupperware with dried Easy Mac within two feet of me while I work, I just can't get anything accomplished.
Creating My Lists
On Thursdays, I start to formulate a list of players I want to target. This list is separate from my initial list of the guys I naturally liked. I actually try to keep these two mentally separate as much as I can, although that's obviously a challenge.
I also create a shortlist of players whose statuses will have a major impact on games. So when Eric Decker was questionable, I had the guys his presence/absence would affect (as it related to my lineups) on a list. On Saturday, I combine everything into one master list that has all the players to whom I want exposure (along with contingencies that reflect questionable players).
Building Lineups and Entering Contests
A lot of players build lineups throughout the week. I sometimes partake in some Thursday action—it depends on the matchup and what I think about ownership levels on certain guys—but for Sunday slates, I actually don't build lineups until Saturday. And even then, those are just basic cash lineups I make just to get something on the sites and have a core with which to work.
The reason I wait is because so much can change on Sundays with injuries. Once inactives are released, what's "optimal" shifts. Building lineups can be a fragile process—one little piece of information might change things dramatically—so I try to be as efficient as possible with my lineup-building routine.
That's why I get up so early on Sunday mornings—well before the sun comes up. It takes a long time to build lineups as horrible as mine. The other reason I do this is because I like to create lineups in a single day so I'm always in the same frame of mind. I used to create lineups on different days throughout the week, and I found that it was difficult to pick up where I left off.
Anyway, I build lineups here: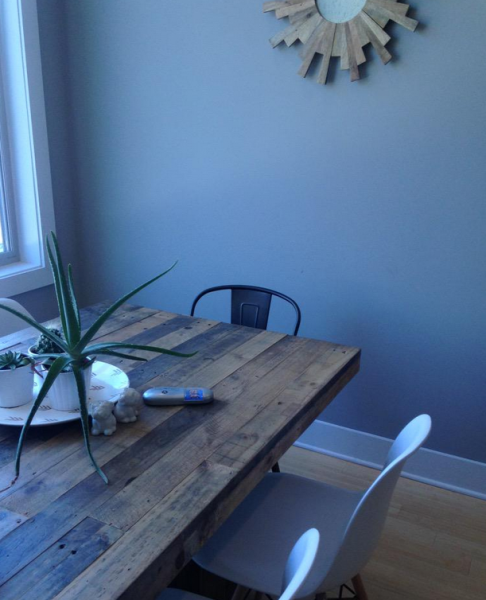 I don't know why. I think I sat there for some reason during my first lineup-building session when I moved into this apartment a little over a year ago, so it just became part of my routine.
By the way, that gray plastic thing is a game called Pass the Pigs. I started a Pass the Pigs league in high school (it's whatever) and started tracking my tosses to figure out the optimal way to drop two small rubber pigs on a wooden desk.
Easy ladies.
I enter my cash contests early, but otherwise I build the number of lineups I want to use in a given day and I just sort of wait to enter most GPPs. The reason I wait is because I'm an overlay hunter and I will pretty much always favor leagues that don't fill; they just increase your EV and probability of cashing so much it would be dumb to ignore it.
I start to enter the majority of contests around 12:40pm ET once I have a decent idea of which leagues won't fill. From there, it's a really quick calculation as to which lineups I want to enter into which leagues and how that will affect my exposure and total money on each player. The time from 12:40pm to 12:55pm is pretty chaotic, even if I'm completely prepared and everything goes to plan. In the final five minutes, I basically just make sure I didn't mess anything up.
Watching Games
Sometimes I go to games. Sometimes I watch them at a bar. Usually, though, it's right here: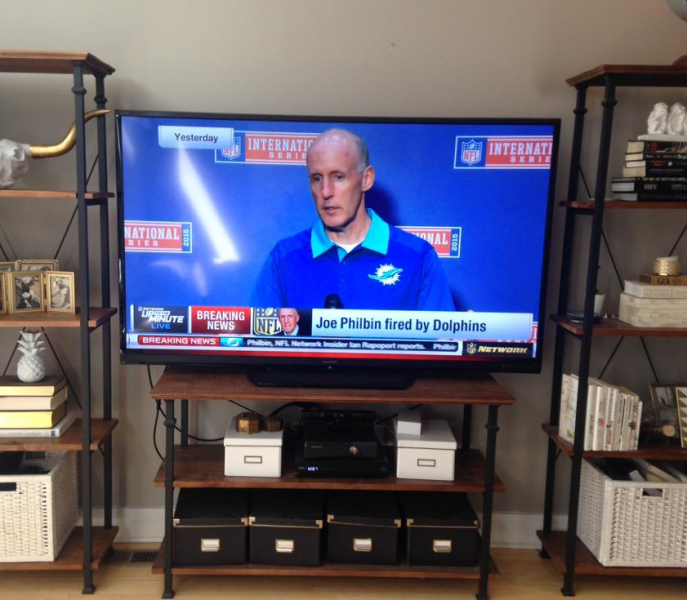 While watching, I check my DraftKings lineups at regular times throughout the day; namely, I check in before the 4pm ET games and the Sunday night game to see if there are any late-swap opportunities from which I could benefit.
Otherwise, I mostly just eat sandwiches and bite my nails. If things aren't going so hot, I make my way over to this area of the apartment...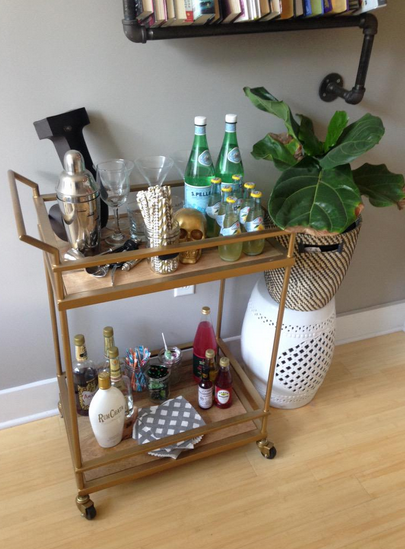 Crying
And finally, this is where I cry when I lose.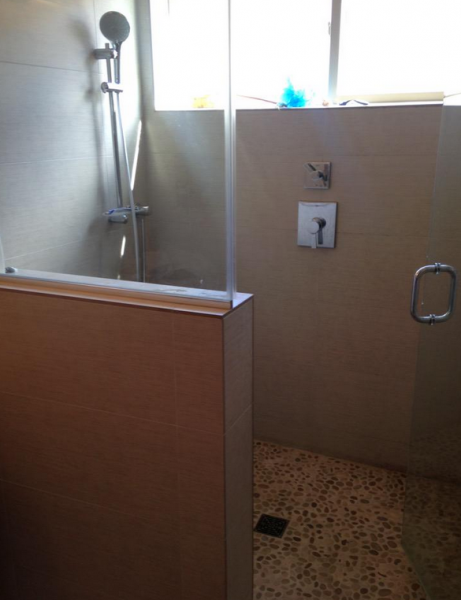 C.D. Carter is a notorious shower cryer, and I think he has the right idea. A big part of making money in DFS is weeping like a baby—actually bawling your eyes out—when you lose. If being a grown man means I can't cry over a game that's based on another game, then I'll forever be a Toys R Us kid.
I'm going to end this article with a link to a goat video I highly recommend.
The End.
Editor's Note: Enjoy this article as a FREE sample of the content in our ALL-NEW DFS SUBSCRIPTION! The subscription includes our revolutionary Lineup Generator, Stack Value Reports, Ceiling & Floor Projections, GPP-Specific Articles, Ownership Outlooks, DFS Theory Articles, Lineup Construction Articles, a Downloadable .csv with Projections and Salary Data, and much more! DETAILS HERE!