FanDuel Hindsight Week 3: Killa Cam Welcome to FanDuel Hindsight, where we'll recap the previous week on FanDuel, focusing on the Sunday Million tournament, which has a $1 Million grand prize. We'll use the benefit of hindsight to see what lessons can be learned about the Sunday Million winner's low-owned, difference-making plays, then check in on how the most popular plays of the week fared.
Editor's Note: 4for4 has an ALL-NEW DFS SUBSCRIPTION! It includes our revolutionary Lineup Generator, Stack Value Reports, Ceiling & Floor Projections, GPP-Specific Articles, Ownership Outlooks, DFS Theory Articles, Lineup Construction Articles, a Downloadable .csv with Projections and Salary Data, and much more! DETAILS HERE! Previous subscribers don't worry, you'll get the same DFS content you got last season, but we think you'll want to UPGRADE to our DFS subscription because it takes our DFS content to the next level!) Don't forget to enter FanDuel's 4for4 Football Championship!
As a teenager raised uptown in New York City, the rapper Cam'ron was pretty much automatically one of my (and everyone else's) favorite rappers. Known as "Killa Cam", Cam'ron had a penchant for bringing us joy with hilarious-but-magnificent lyrics comparing his jewelry to our favorite candies ("yellow diamonds in my ear, call 'em Lemonheads"), Canadian climates ("ice like Winnepeg"), and cartoon characters ("gemstone flint-stone, you could say I'm friends with Fred"). With Cam'ron now pushing 40 and out of the game, there's a new Killa Cam in town: Cam Newton.
Cookies248 rode a Cam Newton-Greg Olsen stack and huge games from low-owned plays across the board to take down the Week 3 Sunday Million.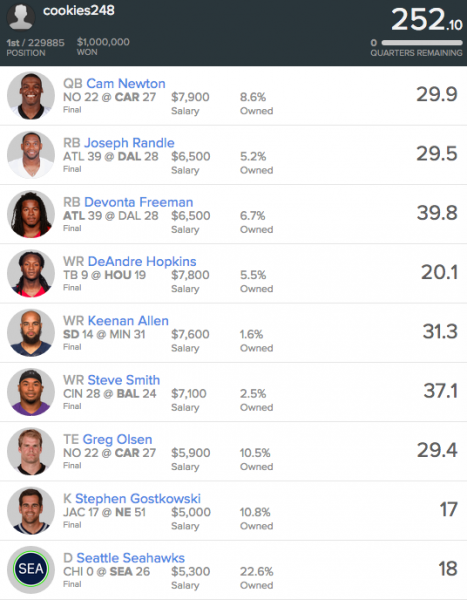 Eight of the nine players in cookies248's lineup scored at least three points per $1,000, with DeAndre Hopkins not far behind. Only one of his plays was higher than 10.8 percent owned, and he hit on four plays under six percent owned. Let's break down some of his best low-owned plays.
QB Cam Newton
Why No One Was On Him: Cam was in a great spot, but the field usually gravitates disproportionately to those perceived as the best play -- in this case, Tom Brady (26.1 percent owned).
Hindsight Bias: It always pays to be contrarian. Newton was a top option that could be had at a third of Brady's ownership.
Why No One Was On Him: His career yards-per-carry average was atrocious, and the Cowboys had shut down the run. Most users felt more comfortable paying $500 more for Latavius Murray ($7,000, 20.0%) against a leaky Browns run defense.
Hindsight Bias: Freeman came into the game with nine red zone opportunities in two games, and lo and behold -- he scored three TDs. His Falcons were also favorites, and he had been seeing a ton of work in the passing game.
Why No One Was On Him: There were questions about the strength of his hold on the starting job, and most were hands-off the Cowboys offense with Tony Romo out and Brandon Weeden in.
Hindsight Bias: With Romo and Dez Bryant out, the Cowboys figured to lean heavily on their running game, and they still have one of the league's best offensive lines.
WR Keenan Allen
Why No One Was On Him: Allen's low ownership was another example of owners gravitating disproportionately to the best perceived plays in a certain price range. In the mid-$7,000's, those plays were Julian Edelman ($7,700, 34.7%) and Brandon Marshall ($7,400, 22.6%).
Hindsight Bias: Allen had a blowup Week 1 with 15 catches and 166 yards, so he was certainly capable of a blowup spot against a solid -- but by no means prohibitive -- defense.
WR Steve Smith
Why No One Was On Him: Again, owners gravitated disproportionately to Edelman and Marshall, or dropped down to Larry Fitzgerald ($6,700, 22.5%).
Hindsight Bias: Smith is the team's only viable WR, and with his team's defense struggling after the loss of Terrell Suggs, getting a monster's share of targets was always in the cards. It happened the Week before in Oakland when Smith went 10-150.
TE Greg Olsen
Why No One Was On Him: Many users were probably feeling the sting of Week 1, when he disappointed with one catch in what was thought to be a prime matchup with the Jaguars.
Hindsight Bias: In Week 1, Olsen got a TD called back, and in Week 2, he received 14 targets even though they only translated to a 6-70 line. Before the season began, Olsen was thought to be a target monster as the only option Cam Newton could trust in this offense, and nothing changed. Plus, the matchup was excellent against a Saints team that struggles against the pass and was banged up in the secondary.
How Did the Most Popular Plays of the Week Do?
QB Tom Brady, $8,700, 26.1% Owned, 22.72 Pts (358-2-0)
Brady had another fine game, but was owned three times as much as Cam Newton, who outscored him by seven. Again, Brady was the "safest" play of the day, but the field was overweighting that safety. Newton in a good matchup has as much upside as any QB on the slate because of his rushing ability, and came $800 cheaper.
RB Latavius Murray $7,000, 20.0% Owned, 21.4 Pts (26-139-1, 1-10-0)
The field hit on Murray, who was able to return over three points per $1,000. Unfortunately, there were cheaper options (Devonta Freeman and Joseph Randle at $6,500) that outscored Murray by a large margin. Freeman was owned one-third as much as Murray, and Randle one-fourth as much. Again, the best picks on paper aren't usually going to be the GPP-winning ones. While you would be sacrificing some projected points by pivoting to lower-owned options, you're increasing your chances of actually winning a GPP when you roster a player who is owned only a fraction as much as the chalk.
WR Julian Edelman $7,700, 34.7% Owned, 12.5 Pts (8-85-0)
Edelman's high ownership represented users mistakenly bringing a cash game mentality into tournaments. Edelman had been a model of consistency, catching at least seven passes in his last nine games, but just because he was a safe pick didn't necessarily mean he'd be a shoo-in to be one of the highest scorers of the week. He was in ten times as many lineups as Steve Smith and Keenan Allen -- surely he wasn't ten times as likely to outproduce them.
TE Rob Gronkowski, 27.7% Owned, 12.1 Pts (4-101-0)
Touchdowns are the most volatile statistic in fantasy football, so even with a consistent TD-scorer like Gronk, they aren't a sure thing. Gronk hurt owners by not getting into the end zone on Sunday. The warning signs were there in a game that the Patriots were likely to be up big (they were two-TD favorites), and sure enough, they ran for four TDs while Gronk wasn't able to hit paydirt.