FanDuel Hindsight Week 2: The Ill Contrarian Play Welcome to FanDuel Hindsight, where we'll recap the previous week on FanDuel, focusing on the Sunday Million tournament, which has a $1 Million grand prize. We'll use the benefit of hindsight to see what lessons can be learned about the Sunday Million winner's low-owned, difference-making plays, then check in on how the most popular plays of the week fared.
Editor's Note: 4for4 has an ALL-NEW DFS SUBSCRIPTION! It includes our revolutionary Lineup Generator, Stack Value Reports, Ceiling & Floor Projections, GPP-Specific Articles, Ownership Outlooks, DFS Theory Articles, Lineup Construction Articles, a Downloadable .csv with Projections and Salary Data, and much more! DETAILS HERE! Previous subscribers don't worry, you'll get the same DFS content you got last season, but we think you'll want to UPGRADE to our DFS subscription because it takes our DFS content to the next level!) Don't forget to enter FanDuel's 4for4 Football Championship!
Monday night at 10:39 PM, I got a text from my good friend, Greg, that pretty much summed up the FanDuel Sunday Million (and tournaments in general):
Damn Jets D was the ill contrarian play.
Ill indeed, Greg; ill indeed. While 21 percent of the field paid $4,900 for the Rams (4 points), 17 percent of the field paid $5,100 for the Dolphins (0 points), and 12 percent paid $5,000 for the Ravens (-1 points), jeremiah1974db was making ill contrarian plays. He paid only $4,300 for the Jets -- a team 99.1 percent of the field didn't touch -- which gave him 14 points and allowed him to field a highly differentiated lineup en route to winning the one million dollar grand prize.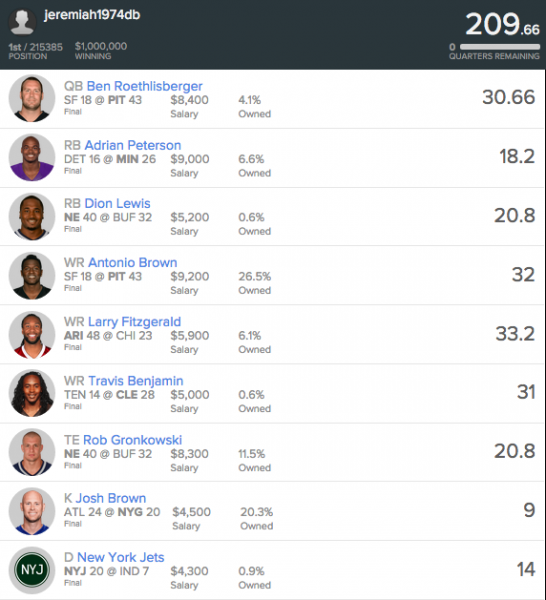 Jeremiah1974db -- who in his first lineup ever (!), by the way -- rostered three players that scored more than four points per $1,000, only two that scored less than three points per thousand, and none that scored under two points per thousand. He had a whopping three players under one percent owned -- being contrarian may be uncomfortable, but as you can see, it works in big field events. Let's get into his low-owned plays.
Why No One Was On Him: Considering 26.5 percent of the field owned Brown, it's curious that less than a fifth of them considered Brown's QB. The 49ers defense looked formidable after holding the Vikings to three points, and Big Ben's splits without Martavis Bryant in the lineup left a lot to be desired.
Hindsight Bias: Vegas got a lot of games wrong on Sunday (Saints, Rams, Dolphins, Ravens), but one thing they did get right was Pittsburgh having a high projected team total (26, one of the slate's highest). The 49ers new-look defense fared well at home against a year-two QB in Week 1, but going on the road against a two-time Super Bowl winning QB throwing to the league's best receiver is a whole other beast.
Why No One Was On Him: Was the 30-year old done, or merely rusty? Many weren't willing to pay the highest RB salary to find out.
Hindsight Bias: After some highly questionable play-calling in the first of Week 1 that saw the Vikings barely attempt to run, the talk all week was about getting Peterson the ball a lot more. Minnesota was a home favorite and the Lions gave up 170 yards and two TDs to RBs the prior week.
RB Dion Lewis
Why No One Was On Him: While he had a successful Week 1, he was viewed as a stand-in for LeGarrette Blount. It's hard to find a fantasy owner that trusts Bill Belichick with RBs -- especially after Jonas Grey vanished after a four-TD game last season. The Bills just shut down Andrew Luck and company, so they didn't seem like a defense to target in DFS.
Hindsight Bias: Belichick's game plans are very matchup-specific, and against the Bills' stout run defense, it makes sense that he would feature the superior pass-catching back Lewis over returning plodder Blount. We'll give Jeremiah1974db the benefit of the doubt here -- but it's also possible he was chasing last week's points on the cheap.
Why No One Was On Him: There were a bunch of popular picks at this price range, and the trendier pick amongst Cardinals WRs was John Brown. Fitzgerald hadn't scored a red zone TD since 2013.
Hindsight Bias: Fitzgerald had a strong Week 1, has much better splits with Carson Palmer under center, and was facing one of the weakest defenses on the slate. Although Brown had been scoring more TDs of late, Fitzgerald profiles as the better TD scorer due to his size.
Why No One Was On Him: He's a sub-package receiver on the Browns, who's only playing because the Browns didn't realize Dwayne Bowe is washed up until after they guaranteed him $9 million.
Hindsight Bias: I'm not sure if this pick was a calculated pivot from identically-priced-but-higher-owned Brandon Coleman, or simply point-chasing. Benjamin caught a long TD from Manziel in Week 1 -- but that's about all he had going for him. He is very fast (4.36 40-yard dash) and runs mostly deep routes (42 percent of his career targets have come 20-plus yards downfield), so the big-play upside was there.
D New York Jets
Why No One Was On Them: Facing Andrew Luck and one of the supposed top-five offenses as a huge road underdog isn't an ideal spot for a defense. Plus, the Jets are prone to Jetsing, especially on national television.
Hindsight Bias: Ah, the ill contrarian play. The Jets defense isn't just any defense -- they're actually a very good one. Andrew Luck -- despite all the positives in his career thus far -- has turned the ball over as much as any QB in the league since the start of last season. The Bills defense shut down the Colts offense in Week 1. And with Darrelle Revis shadowing a banged-up T.Y. Hilton, how good is the rest of the Colts offense, really? There's 34-year-old Andre Johnson, who may not contribute much more than Hakeem Nicks did last season but costs a lot more; Frank Gore, who's two years past the deadly age-30 running back cliff and literally dropped the ball Monday night; and Donte Moncrief -- okay he's actually good, but for the purpose of this rant, he couldn't beat out a fossilized version of Reggie Wayne for starter's reps last season. A backup offensive lineman named Joe Reitz drew the Colts' first red zone target, and the on-a-pitch-count-because-he's-old-and-the-Colts-overpaid-for-him Gore ceded red zone work to some guy named Tyler Varga and goal-line work to some guy named Josh Robinson1.
How Did the Most Popular Plays of the Week Do?
QB Drew Brees $8,900, 18.8%, 255-1-1-(-1 rush yds)
Word is that Brees played with a rotator cuff injury, which explains his lackluster performance.
RB Carlos Hyde $7,000, 32.6%, 8.1, 13-43-0 4-18-0
As the week's highest-owned player on Thursday, ​Hyde made the most sense to fade as a RB playing on a huge road underdog. Surely enough, the 49ers fell behind and aired it out, but Hyde could have done more had he not exited the game due to injury.
WR Julio Jones $8,800, 29.7%, 20, 13-135-0
Jones actually could have had a bigger day if his over-the-shoulder would-be game-winning TD catch wasn't ruled down at the 1-yard-line. Not crossing the goal-line really hurt his production in relation to the other two stud WRs in his price range, Antonio Brown and Odell Beckham Jr., who both outscored Hammerin' Julio.
WR Antonio Brown $9,200, 26.5%, 9-195-1-2PC
Brown's been a great play in all formats since 2013 due to a mix of consistency and upside: he hasn't been held under five catches since 2012 and has gone for 100-plus yards in five of his last six games dating back to last season.
WR Jordan Matthews $7,000, 27.2%, 17, 8-70-1
If not for a late garbage-time drive, Matthews owners would have been in real trouble. Still, Matthews was a perfect example of how fading an obvious value can work to your advantage. Matthews had a fine cash game score, but his 2.4 points per $1000 salary dollars was middling for a tournament, especially considering he was in one-in-four lineups.
WR Brandin Cooks $7,400, 25.1%, 8.3, 5-62-0-(-4 rush yds)
A Cooks-Brown combination cost the same amount as Matthews-Jones, which explains all four receivers' nearly identical ownership rates. A 5-62 line extrapolates to a 80-catch, 1,000-yard season, so Cooks had a pretty standard game considering his season-long expectations. Problem is, at $7,400, you need him to have a huge game. He had scored only three TDs on 57 career receptions coming into the game, so a TD was nowhere near a given.
K Josh Brown $4,500, 20.3%, 9, 2FG-2XP
​Brown is another player who was decent in cash games, but was too highly-owned in the Sunday Million to provide any valuable differentiation while scoring only nine points. The silver lining was that he outscored the similarly-owned Zach Hocker (16.5 percent) by eight.
​D St. Louis Rams $4,900, 21.1%, 4, 1 FR, 2 SK
The Rams' struggles came as a surprise after beating the Seahawks in Week 1 and coming into DC as favorites over Kirk Cousins' Redskins. Road games are where teams coming off big wins tend to have letdowns, however, and the Rams defense reverted to the mean with only two sacks and less QB pressure than they had in Week 1. The silver lining was that the Rams outscored the other two popular defenses combined (Ravens, -1 points, Dolphins, 0 points).
---
1. Okay I'll admit, I know exactly who those guys are -- I watch way too much football.