FanDuel Week 2 GPP Breakdown
Multi-touchdown upside. Read it aloud. Repeat it. Memorize it. Write it on an index card if you have to. Multi-touchdown upside won jeremybronson a million dollars.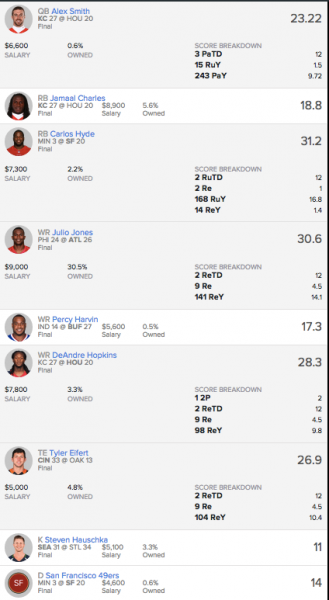 Jeremybronson won the Week 1 Sunday Million GPP by hitting on four skill position players that scored two touchdowns a piece. His quarterback, Alex Smith, threw three touchdowns. His lineup scored 13 touchdowns in all, and every skill position player in his lineup registered at least one. 
Another thing to take note of is that he played a very contrarian lineup. Julio Jones was 30.5 percent owned, but his next highest-owned player was Jamaal Charles at 5.6 percent -- he had seven players under five percent owned. I attempt to get a read on this week's ownership in my Ownership Outlook column. 
Below, I'll focus on players that I believe to be strong a tournament plays based on multi-touchdown upside and low projected ownership. I won't go into the chalk plays -- they're all justifiable GPP options, but you won't take home big money by stuffing your entire lineup with them. Use chalk plays one or two at a time, filling out the rest of your lineup with players likely to be low-owned who have multi-touchdown upside.
Editor's Note: 4for4 has an ALL-NEW DFS SUBSCRIPTION! It includes our revolutionary Lineup Generator, Stack Value Reports, Ceiling & Floor Projections, GPP-Specific Articles, Ownership Outlooks, DFS Theory Articles, Lineup Construction Articles, a Downloadable .csv with Projections and Salary Data, and much more! DETAILS HERE! Previous subscribers don't worry, you'll get the same DFS content you got last season, but we think you'll want to UPGRADE to our DFS subscription because it takes our DFS content to the next level!) 
Passing Game
The Giants have the third-highest Vegas team total (26.75) on the slate, yet Eli Manning ($8,000) was owned 1% on Thursday. When Vegas expects a team to score a lot of points, it usually bodes well for the team's QB -- 70 percent of the Giants' offensive TDs came through the air in 2014. Last week, the Falcons allowed 36 completions and 336 passing yards. Hogging 28 percent of Manning's total passes and 34 percent of his red zone passes since last season's Week 5 debut, Odell Beckham Jr. ($8,700, 9%) would be the prime beneficiary if the Falcons bleed completions and yardage again. Beckham Jr. has just as much upside as Antonio Brown and Julio Jones, but has the highest team total of the bunch and was owned only half as much as Brown and Jones on Thursday.
4for4 DFS Subscription Content
There's more, but it's available only for 4for4 DFS subscribers.
If you are a current subscriber, please login here
We are your friend's secret weapon.
Get 4 FREE downloads
Receive breaking news alerts & analysis
BONUS: Learn how to play DFS.
Battle-Tested by 40,000+ fantasy football diehards since 1999.