FanDuel Hindsight Week 17: You Can Stack a QB with His RB, Too Welcome to FanDuel Hindsight, where we'll recap the previous week on FanDuel, focusing on the Sunday Million tournament. We'll use the benefit of hindsight to see what lessons can be learned about the Sunday Million winner's low-owned, difference-making plays, then check in on how the most popular plays of the week fared.
Editor's Note: 4for4 has an ALL-NEW DFS SUBSCRIPTION! It includes our revolutionary Lineup Generator, Stack Value Reports, Ceiling & Floor Projections, GPP-Specific Articles, Ownership Outlooks, DFS Theory Articles, Lineup Construction Articles, a Downloadable .csv with Projections and Salary Data, and much more! DETAILS HERE! Previous subscribers don't worry, you'll get the same DFS content you got last season, but we think you'll want to UPGRADE to our DFS subscription because it takes our DFS content to the next level!
FanDuel user rahuld76 capitalized on some great contrarian pairings to win the Week 17 Sunday Million.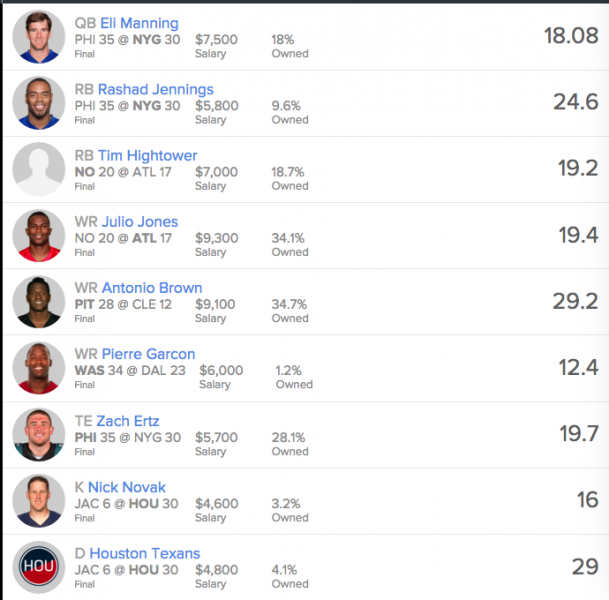 Yet again, the winning lineup contains no QB-receiver stack. Instead, rahuld76 made the contrarian decision to stack Eli Manning and Rashad Jennings, deliberately omitting Odell Beckham Jr. -- who happened to be the contest's highest owned player and put up a dud.
Frequent readers of this column will know that the viability of somewhat unconventional stacks has been glaring this season. QB-RB is a positively correlated stack, and I'd argue that it has some serious upside as well -- maybe even more upside than a stack with QB and one of his receivers. When you pair a QB and RB on what turns out to be a high scoring offense that day, the upside is you may gain exposure to all of that offense's TDs and most of its total yards. Case in point: the Giants gained 502 yards of total offense and scored three TDs against Philadelphia; Manning and Jennings were responsible for 487 of the total yards and all three of the TDs.
Rahuld76 also used a correlated kicker-defense pairing with Nick Novak and the Texans. As I'll get to in a minute, there were a couple of indicators that suggested the Texans were going under the radar.
Let's break down the winning lineup's difference-making plays.
Why He Was Low-Owned: Jennings had seen steady volume over the team's last three games and may have been more highly owned had the option of Tre Mason at $4,600 not existed.
Hindsight Bias: The Eagles had come into the game ranked near the bottom of the NFL in RB aFPA and Jennings had at least 16 touches in each of his last three games coming in to Week 17.
Why He was Low-Owned: With the fourth seed locked up, the Redskins were fully expected to rest players in their season finale.
Hindsight Bias: Because everyone knew the Redskins would be resting players, anyone on their starting offense made for the ultimate contrarian play. Garcon had scored a TD in his previous two games and scored another on Sunday, finishing with a 3-49-1 line on just 21 snaps.
Why He Was Low-Owned: Twenty-six kickers scored more FanDuel points than Novak this season.
Hindsight Bias: Novak's Texans were relatively large home favorites (-6.5) and had a high team total (26). The Jaguars had allowed 9.1 FanDuel points per game to kickers entering Week 17, one of the worst marks in the league.
Why They Were Low-Owned: The Texans have not been a popular defense in DFS all season. Also, the perception of the Jaguars' offense has improved due to the emergence of Allen Robinson.
Hindsight Bias: Despite an explosive passing offense, the Jaguars still ranked near the bottom of the league in DEF aFPA entering Week 17. And as I previously mentioned, the Texans were relatively large home favorites, which is one of the main attributes we look for in a defense in DFS.
How Did the Most Highly Owned Plays of the Week Fare?
QB Eli Manning 18% Owned, 18.08 Points
Manning eclipsed the 300-yard mark, but threw only two TDs and lost a fumble in the Giants' 35-30 loss to the Eagles. He finishes the season with a 4,436 yards and a career-high 35 TDs to go along with 14 interceptions and a 62.6% completion rate.
In-game injuries are one of the primary reasons fading the chalk can be a viable strategy. Williams burned nearly one third of the 80,459 entrants after leaving early in the game with an ankle injury.
RB Tim HIghtower 18.7% Owned, 19.2 Points
The 29-year-old Hightower continued to look fresh after missing three years of football, racking up 107 total yards and a TD on 21 touches.
WR Antonio Brown 34.7% Owned, 29.2 Points
Brown bounced back from a sub-par (by his standards) game in Week 16 and went off for a 13-187-1 line in a 28-12 win that clinched the Steelers a playoff berth. Brown finishes the season tied with Julio Jones for the league lead in receptions (136), although Brown (193) did it on 10 fewer targets than Jones (203).
WR Julio Jones 34.1% Owned, 19.4 Points
Jones capped off a league-leading 1,871-yard season with a 9-149 line against the Saints. He failed to reach the end zone in a game for the 10th time this season -- far too many times for a player that saw a league-leading 203 targets, including double-digit targets in 14-of-16 games.
WR Odell Beckham Jr. 40.7% Owned, 7.9 Points
Beckham surprisingly saw his lowest target total of the season, finishing with only five catches for 54 yards despite a plum matchup. Eli Manning ended up targeting his running backs (Shane Vereen 8, Rashad Jennings 5) and tight end (Will Tye 8) more than Beckham, and targeted Reuben Randle the same amount of times as OBJ. Beckham finishes the season with a 96-1430-13 line in 15 games.
TE Zach Ertz 28.1% Owned, 19.7 Points
Ertz predictably continued his recent hot stretch of play against a Giants defense that has not been able to defend the tight end position all season and posted a 9-152 line. The Giants finished the season having allowed the most receptions (101) and yards (1,303) in the NFL to tight ends. Ertz, meanwhile, tallied a strong 853 yards on 75 catches in 15 games, but caught only two TDs all year.