FanDuel Hindsight Week 14: Wilson-to-Baldwin is the new Brady-to-Gronk Welcome to FanDuel Hindsight, where we'll recap the previous week on FanDuel, focusing on the Sunday Million tournament, which has a $1 Million grand prize. We'll use the benefit of hindsight to see what lessons can be learned about the Sunday Million winner's low-owned, difference-making plays, then check in on how the most popular plays of the week fared.
Editor's Note: 4for4 has an ALL-NEW DFS SUBSCRIPTION! It includes our revolutionary Lineup Generator, Stack Value Reports, Ceiling & Floor Projections, GPP-Specific Articles, Ownership Outlooks, DFS Theory Articles, Lineup Construction Articles, a Downloadable .csv with Projections and Salary Data, and much more! DETAILS HERE! Previous subscribers don't worry, you'll get the same DFS content you got last season, but we think you'll want to UPGRADE to our DFS subscription because it takes our DFS content to the next level!
Doug Baldwin's eight TDs over the last three weeks are more than the season-long totals of Antonio Brown (7), Larry Fitzgerald (7), Calvin Johnson (7), or Julio Jones (6). FanDuel user wakely capitalized on yet another strong performance from Baldwin and Russell Wilson to take down the Week 14 Sunday Million.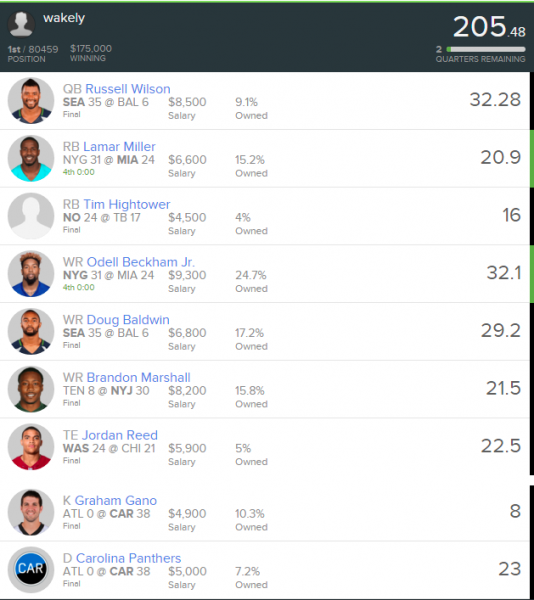 The Wilson and Baldwin pairing -- which 4for4's Joe Holka wrote up in his weekly Stacking the Deck column (available to DFS subscribers) -- combined for 61.48 points. Wakely also used a correlated pairing by stacking Graham Gano with the Panthers defense. Wakely took advantage of a contrarian viewpoint on the Saints-Buccaneers game, going with the gameflow-dependent RB on the underdog instead of any members of the passing game on either team. He also rostered two of the featured offensive players in the Giants-Dolphins game. Let's get into his low-owned plays.
Why He Was Low-Owned: There was a lack of clarity as to exactly how much work Hightower would get, the Saints were a road underdog, and the Bucs were ranked 5th in RB aFPA.
Hindsight Bias: Most beat writers expected Hightower to lead the Saints backfield in usage. At minimum price, he had a lot of upside even in a tough matchup.
Why He was Low-Owned: At 15.8%, Marshall was not necessarily "low-owned", but he was wakely's lowest owned WR, and more importantly, he was a nice pivot off Allen Robinson, which I discussed in the FanDuel Week 14 GPP breakdown.
Hindsight Bias: As mentioned in the aforementioned column, Marshall was facing the very defense that Robinson just torched. Marshall was near the top of the league in all-important red zone targets.
Why He Was Low-Owned: Reed had not produced much fantasy value since DeSean Jackson's return, managing to eclipse 50 yards only once in his previous five games going into Week 14.
Hindsight Bias: Despite lackluster production, Reed's target count had remained strong with eight in each of his previous three games going into Week 14.
D Carolina Panthers 
Why They Were Low-Owned: With soft matchups against depleted offenses, the Seahawks and Chiefs were the chalk plays at defense, leaving the other options on the slate with relatively low ownership.
Hindsight Bias: The Panthers were the best team in football at 12-0, and had a cornerback in Josh Norman that could take away Atlanta's most dangerous weapon. The Falcons had clipsed 20 points just twice in six games coming into Week 14, turning the ball over 14 times during that span.
How Did the Most Highly Owned Plays of the Week Fare?
QB Blake Bortles 12.9% Owned, 25.7 Points
Bortles showed that you don't always need to play well to put up great numbers -- a FiveThirtyEight article came out after the game that was hilariously titled The Jaguars Scored 51 Points; Blake Bortles Had Practically Nothing To Do With It. He took advantage of great field position and some luck en route to three passing TDs and one rushing TD to go along with 250 passing yards, 17 rushing yards, and two fumbles lost.
RB Thomas Rawls 24.3% Owned, 4.4 Points
Rawls looked to be on the way to another excellent afternoon, but was forced from the game with an ankle injury in the red zone. He had a 6-44 rushing line at the point which he left the game.
RB LeSean McCoy 27.3% Owned, 12.9 Points
With 109 total yards, McCoy eclipsed the century mark for the seventh straight game, but failing to find the end zone left him with a meager 12.9 points.
WR Odell Beckham Jr. 24.7% Owned, 32.1 Points
OBJ continued his unprecedented dominance by going over 100 yards receiving for the 15th time in 25 career games -- and sixth straight game of 2015. -- An 84-yard TD on a blown coverage between Jamar Taylor and Reshad Jones propelled him to a 7-166-2 line on 9 targets.
WR Antonio Brown 21.2% Owned, 12.2 Points
Brown turned in a serviceable 7-87 line, but DeAngelo Williams (2) and the defense (1) hogged all of Pittsburgh's TDs in this game, leaving Brown's owners with a high-priced dud.
Watkins had his signature long TD (he beat two Eagles defenders in double coveage for a 47-yarder), but failed to reach 100 yards, finishing with a 5-81-1 line.
TE Greg Olsen 16.8% Owned, 6.7 Points
Olsen injured his knee trying to catch a Cam Newton TD pass in tight coverage and did not return to the game, finishing with a 3-52 line.
D Seattle Seahawks 26.1% Owned, 12 Points
The Seahawks defense played a very good game, but only managed one sack, one interception, and one fumble recovery, resulting in them being outscored by a couple of other defenses on the day.
Most Popular
There is no data to display.