FanDuel Bankroll Builder: Welcome Back Welcome to 4for4's FanDuel Bankroll Builder series. Many thanks to FanDuel and Josh Moore, who have staked me a $1,000 bankroll on FanDuel which I began playing with in Week 4. Throughout the season, I'll document all my gains, losses, and shower cries along the way. More importantly, I'll walk you through my thought process as far as bankroll management, game selection, player exposure, and my main cash game lineup(s) in hopes that we'll both learn valuable lessons from my successes and failures.
Editor's Note: 4for4 has an ALL-NEW DFS SUBSCRIPTION! It includes our revolutionary Lineup Generator, Stack Value Reports, Ceiling & Floor Projections, GPP-Specific Articles, Ownership Outlooks, DFS Theory Articles, Lineup Construction Articles, a Downloadable .csv with Projections and Salary Data, and much more! DETAILS HERE! Previous subscribers don't worry, you'll get the same DFS content you got last season, but we think you'll want to UPGRADE to our DFS subscription because it takes our DFS content to the next level!
And We're Back
Last Friday morning, Judge Manuel Mendez granted New York Attorney General Eric Schneiderman an injunction that would effectively block DFS companies from offering paid contests in New York. By that same afternoon, the sites were granted a temporary stay, allowing FanDuel to reenter New York. You can read more bout the case here.
What that means for us is that the Bankroll Builder is officially back. Hopefully, this goes better than Ma$e's attempt at a comeback to the rap game in 2004:
Week 14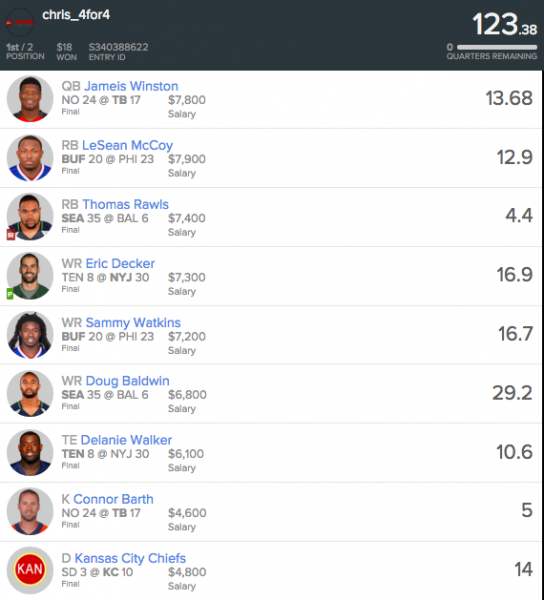 I eased back in to the flow of things in Week 15 by taking a more conservative approach than usual. I put 15% of my bankroll into play (I usually do 20%), and just under 10% of that into GPPs. I did, however, put about 5% more of my cash game money in play into double ups than usual; 25% went to double ups, rather than the usual 20%. 
Because I play a larger number of head-to-heads (generally 75-80% of my money in play) than most people, I decided I wanted a bit more upside in my lineup. In 50/50s and double-ups, you're not rewarded for upside so long as you get past the cash line. In head-to-heads, however, you are rewarded for upside: it could mean the difference between winning, say, 55% of your games and 75% of your games. Jonathan Bales wrote about this concept earlier this year, and I think he was spot on.
In search of some additional upside, I pivoted from RB Jonathan Stewart, WR Danny Amendola, and TE Greg Olsen to RB Thomas Rawls, WR Sammy Watkins, and TE Delanie Walker. I felt that I was gaining upside at RB and WR while losing some at TE, but Walker's consistency made me comfortable enough to pull the trigger on the pivot. In the end, it was a complete wash, as the two combinations ended up scoring almost the exact same number of points. 
It turned out that the real key to cash games last week was making sure you had Doug Baldwin locked in, and also fading Allen Robinson. Those two moves -- along with continuing to take advantage of the underpriced Eric Decker -- proved fruitful in Week 14, propelling me to a 74-23 head-to-head record and another profitable week.
YTD Results
|   | Entry Fees | Winnings | Net |
| --- | --- | --- | --- |
| H2H | 1210 | 1566.5 | +356.5 |
| Other Cash Games (Double Up, 50/50, etc.) | 360 | 534 | +174 |
| GPP | 360 | 632 | +272 |
| Total | 1930 | 2732.5 | +802.5 |
Week 14 Start

Week 14 Finish

*The ending balance slightly differs from the beginning balance plus net profit due to the deposit bonus being gradually released.
Most Popular
There is no data to display.