FanDuel Hindsight Week 13: The Nutcracker Welcome to FanDuel Hindsight, where we'll recap the previous week on FanDuel, focusing on the Sunday Million tournament, which has a $1 Million grand prize. We'll use the benefit of hindsight to see what lessons can be learned about the Sunday Million winner's low-owned, difference-making plays, then check in on how the most popular plays of the week fared.
Editor's Note: 4for4 has an ALL-NEW DFS SUBSCRIPTION! It includes our revolutionary Lineup Generator, Stack Value Reports, Ceiling & Floor Projections, GPP-Specific Articles, Ownership Outlooks, DFS Theory Articles, Lineup Construction Articles, a Downloadable .csv with Projections and Salary Data, and much more! DETAILS HERE! Previous subscribers don't worry, you'll get the same DFS content you got last season, but we think you'll want to UPGRADE to our DFS subscription because it takes our DFS content to the next level!
FanDuel user okieboy211 took down the grand prize with a stack of Ben Roethlisberger and his top two wide receivers, Antonio Brown and Martavis Bryant.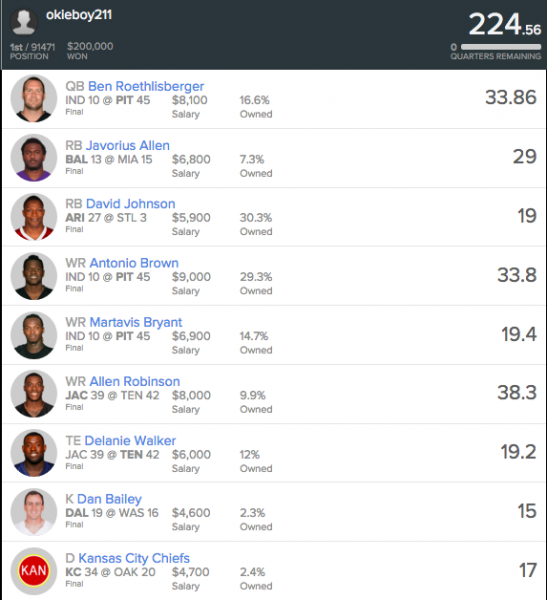 The Roethlisberger, Brown, and Bryant stack -- which the second place finisher, trigga1982, also used -- was our third highest projected three man stack on our FanDuel Stack Value Reports. (Our top projected three man stack, Cam Newton, Ted Ginn, and Greg Olsen, was used by the third place finisher, optimusprimeiam.)
Okieboy211's lineup had 15 total TDs, including a four-TD game from Roethlisberger and three-TD games from Brown and Allen Robinson. He differentiated at kicker and defense, with Dan Bailey and the Chiefs combining for under 5% of ownership. Positions that require only one roster slot -- particularly QB, K, and D -- are usually good ones to go contrarian at, because there tends to be more overlooked players at these positions since you need only one. In this season's 13 winning Sunday Million lineups, QBs (4.7%), defenses (4.5%), and kickers (3.4%) all have a median ownership level below 5%.
I already touched on the three man Steelers stack, and David Johnson was a chalk play, so let's break down the lineup's other, lower owned plays.
Why He Was Low-Owned: There were a ton of other options available and Allen was a road underdog (+3.5) with a low team total (19.5) on an offense led by Matt "Pick-Six" Schaub.
Hindsight Bias: Allen had posted back to back promising games, with averages of 99.5 total yards, 4.5 catches, and 0.5 TDs. The Dolphins ranked 30th in RB aFPA.
Why He Was Low-Owned: Robinson's price point was the highest it's been all season. Alshon Jeffery was $300 cheaper and was the highest owned WR on the slate.
Hindsight Bias: With 80 yards and/or a TD in eight straight games going into Week 13, Robinson had been balling for quite some time. He led the league in deep targets and was in the top 10 in red zone targets coming into the game, and Allen Hurns was out with a concussion.
Why He Was Low-Owned: Walker simply got overshadowed by Greg Olsen in a matchup with the Saints and Scott Chandler at a discount.
Hindsight Bias: Walker was leading the league in receptions per game among TEs and the Jaguars ranked 30th in TE aFPA.
Why He Was Low-Owned: Bailey was a road underdog with a relatively low Vegas team total (19.3).
Hindsight Bias: Bailey had attempted multiple field goals in all but two games. The low over/under (42) and close spread indicated a low-scoring affair with a lot of field goals was possible.
D Kansas City Chiefs
Why They Were Low-Owned: Although they had been putting up good numbers as of late, the Chiefs disappointed the week before with only five points against Buffalo.
Hindsight Bias: The Chiefs had averaged 16.3 points per game before their letdown against Buffalo. The Raiders ranked 22nd in DEF aFPA.
How Did the Most Highly Owned Plays of the Week Fare?
QB Cam Newton 18.5% Owned, 37.14 Points
Surprisingly, Cam's ownership did not reach 20%. He added himself to the list of QBs that have destroyed the Saints, piling up 380 total yards and five TDs.
RB David Johnson 30.3% Owned, 19.0 Points
Johnson reinforced the notion that rostering inexpensive RBs slated to see major volume is a +EV strategy in NFL DFS. He parlayed 24 touches into 120 total yards and a TD.
Williams got fed 31 touches and turned them into 165 total yards. Unfortunately, he failed to reach the end zone and lost a fumble, which resulted in a mediocre day from a fantasy perspective.
WR Antonio Brown 29.3% Owned, 33.8 Points
A week after getting held in check by Richard Sherman, Brown came out with a vengeance, catching two TDs from Roethlisberger, then literally going nuts on the goal post after a 71-yard punt return TD.
Jeffery got ample targets, but simply had an inefficient day. He was able to turn 12 targets into only four catches and 85 scoreless yards.
OBJ continued to pile up the highlights with a 72-yard catch-and-run TD and a beautiful one-handed grab later in the game en route to a 6-149-1 line.
TE Greg Olsen 26.6% Owned, 15.4 Points
Olsen put up a huge 9-129, but failing to reach the end zone and losing a fumble prevented a bigger fantasy score.