FanDuel Hindsight Week 11: Rawlin Out of Control Welcome to FanDuel Hindsight, where we'll recap the previous week on FanDuel, focusing on the Sunday Million tournament, which has a $1 Million grand prize. We'll use the benefit of hindsight to see what lessons can be learned about the Sunday Million winner's low-owned, difference-making plays, then check in on how the most popular plays of the week fared.
Editor's Note: 4for4 has an ALL-NEW DFS SUBSCRIPTION! It includes our revolutionary Lineup Generator, Stack Value Reports, Ceiling & Floor Projections, GPP-Specific Articles, Ownership Outlooks, DFS Theory Articles, Lineup Construction Articles, a Downloadable .csv with Projections and Salary Data, and much more! DETAILS HERE! Previous subscribers don't worry, you'll get the same DFS content you got last season, but we think you'll want to UPGRADE to our DFS subscription because it takes our DFS content to the next level!
FanDuel user rvdwyertx took down the grand prize with big games from Thomas Rawls, DeAndre Hopkins, and Russell Wilson.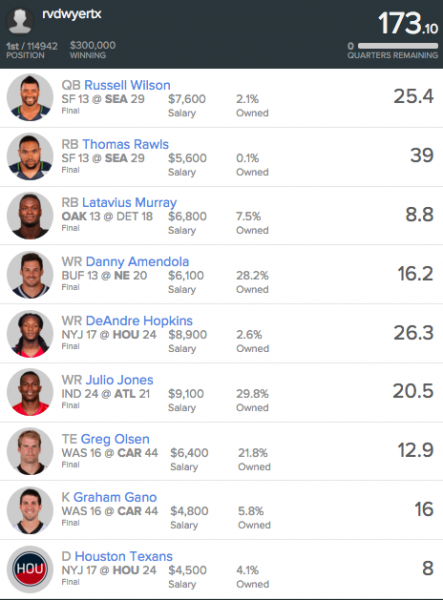 In Wilson and Rawls, rvdwyertx employed a positively correlated (0.09)1 pairing that is rarely used: QB-RB. Seattle had a relatively large team total, meaning there was a solid chance that the QB and RB could combine for good production. Taking Rawls before Lynch was ruled out was a high risk/high reward move, but it turned out to be a key differentiation play. Starting DeAndre Hopkins against Darrelle Revis was another contrarian play that proved to be a key as well. This lineup reiterates the fact that well-placed risks can have a monumental effect on GPP success.
Let's break down the difference-making plays.
Why He Was Low-Owned: The double-digit spread in favor of Seattle had many fearing a Seahawks blowout. Wilson had only one multi-TD game coming in to Week 11.
Hindsight Bias: With the Seahawks' large point spread came a relatively robust team total (26.3). The 49ers were 25th in QB aFPA coming in to the game, and had played terrible defense away from home against both the pass (9.6 yards per pass attempt allowed coming in) and the run (126 rushing yards per game allowed coming in).
RB Thomas Rawls
Why He Was Low-owned: Starter Marshawn Lynch was not ruled out until after lineups locked, which means there was no guarantee Rawls would start. He had seen only 15 touches combined in his previous four games in a reserve role.
Hindsight Bias: Lynch had a questionable tag and didn't practice, but that's par for the course with him. Presumably, one could have rostered Rawls for the same reason many likely ignored Wilson: a potential blowout. With Seattle such big favorites, a reasonable hypothesis could have been that they would not push Lynch in an easily winnable game, thereby giving a large share of the workload to Rawls.
Why He Was Low-Owned: Hopkins was getting thrown to by a backup QB and was set to be shadowed by an elite cornerback in Revis.
Hindsight Bias: Hopkins has been "breaking ankles on the route" since training camp. After an amazing one-handed TD catch on Monday Night against the Bengals, there didn't look to be anything Hopkins couldn't do. Turns out, there isn't, as he burned Revis for a 61-yard TD.
Why He Was Low-Owned: Unless your kicker's name is Stephen Gostkowski or he is the popular minimum-priced kicker of the week, he will probably have low ownership. The Redskins were above average against kickers (13th in K aFPA) coming in to the game.
Hindsight Bias: Readers of the Daily Fantasy Playbook series will know that due to playing for a home favorite with a large implied point total, Gano profiled as a strong selection at kicker. He was getting ample kicking opportunity, as he attempted two or more field goals in seven of nine games and three or more extra points in seven of nine games as well.
How Did the Most Highly Owned Plays of the Week Fare?
QB Derek Carr 22.4% Owned, 7.56 Points
Carr didn't get any help from his running game (2.4 yards per carry on 21 carries) or his receivers, particularly Amari Cooper, who had trouble breaking free from the coverage of cornerback Darius Slay. Cooper was only able to amass one catch for four yards on four targets. The Raiders only managed 25 pass attempts on a day where they lost the time of possession battle, 36:02-23:58.
RB Charcandrick West 45.4% Owned, 7.4 Points
West was only able to manage an 11-16 rushing line to go along with a 2-48 receiving line before leaving the game with a hamstring injury.
RB Devonta Freeman 26.8% Owned, 4.3 Points
Freeman sprung loose for a 39-yard run and had a 3-43 line going in the first quarter, but was forced from the game with a concussion.
WR Julio jones 29.9% Owned, 20.5 Points
Once Freeman left the game, Jones was the Falcons lone weapon. He parlayed 15 targets into a 9-160 line with a long catch of 36 yards.
WR Michael Crabtree 29.2% Owned, 8 Points
Crabtree had a key third-down drop and the entire Raiders offense was sluggish. Crabtree saw a heavy workload (11 targets) as anticipated, but managed to turn it into six catches for 50 scoreless yards.
WR Danny Amendola 28.2% Owned, 16.2 Points
Coming as no surprise, Amendola led the Patriots in targets (12) with Julian Edelman and Dion Lewis out. He turned in a 9-117 line that would have been greater had a referee not blown an inadvertent whistle on what would likely have been a long gain or touchdown. Amendola also got hurt fielding a punt and left the game early.
TE Greg Olsen 21.8% Owned, 12.9 Points
On a rare afternoon where Olsen (6) did not lead the Panthers in targets, he still managed to find the end zone and turn in a 3-54-1 line.
D Seattle Seahawks 27.9% Owned, 6 Points
Despite being a large favorite and winning handily, the Seahawks defense did not do much from a fantasy perspective. The 49ers were able to play conservative, mistake-free football, with 11 targets going to RB Shaun Draughn. Seattle managed only two sacks, and did not recover either fumble it forced.
Footnotes
1. http://rotoviz.com/2014/10/correlation-matrix-answers-every-question-you...
Most Popular
There is no data to display.