FanDuel Bankroll Builder: Let Us Play Welcome to 4for4's FanDuel Bankroll Builder series. Many thanks to FanDuel and Josh Moore, who have staked me a $1,000 bankroll on FanDuel which I began playing with in Week 4. Throughout the season, I'll document all my gains, losses, and shower cries along the way. More importantly, I'll walk you through my thought process as far as bankroll management, game selection, player exposure, and my main cash game lineup(s) in hopes that we'll both learn valuable lessons from my successes and failures.
Editor's Note: 4for4 has an ALL-NEW DFS SUBSCRIPTION! It includes our revolutionary Lineup Generator, Stack Value Reports, Ceiling & Floor Projections, GPP-Specific Articles, Ownership Outlooks, DFS Theory Articles, Lineup Construction Articles, a Downloadable .csv with Projections and Salary Data, and much more! DETAILS HERE! Previous subscribers don't worry, you'll get the same DFS content you got last season, but we think you'll want to UPGRADE to our DFS subscription because it takes our DFS content to the next level!
Week 9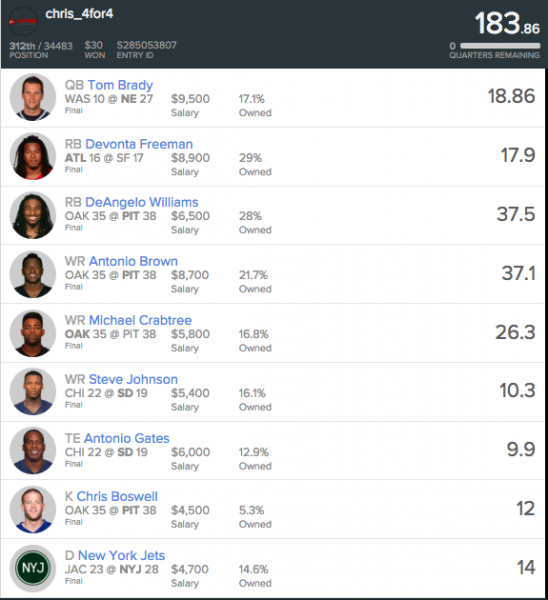 As usual, I put 20 percent of my bankroll in play, with 80 percent going into cash games. As the bankroll has been growing, I've started to play more $2 and $5 head-to-heads.
Week 9 was a good week for the cash game lineup, as it hit 183 and propelled me to a 58-0 head-to-head record. I had some solid turnament success as well, and ended up winning $507.60 on $282 of money in play, good for a profit of $225.60. I used the exact players I wrote up in the FanDuel Week 9 Cash Game Breakdown, so check that out for the rationale behind each choice.
Week 10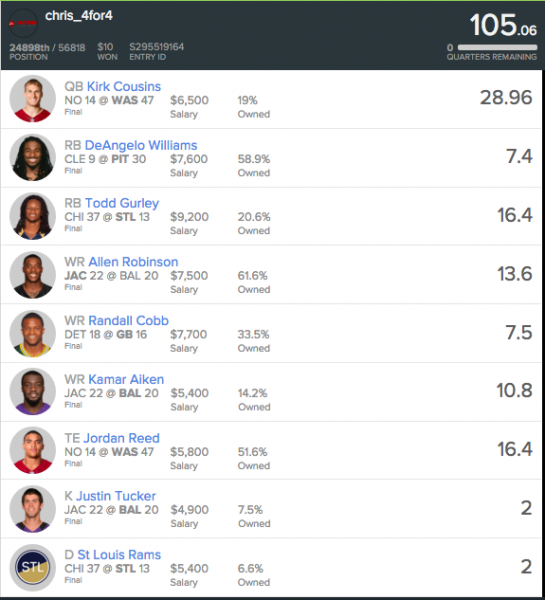 Week 10 was a strange, low-scoring week. I expected more from my lineup, but got let down by what I thought were the premier plays at both kicker and defense. Once again, you can check the rationale behind each pick in my FanDuel Week 10 Cash Game Breakdown column. Despite the hiccups at kicker and defense, my lineup was able to post a 59-19 head-to-head record. As the bankroll continues to grow, I've played a bit more head-to-heads at higher entry fees. This week, I played a near-even split of $1, $2, and $5, with a few $10 entries mixed in. Overall, I won $421 on $329 of entry fees, good for a $92 profit.
New York
As some of you may know, I was born and raised in New York City (BX stand up!) and currently reside in Manhattan. As such, I'm at the heart of the DFS "controversy" regarding Attorney General Eric Schneiderman contention that DFS is illegal gambling and should be banned or heavily regulated in New York State. I thought I'd spend some time taking you through my past two weeks. (BTW, not skill? Breh. I just went 117-19 over the last two weeks alone in head-to-heads for this column.)
It all started two Mondays ago when I went on RotoGrinders to see what was happening in the alternate NBA DFS universe. I saw a petition about a potential ban in New York and promptly signed it. In typical ADD fashion, I forgot all about what I originally went on RotoGrinders for, and proceeded to make my way over to ESPN. Once on the site, I immediately saw the news that the AG had deemed DFS illegal in the state. That escalated quickly.
My first thought upon taking in the news was "this is fucked up". But nothing had changed...yet. Word was that New Yorkers would still be able to play that weekend's contests without restriction.
Last Friday, the #FantasyForAll rally was held in downtown Manhattan to support DFS, and I attended. You've probably seen the signs: "If only politics were skill-based" and "Bench Schneiderman". The Daily Show was there, so you may have also seen this clip. 
Funny story: I was supposed to be on that Daily Show segment as one of Hasan Minhaj's interviewees. But let's just say things got a little "chippy" between Minhaj and I as he conducted the interview. It wasn't quite 15-yard penalty worthy, but definitely chippy. 
Anyways, contests did indeed go on that weekend as normal. But then shit hit the fan.
First, FanDuel stopped accepting deposits in New York. Then just this Tuesday, they stopped accepting paid entry into contests in New York. (BRB, I need to scratch the itch for a skill-based game by buying 100 completely legal lottery tickets.)
OK, I'm back. So as it stands, I cannot currently play on FanDuel, which blows. As a result, this column will be suspended until further notice. Or maybe in the future I'll use this space to showcase my favorite Fetty Wap songs.
YTD Results
|   | Entry Fees | Winnings | Net |
| --- | --- | --- | --- |
| H2H | 1037 | 1341.50 | +304.50 |
| Other Cash Games (Double Up, 50/50, etc.) | 305 | 424 | +119 |
| GPP | 340 | 622 | +282 |
| Total | 1682 | 2387.50 | +705.50 |
Week 9 Start

Week 10 Finish

Most Popular
There is no data to display.